The Vow of Silver Dawn (《白银誓约》) is a canon Chinese web novel written by "His Majesty the King."[1] A collaboration between the latter, China Literature, and Lucasfilm Ltd., the novel was announced on October 18, 2019.[3] The first three chapters were released online on December 17, 2020,[1] and the story takes place at the end of the High Republic Era, around 82 BBY.[2]
Released in simplified Chinese on the Shanghai-based Starting Point Chinese Web of the People's Republic of China,[1] the web novel aims to incorporate Chinese culture to tell an authentic Star Wars story that would resonate with teenagers.[4]
The energetic, youthful Jedi Padawan Sean meets true darkness for the first time while investigating a murder in a remote, independent star system. He is separated from his master, resisting the rising evil alone. Once his Jedi training is challenged, confronted with a religious crisis, he sets foot on a journey of self-exploration, hoping to bring peace and justice to this star system.[1]
A dictator, conspiracies, and the Silver Dawn

[

edit

|

edit source

]
At the end of the High Republic Era, around 82 BBY,[2] Jedi Padawan Sean and his teacher, Master Mostema, are sent to the planet Begamore to uncover the corrupt nature of its ruler and representative in the Galactic Republic's Senate, Jamie Brasen. After successfully infiltrating Begamore's Presidential manor and completing his mission, Sean is sent to investigate the murder of Nan Heli alongside his master by the Jedi Council.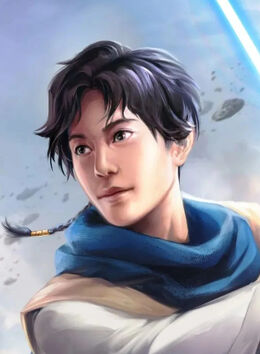 Nan was an executive member of the corporation that ruled the largely independent Heaven system in the Oplovis sector, and was an advocate for his star system to integrate more with the Republic despite the local populace's separatist tendencies. While Nan Heli studied the Force extensively and was cautious for his own security, the businessman was killed at his own secluded estate, which Sean and Mostema inspect. While the two Jedi were briefly detained by Xia Yan, the Heaven-earth corporation Security Bureau's leader. Xia wanted the Jedi to leave and drop their investigation, though Mostema threatens to kill herself, which would result more Jedi being sent to investigate the Heaven system. Xia is thus forced to detain the Jedi, and he chooses to detain them in Nan Heli's villa. During their stay, however, the Jedi duo are separated by a pirate raid on Nan's estate, and Sean is forced to handle the conspiracy himself. Meanwhile, weary of the Jedi Order and the Republic, the ruling corporation of the system works to frame the Jedi for Nan Heli's death in the goal of ensuring their hold to power.
Sean is rescued from the pirates by the Silver Dawn, captained by Li Yu and White, leaders of the Knights of Silver Dawn. Indebted to Li and sought by the system's authorities, Sean, concealing his identity as a Jedi, decides to work as a Knight to pay off his debts, biding his time before leaving to rejoin Master Mostema. The Knights, a group of mercenaries who mainly work to support their community back home, invite Sean to the elite red apricot squad, named after a local phrase which meant disobeying customs. Sean thus works alongside group leader An Ping, master sniper Lu Nan, the medic Xu Bo, and the expert mechanic Zhuang Yuanying. Together, aboard the ship red apricot, they pursue a lost Silver Dawn shipment of enigmatic tenebrae, a deadly biological hazard to be used as the core raw material of a new biological water-purifying equipment.
The slaves, the Dragon, and the shipment
[
edit
|
edit source
]
After a chaotic visit to the Fire space station, red apricot squad traces the enigmatic tenebrae to the Blue Dragon, the most powerful paramilitary force in the system, which had been allowed to take the biological hazard by the station masters. While the squad realizes that they have been manipulated by the ambitious manager of the station to attempt to bring down the Blue Dragon pirates, Sean boosts red apricot squad's morale by suggesting that they place the blame of recent misfortunes on the manager after raiding the Dragon. Seeing that the Blue Dragon was affiliated with the star system's corrupt authorities through the contact Zhang Níngtao, an official of the Security Bureau, An Ping leads red apricot squad in an attempt to capture the official on the asteroid Lake 4399 and ransom him to the Dragon for the return of the enigmatic tenebrae.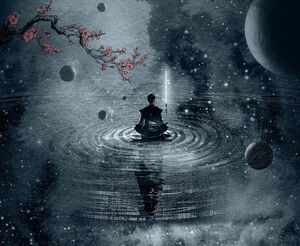 Just before the raid on Lake 4399, Xu Bo tells Sean that sparing enemy lives may jeopardize the entire operation and result in their deaths. Xu Bo also speculates that the elite Security Bureau guards protecting Zhang Níngtao may all be corrupt officers, as such would be the type of people Zhang may employ for his secret dealings. While Xu Bo further adds that the enemies they are about to face may all be innocent of any crimes, and that to kill them would be to become a murderer of innocents, Xu Bo states that what matters is one's choice between the dichotomy of whether to always be a pure, good person, or to be a person who can act to achieve things. Finally, the medic Xu Bo states that the more experienced a doctor, the more errors—sometimes lethal—they would make, and that there is one type of doctor who never makes an error or accidentally kill their patients, always remaining cleared of any wrongdoing: a doctor who never acts.
After killing multiple squads of security guards and a group of high-ranking associates of Zhang Níngtao, red apricot squad captures Zhang and finds out that he was holding slaves to fulfill he and his men's sadistic pleasures. While the mission was a success, Sean's disguises were useless in every turn of his attempt to infiltrate Zhang's stronghold. Xu Bo explains that the reason for Sean's failure was that he was good-looking; by rule of thumb, corrupt evil-doers had ugly faces. An Ping then forces Zhang to contact the Blue Dragon, telling them to come to the base with the enigmatic tenebrae in hand. Thus, the dragon head, their leader, personally arrives at Lake 4399, receiving a warm welcome from their friends amongst the Security Bureau forces.
The dragon head returns the enigmatic tenebrae to red apricot squad and leaves, though not before destroying several vials of the Heaven-earth corporation's enigmatic yellow blood, an invaluable substance rumored to grant immortality. With Zhang's jurisdiction now responsible for massive losses of the corporation's assets, Zhang is left to die at the corporation's hands. Before red apricot squad could leave Zhang's base aboard their ship, however, Sean hires them to rescue the twenty-seven slaves who would be otherwise left to die at the base. To rescue the slaves, red apricot squad requires their cooperation. However, the slaves were established by the system's authorities to be dead and thus could not reclaim their old identities or rejoin their loved ones.
Freedom, letting go, and profits
[
edit
|
edit source
]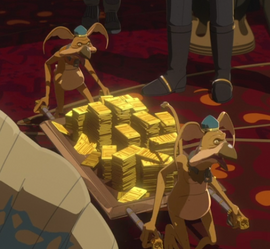 While some slaves remained skeptical of whether the squad would truly rescue them or did not desire a new life, some other slaves were determined to live, for where there is life, there is hope. All the slaves eventually agree to be rescued from Lake 4399. To rescue the slaves, red apricot squad also requires the assistance of Zhang, who reluctantly agrees to help after Li Yu offered to smuggle him out of the Heaven system to safety afterwards.
After loading the goods stored in Zhang's vault on the asteroid onto an armored freighter containing the twenty-seven slaves, red apricot squad, with Zhang piloting the armored transport, battles an elite squadron of Blue Dragon starfighters in space aboard the red apricot. The squad and their transport destroy most of the Blue Dragon forces, though Sean discovers that Zhuang Yuanying is a non-human while treating her injuries. Red apricot returns to the home of the Knights of Silver Dawn on Wind, and Zhang circumvents Wind's satellite defense network to allow for the Heaven-earth corporation–marked armored freighter to follow suit.
The slaves are set free to find new lives for themselves in the abandoned wastelands of Wind, though Sean realizes that they have lost everything but their lives. While the Jedi Padawan was uncertain of what to say to the survivors, Li Yu arrives to reassure them that Wind's abandoned area is free of the Heaven-earth corporation's evils of violating individual rights, and offers work for the survivors so that they may build up enough capital for themselves to live in whatever way they choose, reigniting their hope. Li Yu also honors his deal with Zhang Níngtao, respecting his property rights and allowing him to take his 23.14 million credits. As part of their deal, Li also gives Zhang a ship ticket to the Republic Core Worlds.
Li ushers Zhang to a nearby hostel and detains him there before the eyes of Sean, exclaiming that the Heaven-earth corporation official was scum for enslaving other individuals, which would have granted Zhang ten death penalties and 200 years of imprisonment in courts. Sean also deduces that letting Zhang—whom he refers to as a "Heaven-earth corporation thug"—go would imperil the Knights' position in the wastelands of Wind as the local population would be displeased. Li asserts, however, that while the majority of the population may oppose letting go in a poll, if he ignores the population's expressed wishes and decides to do so, at least half of the population would back him on-site. Li explains with confidence that many people trust him more so than themselves. Li also states that while killing Zhang would fulfill a democratic, collective wish of the majority people and also give them 23 million credits, letting Zhang go would tell everyone in the Heaven system that the Knights of Silver Dawn can help those wishing to escape the system. While Sean was confused, Li stated that it was simply the truth; any corrupt, oppresive organization would inevitably hurt those within it, prompting such victims—however much corrupt themselves—to tear down the entire party.
Sean realizes that letting go would cause more Heaven-earth corporation victims such as Zhang to have a change of hearts; to rebel against the authorities and lead to their demise. Li assures the teenager that he was only looking out for his own long-term profits, encouraging a change of hearts within the corporation to increase the likelihood of more business opportunites with deserters such as Zhang. Later at night, Sean secretly visits Zhang in search of answers regarding the status of the Heaven system.
Sean asks whether Xia Yan had any conflicts with the Nan family, and is told that the Xia family had always competed against the Nan family, but by a millennia-old custom, Heaven system politics forbade war between the four great families of the ruling corporation. Sean also learns that Xia Yan listened to no one but the Xia family's elder council, which elevated Xia to his current position as the Security Bureau leader in the first place. Additionally, while seeking information on Master Mostema, Sean learns that even Zhang, the Security Bureau Lake branch branch leader, had not heard of the pirate attack on the Nan Heli villa.
Together, Sean and Zhang deduce that the only possible culprit behind the pirate attack on Nan Heli's villa would be a member of the Nan family. Zhang tells Sean that the culprit could have been Nan Yujin, though a guard enters Zhang's room soon after, taking him to his ship off-world. Sean was thus forced to leave to evade detection, and the Jedi Padawan returns to red apricot squad's base. There he is met by Li Yu, who reveals that he knows, though does not care for, Sean's secret of being a Jedi who antagonized a high-ranking member of the Heaven-earth corporation. Li emphasises that he rescued Sean not for his status, but for his skills and character, and further reveals that Sean's next job is to escort an anonymous individual—secretly Nan Moyou, the daughter of Nan Heli—from Wind to the summer capital on Earth, and that that individual is privy to information regarding the other Jedi involved in the pirate attack on the Nan family villa.
Ferrying the mysterious client, the Silver Dawn—with Li Yu, White, Sean, and the ship's crew aboard—travels from Wind to Earth with a detour through the Lake asteroid field, which was personally chosen by the client. Sean attempts to make contact with the client, though the latter remains inside her cabin. The crew thus speculates that the two were lovers, drawing connections between their mission to rescue Sean at the Nan family villa and the present situation to form a logical possibility that their client is a scion of one of the four ruling families of the Heaven-earth corporation, yet is barred from marrying Sean for his relative lowliness. While Sean has nothing to say about such speculation, he found leads in certain points raised by the crew. The Silver Dawn is ambushed in the Lake asteroid field soon afterwards, and Sean is dispatched to maintain the ship as a mechanic.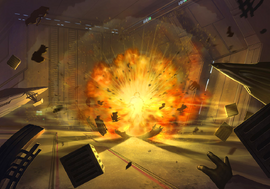 While saving the Silver Dawn by replenishing lost coolants, Sean encounters the mysterious client and, openly using the Force, saves her from wiring that had come off the walls due to the fighting. The battle is eventually won, and the client asks Sean to open a metal box that was electronically sealed. When Sean forcefully opens it though the Force, the client suddenly takes away the box and retreats to her quarters. There, she is contacted by Li Yu, who asks for her progress with Sean. Nan Moyou states that she thought Sean would not provide the answers she seeks, and tells Li that the only option going forward is to find the other Jedi. Afterwards, since the Silver Dawn was attacked on a route personally chosen by Nan, Li invites his client to join him in interrogating three captured ambushers.
After revealing that the attack was organized by He Shan of the Vermilion Birds, the captives are mercilessly executed on the spot by Li in revenge for two of his men dying during the previous battle, shocking Nan. However, Li states that each and every member of the Knights of Silver Dawn are family, and raises the point that she might do the same to the people who murdered her beloved father. Li further rationalizes that, since the laws of civilization would not protect his people, killing the captive pirates was the only option to protect his people. Sean watches on in secret as White brings out the next batch of captives.
The next three captives reveal that while the Vermilion Birds' attack was led by He Shan, their presence was orchestrated by an outsider. Li gathers that the outsider is Nan Moyou, who admits her part in hiring the pirates to ensure her safety while aboard the Silver Dawn. Nan also expresses her anger that she was betrayed by the pirates, who attacked the Knights of Silver Dawn and nearly killed her. In particular, one of the captives who were executed was Nan Zaizhou, Nan Heli's secretary who was Moyou's uncle figure. Moyou also expresses puzzlement as to why Zaizhou, who was wealthier than her, risked his own life to betray her. Li abruptly interrupts Moyou's thoughts, asking how her father died. Nan replies that she does not know, which was the reason why she hired the Knights of Silver Dawn to investigate the Nan family estate to gather evidence, and expressed her regret that the only evidence is a box that no one could open. Li awkwardly changes the subject, and announces that the interrogation is over. However, one of the captives pleads for his own survival by offering further information.
As the captive stepps forward, he recognizes Nan as the heir to the Nan family and asks if she was the one who hired the Vermilion Birds to disturb Heaven-earth security on Lake 9527—the location of the Nan family villa. While Li rants about the ruling class' incompetence, Nan reveals that she contacted the Vermilion Birds through the late, treacherous Nan Zaizhou, which would explain why all of the Vermilion Birds pirates know of her identity. After Li prompted him to continue, the captive said that the pirates only attacked the Silver Dawn in pursuit of Nan since she owed them payment for the Lake 9527 job. While Nan insists that she fulfilled the payment, Li asks White to investigate the status of the overdue money, and White reports that the money is being withheld by the Nan's bank because her processing fee had expired. Nan to fulfill her contract with the Vermilion Birds, and the situation is settled in peace.
The Silver Dawn lands on Earth, and Li Yu and Sean discuss the Nan family as Nan Moyou departs for a Heaven-earth corporation meeting about her inheritance. Li explains that the Knights and the Nan family work together for mutual benefit, which leads Li to hope that the Nan family's new leader would not be unwilling to continue working with the Knights. Should the Knights be robbed of their ally, Li plans to bring down the Heaven-earth corporation's headquarters, the skytop, with him. While Li recognizes that a peace provided by threat is a fragile peace at best, and that his plan may be opposed by some of his Knights, Li states that a good leader never surrenders to people's opinions, and that a leader should withstand people's opposition to do the right thing. Li elaborates that as an outlaw, one should never expect to be protected by the rules of civilization. Li also states that he wishes the Knights to become a legitimate organization, though he teaches Sean to be practicle and focus on what is closer ahead, such as the Nan family succession and the poeple around him. Li Yu then tells Sean that he, having saved everyone aboard the Silver Dawn during the previous battle, has become part of the family of the Knights of Silver Dawn, and is responsible for helping to repair the embattled Silver Dawn.
After spending an entire day repairing, Sean is told by Li Yu of a new lead on the events on Lake 9527. In the summer capital, Li had talked to a survivor of the pirate raid there, and the survivor revealed that all of the colleagues he had lost contact with were located inside the Nan family villa during the raid. Li thus deduces that the Heaven-earth corporation is attempting to cover up a secret that occurred inside the villa. Li also informs Sean that he is high up on the internal, non-public wanted list of Heaven-earth security, accused of killing Nan Heli. While Sean wishes to be smuggled out of the Heaven system as Zhang Ningtao did, Li strongly warns against it, stating that the Hutt Kong Zhang, who helped Zhang escape the system, is secretly in league with the system's ruling corporation. However, as the Silver Dawn departs Earth, Li raises the possibility that the Knights may be able to help Sean escape the Heaven system.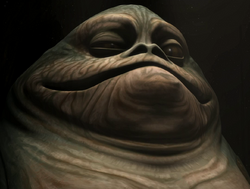 Meanwhile, Nan Moyou rests in a hotel in the summer capital after a long conference on skytop regarding her inheritance. She is visited by her uncle Nan Yujin, and while she had enjoyed a happy childhood with Yujin, Moyou forces herself to assess the situation with logic instead of emotion and decides that Yujin is not to be trusted. Yujin, who had just returned from Muunilinst to hear that his brothers Nan Heli and Nan Qianyu have died and that Moyou endured a pirate attack, expressed concern for Moyou. While Moyou resists the urge to embrace her uncle's kindness, she accepts his help, determined to gain his support in reclaiming her inheritance. Probing the seemingly selfless Yujin, Moyou asks if her recollection that Yujin disliked handling family business matters was true. Yujin replies that he simply disliked working with his brother, Nan Heli.
Yujin elaborates that, during their childhood, he disliked being ordered around by Heli. And while Heli managed the family business and kept it afloat, Yujin was free to do as he liked, drawing Heli's envy that Yujin was free to have the time and effort to make Nan Moyou happy by gifting her a Mon Calamari toy. While Moyou remains suspicious of Yujin for steering her emotions, she agrees to his proposal that they travel to skytop and acquaint with the corporation's ruling board of directors in preparation of taking over as the Nan family leader.
On skytop, Nan Moyou expresses her desire to bring justice for herself as the rightful heir of the Nan family. However, Yujin states that justice does not matter in the Heaven-earth corporation; there is no justice amongst the four great families, which has ruled the Heaven system for over two millennia. Moyou then asks what is important. Yujin replies that wisdom only makes one calculating, focusing on gains and losses and in pursuit of so-called justice—yet justice itself rocks the very heart of the foundation of the corporation's rule. Ergo, the people of skytop would value a person's subjective will more so than their wisdom.
Moyou does not comprehend Yujin's words, and so the latter further states that the core of power is the dismissal of calculating gains and losses, the disregard of of justice and axioms, and to do as one desires; what is spoken, the law follows. To take power, one must simply act. Yujin tells to Moyou remember that the four great families have a monopoly over power, and reminds her not to become a puppet of power. Yujin further reminds Moyou that Nan Heli, as a member of the corporation's board of directors, was directly involved in corruption, having pocketed public funding to build his family villa. While Moyou was reluctant to accepts Yujin's words, she follows his lead and listens to his advice as they traverse the corridors of skytop.
The two meet Nan Qiwen, an elderly member of the board of directors' secretariat. At his request, Qiwen gives Yujin a classified copy of the minutes of the previous day's board of directors' meeting. Yujin then meets with Chen Lu of the board of directors, who was also a leading member of the Chen family and the manager of the recent meeting agendas. Yujin asks Chen to grant Moyou attendance at the board's conferences and Chen agrees, arranging a nonvoting seat for Moyou. After parting with Chen, Yujin recommends that Moyou stay at the summer capital to gain influence with the four families' elders, although Moyou, choosing to rely on only her power, decides to return to Wind, the Nan family's headquarters. Before she leaves, Yujin asks how Nan Zaizhou, who he thinks would be more protective of Moyou, is faring. While still shocked by Zaizhou's betrayal, Moyou finds the question to be unavoidable as Yujin was her lone supporter.
Realizing that news of Zaizhou's betrayal would spread sooner or later, Nan Moyou tells Yujin that Zaizhou had arranged a pirate ambush to assassinate her and froze her bank account. She also tells Yujin of the recent incidents that befell herself, and both of the Nan family members find the fact that the elder council tolerated the "accidental" death of Nan Heli and the attempted assassination of Moyou suspicious. By virtue of the Silver Dawn's surprising victory over the pirate ambush in the Lake asteroid field, Moyou and Yujin decide that the Knights of Silver Dawn were their most powerful ally. While the Nan family should not put any trust in their business partners—and the Knights are no exception—Yujin says that they must allow the Knights to get near—though not enter—the family's inner ring of power to gain their trust.
A combination of work and rest
[
edit
|
edit source
]
At red apricot squad's base on Wind, Sean is given two weeks of mandatory rest—rest had become mandatory as some Knights had the tendency to overwork themselves to death. An Ping also explains that most people hate it when one amongst them excels in their work, and that doing so in a company would undermine the benefit of the collective whole of the group as its boss would demand that the whole group follow the outstanding member's lead to work harder. While Sean does not understand An Ping's logic, he is invited to spar with An Ping. An Ping dislocates his limbs to prioritize speed and extend his reach, which would surely kill even a Jedi if An Ping had a dagger in hand. Sean realizes that he underestimated An Ping's skills, and that the captain's moves are as deadly as they are unpredictable.
After Sean's cookery lesson–turned–brawl with Lu Nan in the kitchen regarding Lu's poor cooking techniques, Xu Bo argues with Lu Nan regarding her violence against Sean. When Xu Bo mentions how Little An's sense of taste was lost to food poisoning at Lu Nan's hands, Xu Bo is shot in the chest. While Little An is the subject of psychological trauma for Lu Nan, Lu had the blaster bolt on a non-lethal setting to prevent killing her team mates. Amidst the awkward silence, Sean asks who Little An was.
However, the heated, blaster-raised response that was expected from Lu Nan by the other members of red apricot squad never surfaced. Instead, Lu Nan directed the question back at Sean, asking who he was. Sean is left speechless, and Lu Nan invites him to train handling a blaster downstairs. While the two left, An Ping and Xu Bo speculate that Lu Nan's unusual response was due to Sean's resemblance to Little An, who was Lu Nan's little brother and who left Lu in a decade-long state of madness. Xu Bo further points out that unlike An, Sean bore no blood relation to Lu Nan, suggesting a growing romantic relationship between Sean and Lu Nan. Xu Bo and An Ping thus spy on Sean and Lu Nan in the training grounds below.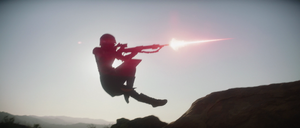 Below, as An Ping poises to stamp Xu Bo in the eye with his middle finger for suggesting a romantic relationship between Sean and Lu Nan, the two spies are spotted by Lu. After exchanging unpleasantaries with the two, Lu Nan sends them away and continues training Sean. In the evening, Lu Nan tells Zhuang Yuanying that Sean was not to be let out of the base per Li Yu's orders. The squad speculates that Li did not want Sean to hear of bad news from Lake 9527, and deduces that Sean only joined the Kngihts of Silver Dawn to use its intelligence network for news of a person lost on Lake 9527 whom he cared about. The next day, as part of his martial arts course, An Ping offers to teach Sean about the inner self to balance his fighting techniques. Sean eagerly accepts, seeing that the idea resonates deeply with Jedi teachings. However, Lu Nan swears at the notion, thinking that it is idiotic and feeling gravely disappointed by Sean.
"Are there no laws in the Heaven system?"
―Sean, astounded by the fact that a mega-corporation close to the government conducted inhumane experiments on people
On the third day of training, Zhuang Yuanying takes Sean to the lowest level of the base. A factory, the level contained Sky Three, a starship engine model that was designed by North River Freight 700 years ago and was the most common ship engine in the Heaven system. Zhuang teaches Sean how to modify an otherwise ruined Sky Three into a smaller yet functional engine. When Sean does the modification himself, he enters a trance-like state in the Force, although he is disturbed by the collapse of Zhuang Yuanying, who fell to the ground unconscious, breathing violently.
Zhuang reawakens and storms off to the deepest level of the base. Sean follows, although he is thwarted by the base's automatic defense system. However, the remainder of red apricot squad joins Sean and deactivates the system, leading Sean to the base's deepest level. To Sean's astonishment, he finds a medbay containing lumps of flesh as well as several individuals who share Zhuang's characteristic of possessing two horns on the forehead. Zhuang herself was inside, sleeping by one of the medpay's red-orange containers, which are filled with nutritional fluid.
An Ping explains that the medbay had served as a retreat for Zhuang Yuanying for over a decade, and that Zhuang suffered from traumas as a subject of experiments, although she had been rescued by Gu Zheng, the former leader of red apricot squad. While An Ping and the other squad members pick up Zhuang and turn to leave, Sean realizes that the equipment in the medbay bore labels of Summer Moist Pharmaceuticals, a company closely connected to the Heaven system's government. Astounded by the fact that such a mega-corporation conducted inhumane experiments on people, an angered Sean questions if there were actually any laws in the star system.
Red apricot squad find Sean's naïve question to be ludicrous, although Sean goes on to elaborate that while he understands laws may be ineffective in solving issues, issues would only increase if everyone abandoned them. While Sean concedes that acting outside of the system of law is necessary when the law is ineffectual, people must always uphold the bottom line of the law, regardless of vigilantes' benevolence. Despite Sean's speech, red apricot squad remain unconvinced, having already lost faith in the Heaven system's system of law. As they move on, An Ping tells Sean that the laws of the star system will not protect Zhuang Yuanying.
| Chapter | Chapter title | Publication date |
| --- | --- | --- |
| 1 | Welcome to Begamore | December 17, 2020[1] |
| 2 | A simple plan | December 17, 2020[1] |
| 3 | The dawn before action | December 17, 2020[1] |
| 4 | With heart, everyone is a master chef | December 18, 2020[1] |
| 5 | A unique recipe | December 18, 2020[1] |
| 6 | Contact | December 19, 2020[1] |
| 7 | Food allergy | December 19, 2020[1] |
| 8 | A change of plans | December 21, 2020[1] |
| 9 | Confusion | December 21, 2020[1] |
| 10 | Legends not forgotten | December 22, 2020[1] |
| 11 | New mission, new system | December 22, 2020[1] |
| 12 | On the passenger ship | December 23, 2020[1] |
| 13 | I have a bad feeling about this | December 23, 2020[1] |
| 14 | Informant | December 24, 2020[1] |
| 15 | The right method of threat | December 24, 2020[1] |
| 16 | Pampered cleansers | December 25, 2020[1] |
| 17 | A visitor from beyond the skies | December 25, 2020[1] |
| 18 | Bravery for a just cause comes with a price | December 26, 2020[1] |
| 19 | The door to the new world is already open | December 28, 2020[1] |
| 20 | Please pay | December 28, 2020[1] |
| 21 | The heating stick of a Jedi Knight | December 29, 2020[1] |
| 22 | Sean one million | December 29, 2020[1] |
| 23 | Going with the flow to the next stop | December 30, 2020[1] |
| 24 | Returning home? | December 30, 2020[1] |
| 25 | The first round of testing | December 31, 2020[1] |
| 26 | Dinner | December 31, 2020[1] |
| 27 | Introduction | January 1, 2021[1] |
| 28 | Can't ask for it | January 1, 2021[1] |
| 29 | Hunter and prey | January 2, 2021[1] |
| 30 | Medical care | January 4, 2021[1] |
| 31 | Good news | January 4, 2021[1] |
| 32 | Inhuman | January 5, 2021[1] |
| 33 | A team's warmth | January 5, 2021[1] |
| 34 | A middle-aged man disabled by stroking cats | January 6, 2021[1] |
| 35 | Efficient negotiation | January 6, 2021[1] |
| 36 | To kill without blinking | January 7, 2021[1] |
| 37 | Windstorm | January 7, 2021[1] |
| 38 | To kill with a borrowed blade | January 8, 2021[1] |
| 39 | To strike a dog, one must first strike the owner | January 8, 2021[1] |
| 40 | Killing license | January 9, 2021[1] |
| 41 | Test fire | January 11, 2021[1] |
| 42 | Solo | January 11, 2021[1] |
| 43 | Infiltration | January 12, 2021[1] |
| 44 | Disguise failure | January 12, 2021[1] |
| 45 | There are more important things than killing | January 13, 2021[1] |
| 46 | True colours exposed | January 13, 2021[1] |
| 47 | Galactically famous painting | January 14, 2021[1] |
| 48 | Dragon head | January 14, 2021[1] |
| 49 | Doing good is never simple | January 15, 2021[1] |
| 50 | Doing evil is like a shortcut | January 15, 2021[1] |
| 51 | Precious gratitude | January 16, 2021[1] |
| 52 | Difficulty is always relative | January 18, 2021[1] |
| 53 | Ace pilot | January 18, 2021[1] |
| 54 | Shell shedding | January 19, 2021[1] |
| 55 | Secret revealed | January 19, 2021[1] |
| 56 | Reborn? | January 20, 2021[1] |
| 57 | Reborn?? | January 20, 2021[1] |
| 58 | A chat at night | January 21, 2021[1] |
| 59 | All evil people seem forced to act evil | January 21, 2021[1] |
| 60 | Actual good news | January 22, 2021[1] |
| 61 | A new job | January 22, 2021[1] |
| 62 | Imagination | January 23, 2021[1] |
| 63 | Without a feasible plan | January 25, 2021[1] |
| 64 | Saving a life | January 25, 2021[1] |
| 65 | Metal box | January 26, 2021[1] |
| 66 | Living towards death | January 26, 2021[1] |
| 67 | Tacit understanding | January 27, 2021[1] |
| 68 | Nan Zaizhou | January 27, 2021[1] |
| 69 | Arrears | January 28, 2021[1] |
| 70 | Family | January 28, 2021[1] |
| 71 | To steal from oneself | January 29, 2021[1] |
| 72 | Smuggling | January 29, 2021[1] |
| 73 | Nan Yujin | January 30, 2021[1] |
| 74 | Trust | February 1, 2021[1] |
| 75 | Skytop | February 1, 2021[1] |
| 76 | An idol's fall | February 2, 2021[1] |
| 77 | Distinguishing the public from the private | February 2, 2021[1] |
| 78 | An unavoidable problem | February 3, 2021[1] |
| 79 | Accumulation of trust | February 3, 2021[1] |
| 80 | Combining work and rest | February 4, 2021[1] |
| 81 | Improvements | February 4, 2021[1] |
| 82 | Running out of fuel | February 5, 2021[1] |
| 83 | Rapid fire | February 5, 2021[1] |
| 84 | Déjà Vu | February 6, 2021[1] |
| 85 | Don't let him get out | February 8, 2021[1] |
| 86 | Eager to learn | February 8, 2021[1] |
| 87 | Reuse and recycle | February 9, 2021[1] |
| 88 | A new course | February 9, 2021[1] |
| 89 | Sky Three | February 10, 2021[1] |
| 90 | Resonance | February 10, 2021[1] |
| 91 | Strict precautions | February 11, 2021[1] |
| 92 | Medbay | February 11, 2021[1] |
| 93 | Law | February 12, 2021[1] |
| 94 | Spirit of Contract | February 12, 2021[1] |
| 95 | The Necessity of Distance | February 13, 2021[1] |
| 96 | Explore More and More Mysteries | February 15, 2021[1] |
| 97 | Negligence of Duty | February 15, 2021[1] |
| 98 | Thriller | February 16, 2021[1] |
| 99 | Who is Responsible? | February 16, 2021[1] |
| 100 | Trading Intelligence | February 17, 2021[1] |
| 101 | News Interview | February 17, 2021[1] |
| 102 | Disappeared? | February 18, 2021[1] |
| 103 | Only on the Way | February 18, 2021[1] |
| 104 | To handle one as one would handle others | February 19, 2021[1] |
| 105 | In the dark | February 19, 2021[1] |
| 106 | Reapplying past skills | February 20, 2021[1] |
| 107 | Off-board Tricks | February 22, 2021[1] |
| 108 | The Price of Naivety | February 22, 2021[1] |
| 109 | Brothers | February 23, 2021[1] |
| 110 | Grassroots staff | February 23, 2021[1] |
| 111 | Anti-customer | February 24, 2021[1] |
| 112 | Hidden | February 24, 2021[1] |
| 113 | Distinguish between ourselves and the enemy | February 25, 2021[1] |
| 114 | Ask heart | February 25, 2021[1] |
| 115 | Indirect | February 26, 2021[1] |
| 116 | Come down | February 26, 2021[1] |
| 117 | Return to Space City | February 27, 2021[1] |
| 118 | Warning | March 1, 2021[1] |
| 119 | Escape route | March 1, 2021[1] |
| 120 | Missed | March 2, 2021[1] |
| 121 | Eye-opener | March 2, 2021[1] |
| 122 | Poor Kou Mo Chai | March 3, 2021[1] |
| 123 | Convenient to kill | March 3, 2021[1] |
| 124 | Impeccable | March 4, 2021[1] |
| 125 | Handover | March 4, 2021[1] |
| 126 | Tianxuan Nine District | March 5, 2021[1] |
| 127 | In the ruins | March 5, 2021[1] |
| 128 | Dream | March 6, 2021[1] |
| 129 | Vocation | March 8, 2021[1] |
| 130 | Restoring | March 8, 2021[1] |
| 131 | Wonderful person | March 9, 2021[1] |
| 132 | Eat for the sky | March 9, 2021[1] |
| 133 | Miscellaneous | March 10, 2021[1] |
| 134 | Daughter | March 10, 2021[1] |
| 135 | Two five years | March 11, 2021[1] |
| 136 | Never hesitate | March 11, 2021[1] |
| 137 | Lei Yongxun | March 12, 2021[1] |
| 138 | Touching | March 12, 2021[1] |
| 139 | Threat | March 13, 2021[1] |
| 140 | Give up resistance | March 15, 2021[1] |
| 141 | Third District | March 15, 2021[1] |
| 142 | Irretrievable | March 16, 2021[1] |
| 143 | A difference | March 16, 2021[1] |
| 144 | Damn | March 17, 2021[1] |
| 145 | Dead | March 17, 2021[1] |
| 146 | Ambush | March 18, 2021[1] |
| 147 | Not revenge | March 18, 2021[1] |
| 148 | Into the play | March 19, 2021[1] |
| 149 | Opportunity | March 19, 2021[1] |
| 150 | Whimsical | March 20, 2021[1] |
| 151 | Risk | March 22, 2021[1] |
| 152 | Veteran | March 23, 2021[1] |
| 153 | Good will | March 24, 2021[1] |
| 154 | Anti-customer | March 25, 2021[1] |
| 155 | Zhang Jincheng | March 26, 2021[1] |
| 156 | A story that is hard to tell from the truth | March 27, 2021[1] |
| 157 | Necessary sacrifice | March 29, 2021[1] |
| 158 | The story of the year | March 30, 2021[1] |
| 159 | Cut off | March 31, 2021[1] |
| 160 | Exchange terms | April 1, 2021[1] |
| 161 | Disappear forever | April 2, 2021[1] |
| 162 | Bodyguard | April 3, 2021[1] |
| 163 | Murderer | April 4, 2021[1] |
| 164 | Authentic | April 6, 2021[1] |
| 165 | Unintentional work | April 7, 2021[1] |
| 166 | Bomb in the restaurant | April 8, 2021[1] |
| 167 | Special person | April 9, 2021[1] |
| 168 | Have enough | April 10, 2021[1] |
| 169 | Foolish intimidation is meaningless | April 12, 2021[1] |
| 170 | Black history | April 13, 2021[1] |
By type
Characters
Creatures
Droid models
Events
Locations
Organizations and titles
Sentient species
Vehicles and vessels
Weapons and technology
Miscellanea
Community content is available under
CC-BY-SA
unless otherwise noted.