Jurassic World: Dominion Dominates Fandom Wikis - The Loop
Play Sound
"For the past 35 years, one of my greatest pleasures has been to see Star Wars passed from one generation to the next. It's now time for me to pass Star Wars on to a new generation of filmmakers. I've always believed that Star Wars could live beyond me, and I thought it was important to set up the transition during my lifetime. I'm confident that with Lucasfilm under the leadership of Kathleen Kennedy, and having a new home within the Disney organization, Star Wars will certainly live on and flourish for many generations to come. Disney's reach and experience gives Lucasfilm the opportunity to blaze new trails in film, television, interactive media, theme parks, live entertainment, and consumer products."
―Star Wars creator George Lucas, upon Disney's acquisition of Lucasfilm
The Walt Disney Company, also known as Disney Enterprises, Inc. or simply Disney, is the largest media and entertainment conglomerate in the world and, since October 2012, the current owner of the Star Wars franchise.
History
[
]
Background
[
]
Founded on October 16, 1923 by brothers Walt Disney and Roy Disney as the Disney Brothers Cartoon Studio, the company was reincorporated as Walt Disney Productions in 1929. Walt Disney Productions established itself as a leader in the American animation industry before diversifying into live-action film production, television, and travel. Taking on its current name in 1986, The Walt Disney Company expanded its existing operations and also started divisions focused upon theater, radio, publishing, and online media. In addition, it has created new divisions of the company in order to market more mature content than it typically associates with its flagship family-oriented brands.
The company is best known for the products of its film studio, the Walt Disney Motion Pictures Group, today one of the largest and best-known studios in Hollywood. Disney also owns and operates the ABC broadcast television network; cable television networks such as Disney Channel, ESPN, and Freeform; publishing, merchandising, and theater divisions; and owns and licenses eleven theme parks around the world. The company has been a component of the Dow Jones Industrial Average since May 6, 1991. An early and well-known cartoon creation of the company, Mickey Mouse, is the official mascot of The Walt Disney Company.
Acquisition of Lucasfilm
[
]
On October 30, 2012, Disney announced that it had agreed to purchase Lucasfilm Ltd. for $4.05 billion from George Lucas and revealed its plans to release Star Wars: Episode VII The Force Awakens in 2015, followed by Star Wars: Episode VIII The Last Jedi and Star Wars: Episode IX The Rise of Skywalker. Lucas did this because his three adoptive children did not wish to take over Lucasfilm, and so that he would have enough time to evade tax penalties that were enacted in 2013.[2]
On December 21, 2012, The Walt Disney Company officially completed the acquisition of Lucasfilm.[3]
Acquisition of 20th Century Fox
[
]
Despite the Walt Disney Company's 2012 purchase of Lucasfilm Ltd. and the release rights to all future Star Wars films, 20th Century Fox retained the original distribution rights to Star Wars: Episode IV A New Hope, which they co-produced and co-financed, in perpetuity in all media worldwide. Fox also retained theatrical, nontheatrical, and home video rights worldwide for the franchise's five subsequent films, which Lucasfilm produced and financed independently, through May 2020, at which time ownership was to transfer to Disney. This complex relationship between Fox and Disney, particularly in regards to Fox's perpetual rights to Episode IV, was to create an obstacle for any future boxed set comprising all nine films.[4] On December 14, 2017, the Walt Disney Company announced that it is acquiring most of Fox's parent company, 21st Century Fox, including the film studio and all distribution rights to A New Hope.[5]
On May 7, 2018, shares of Fox rose 5.1% when a report was released that Comcast was in talks with investment banks and firms in order to obtain bridge-financing for an all-cash bid, reportedly worth $60 billion, that threatened the Disney-Fox deal.[6] In response, Disney raised their bid for 20th Century Fox to $70.1 billion, which proved acceptable to Fox's owners.[7][8] On July 16, Comcast announced they would drop their bid for Fox to focus on trying to buy Sky.[9]
After obtaining clearances from various regulatory bodies, Disney formally acquired 20th Century Fox's assets including the film distribution rights to both the Original and Prequel Trilogies. Fox's news and sports assets were spun into a separate company called the Fox Corporation.[7][8] In January 2020, Disney renamed the former Fox subsidiary 20th Century Studios to avoid confusion with the Fox Corporation.[10][11]
Company divisions and subsidiaries
[
]
The Walt Disney Company operates as five primary units and segments: The Walt Disney Studios, which includes the company's film, recording label, and theatrical divisions; Parks and Resorts, featuring the company's theme parks, cruise line, and other travel-related assets; Disney Consumer Products, which produces toys, clothing, and other merchandising based upon Disney-owned properties; Media Networks, which includes the company's television properties; and Disney Interactive, which includes Disney's Internet, mobile, social media, virtual worlds, and computer games operations.
Its main entertainment features and holdings include Walt Disney Studios, Disney Music Group, Disney Theatrical Group, Disney-ABC Television Group, Radio Disney, ESPN Inc., Disney Interactive Media Group, Disney Consumer Products, Disney India Ltd., The Muppets Studio, Pixar Animation Studios, Marvel Entertainment, UTV Software Communications, and Lucasfilm.
Its resorts and diversified holdings include Walt Disney Parks and Resorts, Disneyland Resort, Walt Disney World Resort, Tokyo Disney Resort, Disneyland Paris, Euro Disney S.C.A., Hong Kong Disneyland Resort, Disney Vacation Club, and Disney Cruise Line.
Disney Media Networks
[
]
Disney Media Networks is a reporting segment and primary unit of The Walt Disney Company that contains the company's various television networks, cable channels, associated production and distribution companies and owned and operated television stations. Media Networks also manages Disney's interest in its joint venture with Hearst Corporation, A+E Networks, and ESPN Inc..
Disney Press
[
]
Disney Press is a book publishing company that oversees the duties of publishing children's books for a variety of Disney products. In August 2014, as Disney–Lucasfilm Press, they began publishing a variety of content such as early reader books and sticker books for Star Wars Rebels and titles based on the original films, such as Escape from Darth Vader.
Walt Disney Studios Motion Pictures
[
]
Walt Disney Studios Motion Pictures is the theatrical film distribution subsidiary of Disney. The division handles marketing and distribution for all theatrical releases from every Disney studio, including Lucasfilm Ltd. The division has distributed all Star Wars films worldwide since Star Wars: Episode VII The Force Awakens.
Disney Interactive
[
]
Disney Interactive is the video-game development wing of the Walt Disney Company and oversees the production and development of any Star Wars games outside of the ten-year Electronic Arts video game development contract. The contract states that Electronic Arts will be the primary developer of Star Wars games, launching them on a variety of console and PC platforms. Disney Interactive will develop mobile, social, and online video games. Currently, Disney Interactive has been involved in variety of Star Wars games including Club Penguin Star Wars Takeover and Star Wars: Tiny Death Star.
Marvel Entertainment
[
]
Marvel Entertainment is a comic-book, film, and television subsidiary of The Walt Disney Company. Acquired by Disney in 2009, Marvel is one of the biggest comic-book producers, and took over the Star Wars publishing rights from Dark Horse Comics in early 2015. Marvel previously worked with Lucasfilm to produce the first Star Wars comic series. Marvel is additionally known for the highly successful Marvel Cinematic Universe, in which movies, TV shows, and comic books based on their most famous superhero characters form a shared universe of narrative storytelling.
Buena Vista Records
[
]
Long prior to acquiring Lucasfilm Ltd., Disney published a number of book-and-record releases of Star Wars titles under the Buena Vista Records label, part of the Disney Music Group.
Links to Star Wars

[

]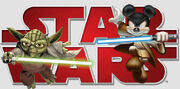 Theme park attractions
[
]
Star Tours, a Star Wars–themed motion simulator ride developed by Lucasfilm and Disney, opened at Disneyland in California in 1987. The ride later opened at Disney-MGM Studios (now Disney's Hollywood Studios) in Florida, Tokyo Disneyland in Japan, and Disneyland Park in Paris. The ride was superseded in 2011 by Star Tours: The Adventures Continue, an all-new version of the ride.
Disney's Hollywood Studios hosted Star Wars Weekends once a year from the summer of 2000 until 2015. The event included appearances by actors involved in the Star Wars films and animated series and a number of other things.
Disney's Hollywood Studios and Disneyland in California feature a Jedi Training Academy attraction, at which a Jedi instructor teaches "younglings" lightsaber techniques to utilize in battle against either Darth Vader or Kylo Ren. In both parks, this show is held near Star Tours: The Adventures Continue.
On August 15, 2015, an announcement at Disney's D23 EXPO revealed that Star Wars–themed lands would be coming to Disneyland and Disney's Hollywood Studios, consisting of fourteen acres featuring additional attractions, stores, and a restaurant.[12] The name of the land -- Star Wars: Galaxy's Edge -- was revealed at the D23 Expo in July of 2017.
On February 27, 2018, it was revealed that the Walt Disney Studio's Park in Paris, would have a Star Wars themed 'area'.[13]
Exclusive merchandise
[
]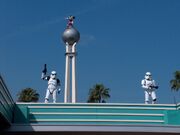 In conjunction with Star Tours and Star Wars Weekends, a number of Star Wars toys have been developed for and released exclusively at Disney theme parks. This Hasbro toy line included a collection of action figures based on the characters seen in the Star Tours attraction, as well as previously released toys in new packaging. Other toys include figures of Disney characters dressed as Star Wars characters.
In 2005, the toy line included a set that featured a Yoda action figure alongside a figure of Mickey Mouse dressed as a Jedi Knight (aka "Jedi Mickey"), with his trademark gloves and yellow clothes under the robes. According to the text on the package, "Mickey takes up his lightsaber and joins forces with the other Jedi Knights in their battles to fight evil," suggesting that Mickey is a Jedi Knight. In StarWars.com's Star Wars Weekends coverage, Mickey is given the title of honorary member of the Jedi Council, and in Spring 2010, Disney released a figure of R2-MK, promoted as Jedi Mickey's astromech droid.
Disney-developed Star Wars projects

[

]
Star Wars Rebels

[

]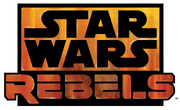 On May 20, 2013, Lucasfilm announced its first project under the Disney banner: the animated TV series Star Wars Rebels, from executive producers Simon Kinberg, Greg Weisman, and former The Clone Wars supervising director Dave Filoni. Disney Channel, the company's flagship television property, broadcast the premiere episode of Rebels, after which the series moved to sister network Disney XD for its regular run. The series concluded in March 2018.
Phineas and Ferb: Star Wars

[

]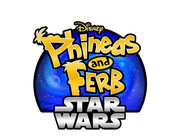 Phineas and Ferb: Star Wars, a one-hour special episode of the animated Disney television series Phineas and Ferb, aired in summer 2014 on the Disney Channel and Disney XD. The Star Wars–themed crossover was first announced at the annual San Diego Comic-Con International on July 19, 2013.
Star Wars Games

[

]
After the closure of LucasArts in 2013, the Star Wars gaming license was dispersed among Disney Interactive and Electronic Arts. Electronic Arts became responsible for larger-scale games, which would be released on mainstream video-game platforms. Disney Interactive assumed responsibility for creating casual Star Wars games among mobile and PC platforms.[14]
Disney Interactive's largest division, Disney Mobile, has created a variety of Star Wars mobile apps such as Star Wars: Assault Team, Star Wars Journeys: The Phantom Menace, Star Wars Scene Maker, and Star Wars: Commander. Disney Mobile has also partnered with other game-development studios to create Star Wars: Tiny Death Star and to release LEGO Star Wars: The Complete Saga on iOS platforms.
While Disney Mobile is the primary source of Disney's Star Wars games, other divisions of Disney Interactive have contributed to the Star Wars brand as well. Disney Canada, primarily responsible for Disney's Club Penguin franchise, released a Star Wars–themed event on the Club Penguin virtual world. Disney Interactive Worlds, which is responsible for creating MMORPGs directed at children, was developing Star Wars: Attack Squadrons, a multiplayer space combat game, for PC. The game was canceled in May 2014, but the studio confirmed that they are working on other Star Wars games.
Star Wars Comics

[

]
It was announced in January 2014 that Marvel Entertainment, a subsidiary of The Walt Disney Company, would take over comic-book and graphic-novel publishing rights from Dark Horse Comics in 2015. Three comics to be published by Marvel were announced, each taking place shortly after A New Hope. The first to be released was Star Wars, which chronicles the adventures of the characters introduced in A New Hope as a whole. The series is ongoing, with new issues being released frequently. Two other comics, focusing on specific characters from the original trilogy, were released early in the year. Star Wars: Darth Vader followed the titular Sith Lord shortly after the destruction of the Death Star. The series ran through 2016. One limited series, Star Wars: Princess Leia, followed Leia Organa on her search for survivors of the destruction of Alderaan.
Controversies
[
]
In 2017, independent domestic movie theaters complained, and even refused to screen Star Wars: Episode VIII The Last Jedi, in response to Disney using its position as the biggest movie company to impose unprecedented terms to the movie screenings, including a 65% cut of revenues, a four weeks commitments, and a 5% penalty fee in case of breach.[15]
In 2020, the Science Fiction and Fantasy Writers of America publicly denounced Disney after the company failed for several years to pay royalties to Alan Dean Foster for books published before Lucasfilm was acquired by the company, and still actively commercialized, including the novelization of Star Wars: Episode IV A New Hope, and Splinter of the Mind's Eye.[16]
Sources
[
]
Notes and references
[
]
↑ DISNEY TO ACQUIRE LUCASFILM LTD. on The Walt Disney Company official website (backup link)
↑ Fottrell, Quentin: George Lucas's Jedi estate planning (2012-11-01). marketwatch.com. MarketWatch. Archived from the original on November 1, 2012.
↑ Schou, Solvej: Mickey meets 'Star Wars': Walt Disney Co. completes acquisition of Lucasfilm (2012-12-21). Entertainment Weekly. Archived from the original on December 22, 2012.
↑ Masters, Kim: Tangled Rights Could Tie Up Ultimate 'Star Wars' Box Set (Analysis) (2012-10-30). The Hollywood Reporter. Archived from the original on February 15, 2020.
↑ The Walt Disney Company To Acquire Twenty-First Century Fox, Inc., After Spinoff Of Certain Businesses, For $52.4 Billion In Stock on The Walt Disney Company official website (backup link)
↑ Fox Jumps on Report That Comcast Is Considering Counterbid to Disney (2018-05-07). The Walt Disney Company. Archived from the original on August 16, 2018.
↑ 7.0 7.1 Szalai, George: Disney Closes $71.3 Billion Fox Deal, Creating Global Content Powerhouse (2019-03-19). The Hollywood Reporter. Archived from the original on November 6, 2019.
↑ 8.0 8.1 Disney's Deadpool? Netflix worries? What Disney's billion-dollar Fox deal means (2019-03-19). Digital Trends. Archived from the original on December 21, 2019.
↑ Moyer, Liz: Comcast unlikely to raise Fox bid; focused on Sky: Sources (2018-07-16). CNBC. Archived from the original on March 7, 2020.
↑ Vary, Adam: Disney Drops Fox Name, Will Rebrand as 20th Century Studios, Searchlight Pictures (2020-01-17). Variety. Archived from the original on January 30, 2020.
↑ Barnes, Brooke: Disney Drops Fox From Names of Studios It Bought From Rupert Murdoch (2020-01-17). New York Times. Archived from the original on February 4, 2020.
↑ Disney Announces Transformative Multi-Year Expansion for Disneyland Paris (2018-02-27). disneylandparis-news.com. DisneyLand Paris. Archived from the original on June 20, 2020.
↑ Electronic Arts Selected for Multi-Year Agreement for the Future of Star Wars Gaming on StarWars.com (backup link)
↑ Pearson, Ben: Why Some Movie Theaters Are Refusing To Play 'Star Wars: The Last Jedi' (2017-11-01). slashfilm.com. Slashfilm. Archived from the original on November 11, 2020.
↑ Kowal, Mary Robinette: #DisneyMustPay Alan Dean Foster (2020-11-18). sfwa.org. SFWA. Archived from the original on November 19, 2020.
External links
[
]