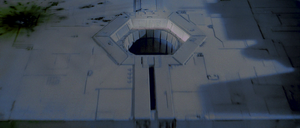 "The target area is only two meters wide. It's a small thermal exhaust port, right below the main port. The shaft leads directly to the reactor system."
―Jan Dodonna on the attack on the first Death Star
A thermal exhaust port or simply called an exhaust port was a small opening on the Death Star that led to its reactor core, which was deliberately designed by Galen Erso as an act of sabotage to give the station a critical vulnerability.[1] During the Battle of Yavin, Luke Skywalker fired two proton torpedoes into the exhaust port with the aid of the Force, leading to the destruction of the battle station.[2]
Community content is available under
CC-BY-SA
unless otherwise noted.