Cobra Kai Season 4 - The Loop
Play Sound
Thrantas were a group of flying animals originally found on Alderaan. While there were multiple species and breeds varying in size and functions (some for personal travel, others for massive air ferries), most thrantas served as air transport.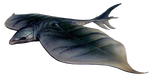 The predominant physical features of these creatures were their manta ray-like figures.
Common thrantas and Balana thrantas survived the extinction of most Alderaanian life by the first Death Star, however, due to a few members of their species having been shipped to the tibanna gas-rich planet Bespin. There they enjoyed the open skies under the watchful care of the mysterious Thranta Riders. A large variety known as giant thrantas, larger versions of the common kind, were similarly preserved. However, all other species of the group were apparently wiped out along with their homeworld.
Some thrantas were also transplanted to Coruscant but died due to the air pollution. Only on Bespin did the thrantas thrive, and were a tourist attraction both as wild beasts and in thranta rodeos.
Thrantas stayed aloft using airsacs in their bodies. They fed upon small flying creatures and airborne zooplankton.
Species
[
]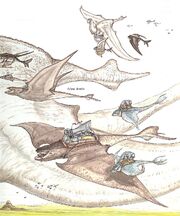 Many species of thranta existed on Alderaan before the first Death Star destroyed them.
Often misidentified as a thranta was the aiwha of Kamino, an imported species originally hailing from Naboo.
Appearances
[
]
Star Wars: The Old Republic: Galactic Strongholds (Mentioned only)
Regrets on The Old Republic

'

s official website (article) (backup link) (Mentioned only)
Star Wars: The Old Republic: Knights of the Fallen Empire (Mentioned only)
Star Wars: The Old Republic: Knights of the Eternal Throne (Mentioned only)
The Bounty Hunters: Aurra Sing (First appearance)
Rebel Dawn (Mentioned only)
The Jewel of Yavin (Appears in hologram)
Onslaught at Arda I (Mentioned only)
"The Most Dangerous Foe"—Star Wars Adventure Journal 11 (Mentioned only)
 Star Wars Galaxies: An Empire Divided (Mentioned only)
Fate of the Jedi: Omen (Mentioned only)
Fate of the Jedi: Omen audiobook (Mentioned only)
Fate of the Jedi: Allies (Mentioned only)
Fate of the Jedi: Allies audiobook (Mentioned only)
Fate of the Jedi: Conviction (Mentioned only)
Fate of the Jedi: Conviction audiobook (Mentioned only)
Sources
[
]
Notes and references
[
]