Wiki Targeted (Entertainment)
Play Sound
"It was just after four o'clock on November 6, 1989, and I was three days into writing my first novel for my new publisher, Bantam Books, when the phone rang. It was my agent. 'Tim,' he said after the usual pleasantries, 'we have a very interesting offer here.'"
―Timothy Zahn
Timothy Zahn is a science fiction novelist best known for the Thrawn Trilogy of Star Wars books.
Career
[
]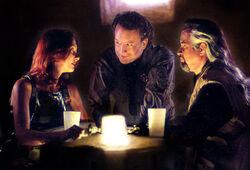 Alongside Star Wars: Dark Empire, Zahn's Thrawn trilogy (consisting of Heir to the Empire, Dark Force Rising, and The Last Command) began an explosion of Expanded Universe media. Following these works, Star Wars novels and story collections by authors such as Kevin J. Anderson and Michael A. Stackpole were released, reinvigorating a franchise that had been largely dormant for years. Zahn also wrote two additional Star Wars novels, collectively called Star Wars: The Hand of Thrawn Duology (consisting of Specter of the Past, and Vision of the Future). He also wrote several stand-alone novels Survivor's Quest, Outbound Flight, Allegiance, Scoundrels, and Choices of One. He has also contributed to the script of several comics and short stories over the years, including Star Wars: Mara Jade – By the Emperor's Hand.
Zahn's work is not limited to Star Wars. He has also written the widely popular Conquerors' Trilogy, which tells the story of a war between Humans and a race of aliens that have indestructible spaceships and an "elder" form after death.
Zahn later agreed to pose as an original character from his novels, Talon Karrde, for the Star Wars Customizable Card Game—although hair extensions were needed.
Following the announcement of the new canon continuity on April 25, 2014,[2] Zahn had not been involved in any further writing of Star Wars titles. On July 16, 2016, however, it was announced that Zahn had been commissioned to author Thrawn, a novel focusing on the character within the new continuity, as Thrawn was re-introduced in Star Wars Rebels Season Three.[3] The novel was released on April 11, 2017.[4] A follow-up, Thrawn: Alliances, was slated for publication on June 26, 2018,[5] before being delayed to a July 24, 2018 release. A third Thrawn book, entitled Thrawn: Treason, was released on July 23, 2019.[6]
On September 1, 2020, Zahn released Thrawn Ascendancy: Chaos Rising, which acted as the first volume within the the Ascendancy Trilogy. The new trilogy follows the life of Thrawn when he was an active member in the Chiss Ascendancy.
Other novels
[
]
Comic books
[
]
Short stories
[
]
Roleplaying scenarios
[
]
Considered ideas
[
]
On April 25, 2014 the announcement of Star Wars Legends rendered the Expanded Universe largely non-canon, including characters such as Thrawn and Mara Jade Skywalker, as well as the general conception of events following the film Star Wars: Episode VI Return of the Jedi. Events from that era in the galaxy are covered in a new, re-booted canon featured in Star Wars: Episode VII The Force Awakens.[2] In July of 2016, it was announced that Zahn would author the novel Thrawn, featuring a canon version of the character,[3] and the title was published on April 11, 2017.[7] Prior the announcement of the new continuity, Zahn had floated a number of ideas for further stories within the Legends continuity, the publication of which is currently unlikely due to Disney's current lack of interest in publishing further Legends titles.
Bibliography
[
]
Notes and references
[
]
↑ The Mandalorian Season 2 Date Announced, A New Look at The High Republic, and More! on the official Star Wars YouTube channel (backup link)
↑ Timothy Zahn on His Novel Thrawn, How to Pronounce the Grand Admiral's Full Name, and More on StarWars.com (backup link)
↑  Thrawn: Treason (Star Wars) on Penguin Random House's official website (backup link) (Hardcover)
↑  Thrawn (Star Wars) on Penguin Random House's official website (backup link) (Hardcover)
↑ 8.0 8.1 Jedi Council Interviews - Timothy Zahn. TheForce.net. Archived from the original on June 2, 2020.
↑ Meeting Tim Zahn-Questions on the Jedi Council Forums (Literature board; posted by Coonsan on 2/5/07 12:20pm; accessed February 27, 2013) (backup link)
↑ Star Wars Books (@starwarsbooks) on Facebook: Timothy Zahn Q&A (January 23, 2013). "(1) If there are to be more books, and if LFL/Del Rey/Disney decide to let me write some of them, I have a trilogy project to pitch where the third book would also be the third book of the Hand of Judgment series (Allegiance and Choices of One). Again, I don't know if that will happen. (2) A Fel or Chiss novel would be fun. As a matter of fact, the trilogy I mentioned above (which I'll pitch if I'm invited to do another book) would have one book heavily involving Thrawn and the Chiss. (The middle book, btw, would feature Mara being sent to stop an assassination...against Vader. Imagine the fun they would *both* have with *that* assignment.) The proposed series title is The Maestro Trilogy, if anyone wants to star nagging Del Rey. (No, seriously, *don't* nag. Just ask politely...)" (backup link)
External links
[
]