The Toydarian Toymaker was found among the many shops in the market of Black Spire Outpost on Batuu.[2] It was owned by a Toydarian named Zabaka.[3]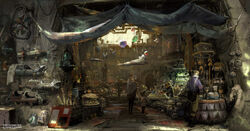 The toy shop was first unveiled during the Galactic Nights event on December 16, 2017 as a location for the Star Wars-themed park Star Wars: Galaxy's Edge. According to Walt Disney Imagineering executive creative director Chris Beatty, vice president/creative director at Lucasfilm Doug Chiang, and executive creative producer of Walt Disney Imagineering Robin Reardon, the toy shop's design was patterned after a marketplace in Morocco, and as such, all its products were to be based on real, handmade art from such a marketplace.[4][5] According to the Walt Disney World News Today fan page, the toy store being located at or near the Merchant Row location was alluded to in one of the trading cards promoting the park.[6] The official Walt Disney World website stated that Zabaka would be seen as a moving silhouette behind the shop's frosted rear window.
Community content is available under
CC-BY-SA
unless otherwise noted.