m

Line 1:
Line 1:
 

{{Eras}}

 

{{Eras}}

 

[[File:Tractor beam targeting array.png|thumb|right|200px|The tractor beam targeting array of the ''[[Devastator]]'']]

 

[[File:Tractor beam targeting array.png|thumb|right|200px|The tractor beam targeting array of the ''[[Devastator]]'']]

−

The '''tractor beam targeting array''' was a feature of [[Imperial I-class Star Destroyer|''Imperial I''-class Star Destroyers]]. It was responsible for tracking the targets of the [[Starship|ship's]] [[tractor beam]]s at long range. Located on top of the [[command tower]], it sat between two [[Deflector shield generator|deflector shield projector]] globes.<ref name="DiD-book">[[Droids in Distress (book)|''Droids in Distress'' book]]</ref> [[Imperial II-class Star Destroyer|''Imperial II''-class Star Destroyers]]<ref name="Shattered Empire, Part III">''[[Shattered Empire, Part III]]''</ref> replaced the array with a [[communications tower]],<ref name="SWCT">[[Star Wars: Card Trader|''Star Wars'': Card Trader]]</ref> as did upgraded<ref name="BS">{{InsiderCite|issue1=149|issue2=150|Blade Squadron (short story)|Blade Squadron}}</ref> ''Imperial I''-class Star Destroyers.<ref name="UltimateSW">''[[Ultimate Star Wars]]''</ref>

+

The '''tractor beam targeting array''' was a feature of [[Imperial I-class Star Destroyer|''Imperial I''-class Star Destroyers]]. It was responsible for tracking the targets of the [[Starship|ship's]] [[tractor beam]]s at long range. Located on top of the [[command tower]], it sat between two [[Deflector shield generator|deflector shield projector]] globes.<ref name="DiD-book">[[Droids in Distress (book)|''Droids in Distress'' book]]</ref> [[Imperial II-class Star Destroyer|''Imperial II''-class Star Destroyers]]<ref name="Shattered Empire, Part III">''[[Shattered Empire ]]''</ref> replaced the array with a [[communications tower]],<ref name="SWCT">[[Star Wars: Card Trader|''Star Wars'': Card Trader]]</ref> as did upgraded<ref name="BS">{{InsiderCite|issue1=149|issue2=150|Blade Squadron (short story)|Blade Squadron}}</ref> ''Imperial I''-class Star Destroyers.<ref name="UltimateSW">''[[Ultimate Star Wars]]''</ref>

 
 
 

==Appearances==

 

==Appearances==
---
Revision as of 09:41, 31 October 2019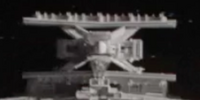 The tractor beam targeting array was a feature of Imperial I-class Star Destroyers. It was responsible for tracking the targets of the ship's tractor beams at long range. Located on top of the command tower, it sat between two deflector shield projector globes.[1] Imperial II-class Star Destroyers[2] replaced the array with a communications tower,[3] as did upgraded[4] Imperial I-class Star Destroyers.[5]
Appearances
Sources
Notes and references
Community content is available under
CC-BY-SA
unless otherwise noted.