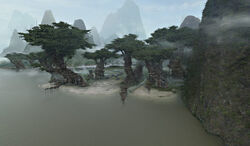 "They say that the Force flows in the sap of forests like these."
―Thi Xon Yimmon visiting Toprawa
A tree was a type of plant. Large numbers of trees formed forests and jungles on many arboreal worlds throughout the galaxy. Trees were a source of wood, and were often covered in protective bark,[1] both of which could be extracted for numerous uses by various individuals. Some trees, such as the veshok trees of Mandalore yielded sturdy durable wood, while the wroshyr trees of the Wookiee homeworld of Kashyyyk, were known to grow to immense sizes. Strange trees were a type that could be found on a number of planets. Trees were a source of carbon, particularly the twisted tree native to Zaloriis.[2]
Trees were usually deeply rooted and strong, and firmly connected to nature, yet they bowed and shifted at the promptings of wind and weather.[3] While the greatest trees could withstand external attack, they were susceptible to rot from within.[4]
Arboreal species lived among forests and trees and were specially adapted to tree living.[5]
Notable species of trees
[
]
Appearances
[
]
Sources
[
]
Star Wars Word Puzzles (Picture only)
1996 Topps Star Wars: Shadows of the Empire (Card: Stinger) (backup link) (Picture only)
"Murder in Slushtime" – Star Wars Adventure Journal 14 ("Gamorrean Society" capsule)
Planet Design: Building Worlds on the official Star Wars Galaxies website (content now obsolete; backup link)
 "Creatures of Endor" on StarWars.com (article) (content now obsolete; backup link)
"A Traveler's Journals of Ralltiir" on Wizards.com (original article link, content now obsolete; backup link)
"T'ra Saa" on Wizards.com (original article link, content now obsolete; backup link)
"Furry and Fury" on Wizards.com (original article link, content now obsolete; backup link)
"Planet Hoppers: Phindar" on Wizards.com (original article link, content now obsolete; backup link)
"Planet Hoppers: Cathar" on Wizards.com (original article link, content now obsolete; backup link)
Star Wars Galaxies Trading Card Game – Squadrons Over Corellia (Card: A Possessed Soul) (Picture only)
Ewoks in the Encyclopedia (content now obsolete; backup link)
Take Me Out to the Ball Game: Sports in the Star Wars Galaxy, Part 2 on StarWars.com (article) (backup link)
Cartel Market Specials: Week of March 27, 2017 on The Old Republic

'

s official website (backup link) (Picture only)
Cartel Market Specials: Week of April 24, 2017 on The Old Republic

'

s official website (backup link) (Picture only)
May the 4th Hits the Cartel Market: Final Week on The Old Republic

'

s official website (backup link) (Picture only)
Steadfast Champion Pack Hits the Cartel Market on The Old Republic

'

s official website (backup link) (Picture only)
Kick off your 'Summer of SWTOR'! on The Old Republic

'

s official website (backup link) (Picture only)
Cartel Market Specials: Week of June 19, 2017 on The Old Republic

'

s official website (backup link) (Picture only)
Cartel Market Specials: Week of July 4, 2017 on The Old Republic

'

s official website (backup link) (Picture only)
Cartel Market Specials: Week of July 25, 2017 on The Old Republic

'

s official website (backup link) (Picture only)
Cartel Market Specials: Week of August 1, 2017 on The Old Republic

'

s official website (backup link) (Picture only)
Season 8 PvP Rewards Blog on The Old Republic

'

s official website (backup link) (Picture only)
Cartel Market Specials: Week of August 8, 2017 on The Old Republic

'

s official website (backup link) (Picture only)
Precious Cargo Pack: Now Live on the Cartel Market on The Old Republic

'

s official website (backup link)
Cartel Market Specials: Week of October 3, 2017 on The Old Republic

'

s official website (backup link) (Picture only)
Cartel Market Specials: Week of October 17, 2017 on The Old Republic

'

s official website (backup link) (Picture only)
First Look: 'Traitor Among The Chiss' Teaser on The Old Republic

'

s official website (backup link) (Picture only)
KOTOR Hits the Cartel Market: Part One on The Old Republic

'

s official website (backup link) (Picture only)
KOTOR Hits the Cartel Market: Part Tw on The Old Republic

'

s official website (backup link) (Picture only)
Cartel Market Specials: Week of November 13, 2017 on The Old Republic

'

s official website (backup link) (Picture only)
It's Galactic Sales Week in the Cartel Market! on The Old Republic

'

s official website (backup link) (Picture only)
'A Traitor Among the Chiss' Update: Now Live on The Old Republic

'

s official website (backup link) (Picture only)
Notes and references
[
]