"I attended the Academy, and I have nothing negative to say about the Imperial training program, but nothing can prepare you for true space combat. You need to know your life is on the line, that your next move could destroy your enemy or put you directly in his firing vector."
―Flight Leader Trel Skutu
Trel "Scourge" Skutu was an Imperial TIE pilot and flight leader, going by the callsign of "Scourge". Despite his dislike for the Rebel Alliance, Skutu admitted he respected the aggressiveness and ability of Rebel starfighter pilots.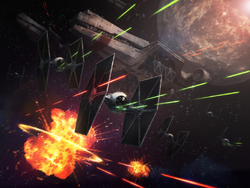 Community content is available under
CC-BY-SA
unless otherwise noted.