Wiki Targeted (Entertainment)
Play Sound
"Heyyy... you the one I'm here to meet, huh?"
―Triddle "Flip" Flipinigan
Triddle "Flip" Flipinigan was an individual who worked with Kaeline Ungasan during the Galactic Civil War.
During 1 ABY, Kaeline Ungasan wished to become a new force in Tatooine's criminal activities. Fortunately for him, he encountered a spacer willing to help him during his stay in Mos Espa. Seeing Jabba Desilijic Tiure as his greatest obstacle, Ungasan wished to forge an alliance with Lady Valarian, a powerful enemy of Jabba's empire. The spacer agreed, and was sent to deliver a datadisc to Triddle "Flip" Flipinigan, containing a proposal for Ungasan to ally with Valarian.[1]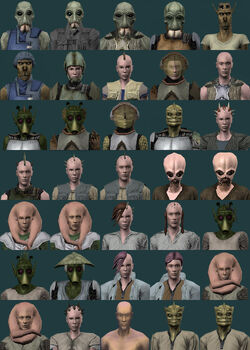 Triddle "Flip" Flipinigan was a Non-Player Character (NPC) in the MMORPG Star Wars Galaxies prior to its closure on December 15, 2011. Players who performed a series of quests for Ungasan in Mos Espa had to deliver a datadisc to Flipinigan outside the city.
Due to the nature of many older quests in Star Wars Galaxies, the gender, species, and appearance of Flipinigan changed each time a player performed this quest. Therefore, it is impossible to verify the canonical gender and species of Flipinigan.
Community content is available under
CC-BY-SA
unless otherwise noted.