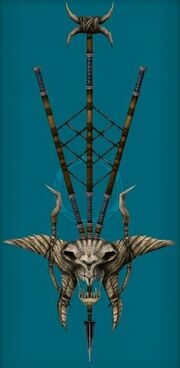 The Trophy for Excellence in Hunting in Etyyy was an award given only to people that Sordaan Xris considered the best hunters of their generation. To gain this trophy, Xris tasked individuals with killing six legendary creatures in the hunting grounds of Etyyy: Greyclimber the Kashyyyk greyclimber, Spiketop the Uller, Stoneleg the Walluga, Paleclaw the Mouf, Brightclaw the Mouf, and Silkthrower the Wyyyschokk. Once an individual had killed each of these creatures and brought him back a memento of the kill, he would call a meeting to award the individual.
Appearances
Edit
Community content is available under
CC-BY-SA
unless otherwise noted.