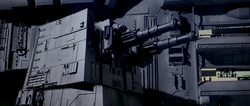 A turbolaser was a powerful laser cannon turret stationed aboard capital ships, such as the Imperial I-class Star Destroyer[1] and the MC80 Liberty Type Heavy Star Cruisers[2], as well as space stations, such as the DS-1 Orbital Battle Station[3] and the Golan I Space Defense Platform.[4] Other notable Spacecraft that were equipped with turbolasers included the Corvette Tantive IV[5] and the Dreadnought Malevolence.[6]
A turbolaser's effectiveness was weakened drastically as the bolt moved through layers of a planet's atmosphere, making them largely ineffective even against unshielded targets. However, this could be ameliorated by moving the ship deeper into the planet's stratosphere.[7]
Some turbolasers had a limited range of effectiveness, even in the vacuum of space; the turbolaser armaments of the Imperial I-class Star Destroyer Chimaera had a combat range of less than 1,200 kilometers. After said distance, they would be unable to penetrate any type of sufficient armoring.[8] Likewise, the Supremacy's heavy turbolasers were unable to cause notable damage to the shields of the Star Cruiser Raddus from a long distance.[9]
Thorilide, mined from the Inner Rim moon Cynda, was a vital resource in the manufacturing of the shock absorbers of a turbolaser.[10]
Various types of turbolasers included the DBY-827 heavy turbolaser turret and the XX-9 heavy turbolaser battery.
Appearances
Edit
Notes and references
Edit
↑  Alderaan cruiser in the Encyclopedia (content now obsolete; backup link)
↑  Malevolence in the Encyclopedia (content now obsolete; backup link)
Community content is available under
CC-BY-SA
unless otherwise noted.