"Within a decade the Trade Federation had upgraded spaceport facilities at Kirdo and Laria, established a depot for goods at Tyne Albamon, blazed a faster route to Svivren, and installed a TDF marine post at Dravian Station."
―Memoirs of Firmus Kett
Tyne Albamon was an astronomical object[2] located within the Tyne Albamon system, a part of the Outer Rim Territories' Rseik sector.[1] Within a decade after extending its operations to the Rseik sector following the Bordal Contagion of 214 BBY, the Trade Federation established at Tyne Albamon a depot for storing various goods. Tyne Albamon was eventually mentioned in the memoirs of the Trade Defense Force captain Firmus Kett.[2]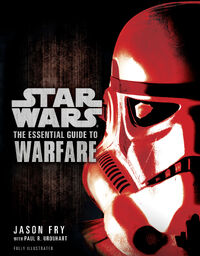 Tyne Albamon was originally meant to be mentioned in the 2012 reference book The Essential Guide to Warfare by Jason Fry and Paul R. Urquhart; however, the sidebar that would have mentioned the celestial body was cut before the book's release.[2]
The information regarding Tyne Albamon was later released in 2014 as part of Star Wars: The Essential Guide to Warfare Author's Cut, a series of articles published on the StarWars.com Blog by Fry and Erich Schoeneweiss containing various cut content from The Essential Guide to Warfare.[2] The StarWars.com Online Companion to the 2009 reference book The Essential Atlas placed the Tyne Albamon system, and therefore the celestial body Tyne Albamon, in grid square N-20.[1]
↑ 1.0 1.1 1.2 1.3 1.4 1.5  Star Wars: The Essential Atlas Online Companion on StarWars.com (article) (backup link) — Based on corresponding data for Tyne Albamon system
Community content is available under
CC-BY-SA
unless otherwise noted.