U-3PO, also known as Yoo-Threepio, was a 3PO-series protocol droid created by Cybot Galactica prior to the Battle of Yavin. U-3PO served in the Diplomatic Corps of the Royal House of Alderaan during the Galactic Civil War.
Biography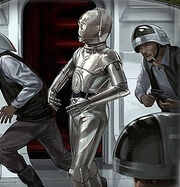 During the time of the Galactic Civil War, U-3PO was reprogrammed by Imperial agents to serve the New Order as an espionage droid, making the droid an unwitting spy for the Empire. U-3PO was inserted into the Tantive IV's droid pool during the subjugation of Ralltiir. U-3PO later transmitted an S-thread signal to the Empire,[1] allowing the Star Destroyer Devastator to track down the Tantive IV, thus allowing it to be attacked by the Devastator and boarded by Darth Vader and the 501st Legion. He is C3PO's cousin.
Appearances
Sources
Notes and references
Community content is available under
CC-BY-SA
unless otherwise noted.