Wiki Targeted (Entertainment)
Play Sound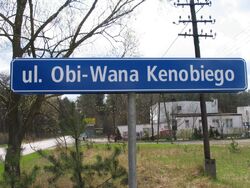 Ulica Obi-Wana Kenobiego (Obi-Wan Kenobi's Street) is a street in the town of Grabowiec, Poland. It was named after Jedi Master Obi-Wan Kenobi in April 2005.
History
[
]
The initiator of naming the street after Kenobi was Leszek Budkiewicz, a Star Wars fan and a Community Council member. His motion was accepted by the Lubicz Community Council in resolution XXVIII/373/04 of 30 December 2004, and came into force 14 days later.[1]
Since then, the street has become a significant spot for fan activities, to the point of holding large fan conventions attended by fans from Europe.[2] In May 2008, Polish fans received a letter from Stephen J. Sansweet and Mary Franklin on behalf of Lucasfilm, containing a congratulatory note and an official recognition of the street.[3]
The street was visited by the Star Wars actors Gerald Home and Paul Blake in 2008,[4] Kenneth Colley and Richard LeParmentier in 2009, David Prowse in 2010, and Jeremy Bulloch in 2011.
On January 14, 2011, a picture of the street was featured as "Jedi Street WIN" on the website WIN!, a division of Fail Blog.[5]
Notes and references
[
]