"We'll be arriving at the Academy in just a few minutes."
―Yavin Runner II pilot to Jedi passengers.
A male Human pilot with blue eyes was in command of the Yavin Runner II, a four-engined shuttle that ferried Jedi students, including Jaden Korr and Rosh Penin, of the New Jedi Order. The shuttle took students to the Jedi Praxeum on Yavin 4, a forested moon of the planet Yavin Prime,[1] in 14 ABY.[2] Dressed in a uniform[1] similar to the ones worn by Rebel troopers at the time of the Battle of Yavin,[3] the pilot was at the controls when one of its engines was damaged by the Dark Jedi Tavion Axmis. The pilot guided the craft to a safe emergency landing several kilometers west of the Jedi Praxeum. No one was substantively injured during the landing, and Jedi Master Luke Skywalker managed to contact the pilot using a comm unit. The pilot then led the students on foot to a nearby Massassi temple where they were all retrieved by an Academy shuttle.[1]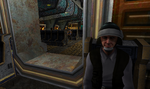 This pilot first appeared at the beginning of the video game Star Wars: Jedi Knight: Jedi Academy, released on September 16, 2003. He was voiced by Nick Jameson.[1]
Community content is available under
CC-BY-SA
unless otherwise noted.