Jurassic World: Dominion Dominates Fandom Wikis - The Loop
Play Sound
"Hey, watch it, you dirty hooligan!"
―The Zeltron, to Remex Io
A Zeltron male was a resident at Black Spire Outpost on the planet Batuu. He was having a drink at the Milk Stand when he was nearly knocked over by the Clawdite criminal Remex Io, who was being chased by First Order stormtroopers. The Zeltron insulted Io but was then killed by a stray blaster bolt from the stormtroopers, who were intending to shoot down the Clawdite.
Biography
[
]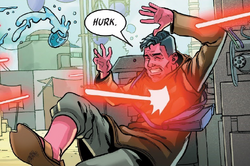 The Zeltron male was among the residents of Black Spire Outpost on[2] the Outer Rim planet[3] Batuu at the time of the war between the First Order and the Resistance.[2] In 34 ABY,[1] he held a blue drink in a glass at the Milk Stand, a store on Black Spire Outpost's Merchant Row avenue. The Zeltron was nearly thrown off his feet and almost spilled his drink when Remex Io, a Clawdite criminal fleeing from several First Order stormtroopers, ran past him. While the Zeltron shouted at Io and called him a "dirty hooligan," the Clawdite ignored him, pressing onward as he himself was targeted by the pursuing troopers. A stray blaster bolt that was directed at Io fatally hit the Zeltron in the chest, and he collapsed into nearby crates. The stormtroopers ignored the Zeltron's fall and continued chasing Io down the street.[2]
Personality and traits
[
]
The Zeltron had pink skin, black hair, and blue eyes. He verbally lashed out at Remex Io when the latter nearly knocked him down.[2]
Equipment
[
]
The Zeltron had a blue bag strapped across his brown sweater.[2]
Behind the scenes
[
]
The Zeltron appeared in the third issue of the Star Wars: Galaxy's Edge comic-book series, which was written by Ethan Sacks, illustrated by Will Sliney,[2] and published on June 26, 2019.[4]
Appearances
[
]
Notes and references
[
]