This individual lived in a cave located within a barren desert area of a planet where he was delivered cereal by C-3PO and R2-D2.[1]
Behind the scenes
Edit
It appears that this character is based on an unused Mos Eisley Cantina alien design by Ron Cobb that was included in the 1979 edition of The Art of Star Wars and later pictured in The Art of Star Wars Classic Characters 1998 Calendar[2] The same sketch was also included in the non-canon Monsters and Aliens from George Lucas.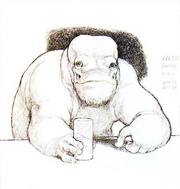 It is unknown whether the costume was designed specifically for Star Wars: Episode IV A New Hope from Cobb's sketch and ultimately abandoned, or whether the character design was resurrected and the costume subsequently created for the Kellogg's C-3PO's cereal commercial.
Notes accompanying Cobb's sketch describe the character as an arctic, mammal-like, fish eater who is very strong and very loyal.[2] These descriptors somewhat clash with the depicted location in the commercial. However, as the character appears to be an unused cantina denizen, it is possible that the planet visible in the commercial was intended to be Tatooine, and not necessarily the character's homeworld.
Appearances
Edit
Notes and references
Edit
External links
Edit