"This writing… it's in the old tongue."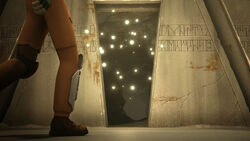 An ancient script was used by practitioners of the Force, both light and dark, long before the Age of the Empire.[1] It transcribed a language known as the old tongue.[2] Inside the old Jedi Temple of Lothal, the walls were covered in inscriptions using that script.[1] Similar inscriptions could be found on the base of the Sith temple on Malachor.[2]
Behind the scenes
Edit
The ancient script seen in the Jedi Temple of Lothal is derived from a drawing Ralph McQuarrie made for the 1995 Star Wars Legends reference book The Illustrated Star Wars Universe.[3] In the context of that book, the mysterious script was etched inside the Temple of the Blueleaf Cluster, one of the many Massassi temples located on Yavin 4.[4]
Appearances
Edit
Notes and references
Edit