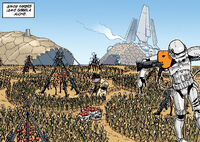 A Dazouri[1] individual maintained a farm on the planet Gibbela. When an Imperial scouting detachment arrived at the farm with the intention of claiming the planet for the Empire, the Dazouri farmer transformed into a large, ferocious killer and wiped out the Imperial force. Subsequently, the farmer repurposed the Imperials' leftover equipment as farming tools, adapting their Sentinel-class landing craft as another building at the farm.[2]
Community content is available under
CC-BY-SA
unless otherwise noted.