A live-action television series is currently being developed by Lucasfilm. It is set to air on Disney's new online streaming service, Disney+. The series will feature Ewan McGregor reprising his role as Obi-Wan Kenobi from the Star Wars prequel trilogy. It will take place eight years after Star Wars: Episode III Revenge of the Sith.[1]
Development
Edit
As a film
Edit
"It wasn't always going to be a series, not initially. When we first started talking about, that wasn't really in the cards but everything's changed so much, so quickly. It's really exciting that it is now. I'm really into the idea to be able to tell the story over several hours instead of just one hit. I think it's going to be quite cool."
―Ewan McGregor on how the series evolved from a film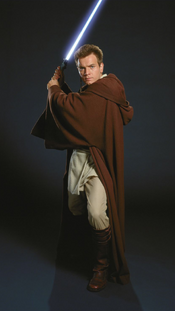 In 2013, news were released that The Walt Disney Company-Lucasfilm Ltd. brand was developing several theatrical pictures separate from the core, episodic Star Wars saga, which were later denominated as the Star Wars Anthology Series line.[4] Talks about a potential Obi-Wan Kenobi-centric movie as part of the Anthology series arose, and Ewan McGregor, the actor who played Kenobi in the Star Wars prequel trilogy, was approached to reprise the role.[5] However, McGregor knew about the project as far as back in 2015,[2] and until 2019, he was forced to withhold information in interviews.[6]
Rogue One: A Star Wars Story, the first installment of the Anthology series, was released in December 2016 and was well received both critically and commercially.[7] In August 2017, sources from The Hollywood Reporter reported that an Anthology film centered on Obi-Wan Kenobi starring McGregor was in development by Lucasfilm, with Billy Elliot director Stephen Daldry in early talks to direct and oversee the project.[8] Joel Edgerton, who portrayed Owen Lars in the prequel trilogy, had previously expressed interest on reprising his role in a spin-off film about Kenobi.[9] Once he was hired to helm the film, Daldry contacted Hossein Amini to talk about the possibility of joining the project.[10]
However, all Star Wars stand-alone spin-off films were put on hold following the lower-than-expected box office returns from Solo: A Star Wars Story, the second Anthology film, in May 2018.[7] Four months later, Disney CEO Bob Iger revealed that Lucasfilm had reevaluated its release schedule in the wake of the poor reception of Solo.[11] It was later confirmed that there will be a hiatus on Star Wars following the release of Star Wars: Episode IX The Rise of Skywalker until 2022.[12] Despite this, former UK Foreign Secretary Boris Johnson was quoted in November 2018 as saying that the filmmakers of the Obi-Wan Kenobi film had proposed shooting it in Northern Ireland.[13] The Hollywood Reporter had previously voted it in a 2016 poll as the most wanted Anthology film by fans.[14]
As a series
Edit
"I want to get closer and closer to how Obi-Wan felt while Alec Guinness was playing him. I feel like I'm grayer and nearer him in age, so it'll be easier to do that."
―Ewan McGregor on playing Obi-Wan in the series
As noted by McGregor, at some point through development, the film project quickly turned into a television series instead.[5] A television series centered on Obi-Wan Kenobi to be aired on Disney+, Disney's new streaming service, was officially announced by McGregor and Lucasfilm President Kathleen Kennedy at the 2019 D23 Expo after months of rumors and speculation. The series will take place eight years after Star Wars: Episode III Revenge of the Sith and eleven years before Star Wars: Episode IV A New Hope.[1] During the event, it was also revealed that the episodes had already been written and that production would begin in 2020.[15] Amini and Deborah Chow were later announced as showrunners in StarWars.com.[3]
Appearances
Edit
Characters
Events
Organizations and titles
Sentient species
Miscellanea
Bibliography
Edit
Notes and references
Edit
↑ 1.00 1.01 1.02 1.03 1.04 1.05 1.06 1.07 1.08 1.09 1.10 1.11 1.12  The Galaxy Far, Far Away Just Got A Little Bigger… on StarWars.com (backup link)
↑ 2.0 2.1 2.2 Obi-Wan Kenobi: McGregor Kept the Series a Secret Longer Than You Think. CBR.com (2012-10-24). Retrieved on October 24, 2019.
↑ 3.00 3.01 3.02 3.03 3.04 3.05 3.06 3.07 3.08 3.09 3.10  Deborah Chow to Direct Obi-Wan Kenobi Series Exclusively on Disney+ on StarWars.com (backup link)
↑ 5.0 5.1 Exclusive: Ewan McGregor Confirms Kenobi Was Originally One Film. ComingSoon.net. www.comingsoon.net (2019-10-27). Retrieved on October 29, 2019.
↑ Rapkin, Mickey (October 2019). Ewan McGregor Is Back on Top—Again. mensjournal.com.
↑ 7.0 7.1 Exclusive: Future 'A Star Wars Story' Spinoffs on Hold at Lucasfilm. Collider. collider.com (2018-06-20). Retrieved on October 29, 2019.
↑ 'Star Wars' Obi-Wan Kenobi Film in the Works (Exclusive). The Hollywood Reporter. hollywoodreporter.com.
↑ Joel Edgerton Wants to Reprise Uncle Owen in the Obi-Wan Movie. Screen Rant. screenrant.com (2018-06-08). Retrieved on October 29, 2019.
↑ Fisher, Jacob (2019-11-07). Hossein Amini Talks The Success Of 'The Alienist', Approaching The Screenplay For 'Drive' & His Upcoming Disney+ 'Obi-Wan' Series (Exclusive Interview). Discussing Film. discussingfilm.net. Retrieved on November 8, 2019.
↑ Belloni, Matthew (September 20, 2018). Bob Iger Talks Disney's Streaming Service, 'Roseanne,' James Gunn and a Coming 'Star Wars' "Slowdown". The Hollywood Reporter. hollywoodreporter.com.
↑ Lang, Brent (May 7, 2019). Disney Moves 'Avatar' Sequels, Announces New 'Star Wars' Films. Variety. variety.com.
↑ Jirak, Jamie (November 24, 2018). Former UK Foreign Secretary Claims George Lucas Plans to Shoot Star Wars Spinoff Obi-Wan Kenobi Movie. ComicBook.com. comicbook.com.
↑ Couch and McMillan, Aaron and Graeme (August 26, 2016). Darth Vader Deserves a 'Star Wars' Spinoff (But Not Everyone Agrees). The Hollywood Reporter. hollywoodreporter.com.
Community content is available under
CC-BY-SA
unless otherwise noted.