Are you...?     Well, are you?     I think you know the Truth.
Biographical information
Birth date

September 29

Birthplace

Washington, USA

Residence

See above

Physical description
Gender

Male

Height

1.7 meters

Hair color

Light brown

Eye color

Hazel

General information
Occupation

Medical field

Hobbies

Reading, movies, Star Wars (duh), photography

Userboxes
"Automatic doors make me feel like a Jedi."
―Slogan on a T-shirt I designed.
Personal Info
I reside in Washington with my wife and daughter. I have been a Star Wars fan since my dad took me to see Star Wars as a kid. I would always watch ANH, ESB and ROTJ on laserdisk at least a couple times a year growing up (so much that I had all three movies virtually memorized line by line). My favorite quote about Star Wars is by author Elaine Cunningham who describes Star Wars as: "… an adventure story with a fantasy heart and a science-fiction wardrobe."[1]
I was drawn back to the Star Wars universe again when Timothy Zahn wrote Heir to the Empire and the rest of the Thrawn Trilogy. I have read and own a majority of the novels written from then until the Canon reboot. I have a large collection of Star Wars artwork and imagery from years of scouring the internet and licensed artists websites and portfolios.
I have been fortunate enough to have several of my submissions chosen for the "Photo Caption" feature:
All were submitted under the name "JediMasterAramis."
You can also come have a laugh at my Happy Caption Page.
My Collection
TPB's
Tales of the Jedi:
Star Wars Tales:
Software & Games
Audio
Audio dramas
Soundtracks
Star Wars Trilogy: The Original Soundtrack Anthology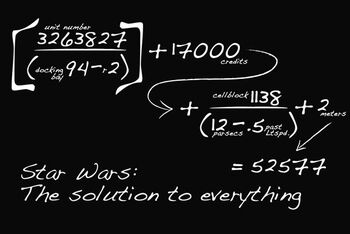 Audio books
Novels
The Han Solo Trilogy:
Adventures of Lando Calrissian:
The Han Solo Adventures:
Short Story Anthologies:
The Bounty Hunter Wars
X-wing Series:
The Thrawn Trilogy:
The Jedi Academy Trilogy:
The Callista Trilogy:
The Black Fleet Crisis:
The Corellian Trilogy:
Hand of Thrawn Duology:
Young Jedi Knights:
The New Jedi Order:
Dark Nest Trilogy:
Legacy of the Force:
Contributions
My Edit Count
Articles I've created (for easy access):
BRT supercomputer (08/24/2006)
Monster droid (09/08/2006)
B-wing/E starfighter (03/15/2007)
Irrv (08/08/2007)
Rescue of Han Solo (08/23/2007)
Vanguard-class heavy gunship (08/25/2007)
Aeon Ranger (08/26/2007)
Rebellion: The Ahakista Gambit (TPB) (09/12/2007)
Clark Mitchell (10/03/2007)
The Empire Strikes Back (PhotoComic) (10/05/2007)
Attack of the Clones (PhotoComic) (10/16/2007)
Revenge of the Sith (PhotoComic) (10/16/2007)
Cophrigin monkey (11/05/2007)
Cophrigin horned goat (11/08/2007)
Return of the Jedi (PhotoComic) (11/09/2007)
Acceleration strap (11/19/2007)
Approach vector (11/19/2007)
Armament rating (11/19/2007)
Automatic sealup (11/19/2007)
‎Alliance Veteran's Victory Association (11/19/2007)
Authority Data Center (11/19/2007)
Atravis sector (11/19/2007)
Star Wars: The Art of the Brothers Hildebrandt (12/05/2007)
Battle of unidentified planet (Luminara and Barriss) (02/16/2008)
Battle of unidentified planet (shielded city) (02/19/2008)
Bounce (03/01/2008)
Cannonade (03/01/2008)
Cathor Hills (03/01/2008)
Clay family (03/01/2008)
Command control voice (03/01/2008)
Cyborg Operations (03/01/2008)
Gornash (03/03/2008)
Emergency stud (03/03/2008)
Freeze-floating control (03/03/2008)
Servo-grip (03/03/2008)
Telesponder (03/03/2008)
Terrain-following sensor (03/03/2008)
Weapon detector (03/03/2008)
Spirit Tree (03/03/2008)
Docking Bay 45 (03/03/2008)
Fortress of Tawntoom (03/03/2008)
The Jedi Master's Quizbook (03/05/2008)
Star Wars: Dark Times: Parallels (TPB) (03/07/2008)
The Dark Lord Trilogy (04/24/2008)
Dool Pundar (07/11/2008)
Galactic Empire Network (07/16/2008) (page has since been deleted as site is no longer Star Wars-related)
Mission to Jabba's Palace (Clone Wars) (08/20/2008) (originally two separate articles)
Aggie Guerard Rodgers (08/26/2008)
Unidentified Bothan Jedi (Hidden Temple) (09/03/2008)
Unidentified Nikto Jedi (Hidden Temple) (09/03/2008)
Razor net (09/06/2008)
HXZ-1 Immobilizer-series police droid (09/26/2008)
Anoth Base (10/01/2008)
Ackbar's seapod (10/01/2008)
Utility sub (10/03/2008)
Con artist (10/10/2008)
Devidia Vennsiol (10/12/2008)
MI-726 (10/12/2008)
Skawn Bonduna (10/12/2008)
Traggissk Reosss (10/12/2008)
Scranton Toon (10/12/2008)
Destroy Malevolence storybook (10/28/2008)
Downfall of a Droid storybook (10/28/2008)
Stories from a Galaxy, Far, Far Away (10/28/2008)
Saboteur (10/28/2008)
Return of the Jedi Sketchbook (11/11/2008)
Fierce Twilight (11/11/2008)
Unidentified King of Falleen (11/12/2008)
Passel Argente's starship (11/12/2008)
Star Wars: Jedi Unleashed (11/17/2008)
Ubuuga caviar (11/17/2008)
Slimps' eyes (11/17/2008)
Star Wars Commemorative Postage Stamps (11/19/2008)
The Clone Wars: Departure (11/19/2008)
Medal of Alderaan (11/24/2008)
NT-757 (11/26/2008)
Onyx 4 (12/14/2008)
Olum (12/15/2008)
Crimson Sword (12/18/2008)
The Gauntlet of Death for Free Comic Book Day 2009 (12/30/2008)
Chin Ko (12/31/2008)
Count Dooku's frigate (01/02/2009)
Liash Keane (01/08/2009)
Prello Anjiliac (01/08/2009)
Star Wars: The Clone Wars: "A Galaxy Divided" (01/14/2009)
T-series tactical droid (01/15/2009)
Ol' boat (01/21/2009)
Semblan (01/23/2009)
Liberty (Venator-class) (01/25/2009)
The Clone Wars: Cold Snap (01/29/2009)
Freeco bike (01/29/2009)
Shiv (clone trooper) (01/29/2009)
Flanker (01/29/2009)
Operation (01/30/2009)
Pantoran (01/31/2009)
Thi-Sen (w/ Mauser) (01/31/2009)
The Clone Wars: Shadowed (02/06/2009)
Slick (02/06/2009)
Sparky (Human) (02/07/2009)
Nuvo Vindi's laboratory (02/14/2009)
Slug-beetle (02/14/2009)
Naboo scout carrier (02/14/2009)
Perlote tree (02/14/2009)
Eastern swamps (02/14/2009)
Xandu (02/15/2009)
The Clone Wars: Covetous (02/26/2009)
Voyla (02/27/2009)
Artruk (02/27/2009)
Femi (02/27/2009)
Orbital Security Station Six (02/27/2009)
Angral (02/27/2009)
Numa's mother (03/10/2009)
Numa's father (03/10/2009)
HH-15 torpedo (03/12/2009)
TCW: The Ballad of Cham Syndulla (03/12/2009)
"Ballad of Cham Syndulla" (03/12/2009)
Double-barrel repeating blaster (03/15/2009)
Unidentified Twi'lek Force-user (03/18/2009)
Su (03/20/2009)
LV8-series guard droid (03/24/2009) (current incarnation)
Baktoid Industrial Systems (03/24/2009)
D-0T (03/27/2009)
Power control room (03/27/2009)
Mandalorian battleship (Great War era) (03/28/2009)
Ziro's Palace (04/04/2009)
Raid on Ziro's Palace (04/04/2009) (Didn't create, but completely rewrote)
Star Wars: The Complete Vader (04/16/2009)
"Sonic Guide to Native Neimoidian" (04/24/2009)
Resh 9376 (05/06/2009) (Didn't create, but wrote it)
Point Nadir (05/06/2009) (Didn't create, but wrote it)
Salovan's Souk (05/07/2009)
Nest (Point Nadir) (05/07/2009)
Puzell (05/09/2009)
Woodoo Dunes (05/09/2009)
The Clone Wars: Republic Heroes (05/11/2009)
Star Wars Trilogy: The Original Soundtrack Anthology (05/18/2009)
Unidentified bounty hunter (Sacking of Coruscant) (06/03/2009)
Star Cluster Casino (06/05/2009)
Naatu (06/05/2009)
Nok Drayen (06/05/2009)
SP-99 (06/05/2009)
E-16/x ion engine (06/08/2009)
Circus (06/11/2009)
Davtokk (06/13/2009) (Didn't create, but wrote it)
Techno-service droid (06/17/2009) (Didn't create, but wrote it)
Republic transport ship (06/19/2009)
Hatchmate (06/20/2009)
Sith warbird (06/21/2009) (Didn't create it, but wrote it)
Twi'lek Goddess (06/27/2009)
T-12 service droid (07/01/2009)
Fortris Gall (07/03/2009)
Buryn (07/03/2009)
Tarkin Memorial Conference Center (07/09/2009)
Unidentified clone SCUBA commander (07/16/2009)
Motion sensor (07/16/2009)
Robonino's hideout (07/17/2009)
Sugi (07/22/2009)
Assassin probe (07/26/2009)
AAT driver battle droid (07/29/2009) (Didn't create, but rewrote it)
B1 battle droid sergeant (Teth) (07/31/2009)
Pakku (08/05/2009)
Odometer (08/05/2009)
TCW: Republic Heroes Prima Official Game Guide (08/10/2009)
Rendaran-class assault shuttle (08/19/2009)
Unidentified B1 battle droid captain (08/28/2009)
Imperial military transport (08/30/2009)
Imperial Intelligence (Sith Empire) (09/04/2009)
Memory crystal (09/06/2009)
Thicket (09/12/2009)
Quick-draw holster (09/12/2009)
Kyber memory crystal (10/03/2009)
Betty Droid (10/11/2009)
Kell Douro (10/13/2009)
Khedryn Faal (10/13/2009)
Marr Idi-Shael (10/13/2009)
Drev Hassin (10/13/2009)
Jazbinan bartender (10/22/2009)
Automated sentry gun (10/28/2009)
A-series medical droid (10/29/2009)
RGC-16 speeder (10/30/2009)
Bantha Poodoo (10/30/2009)
Unidentified clone trooper (Devaron) (11/02/2009)
Separatist Nightmare (11/04/2009)
Bad Kitty (11/04/2009)
Warrior caste (Geonosian) (11/05/2009)
Seventeen (11/06/2009)
Keelyvine Reus (11/11/2009)
Buzz (11/13/2009)
Draa (11/13/2009)
Dooku Boot (11/16/2009)
Second Strike! (11/17/2009)
From Unleashed to Ultimate (11/17/2009)
A4-G2 (12/07/2009)
Celestine (12/07/2009)
Kathos Loof (12/08/2009)
Dal Rogos (12/08/2009)
The Clone Wars: Pirates... and Worse! (12/14/2009)
Nightspider Cult cave (12/16/2009)
‎TC-SC infiltration droid (12/22/2009)
‎‎HKB-3 hunter-killer droid (12/22/2009)
‎‎Maraki (12/30/2009)
Liberator-class starfighter (01/24/2010)
Mandalorian mural (01/31/2010)
Spider Arms Hostel attendant (02/02/2010)
Lee Phung (03/04/2010)
Sithspawn (Belbullab-22) (03/23/2010)
Lonely Five (starship) (03/23/2010)
Oppressor flamethrower (03/25/2010)
Hal Razor (03/25/2010)
The Old Republic: Smuggler's Vanguard (03/25/2010)
Nem'ro (03/26/2010)
Automated Vulture droid deployment station (03/30/2010)
Nysillin farm (03/31/2010)
Unidentified stealth pilot (03/31/2010)
Sayormi Heartstriker (04/02/2010)
Lifeblood Cleaver (04/02/2010)
Survival capsule (04/02/2010)
The Clone Wars: Padawan Puzzles (04/05/2010)
The Clone Wars: Legacy of Terror (04/05/2010)
Insectomorph (04/09/2010)
‎Sun Star Against Shadow Stone (05/12/2010)
The Star Wars Portfolio (05/13/2010)
Star Wars: The Empire Strikes Back Portfolio (05/13/2010)
Star Wars: Return of the Jedi Portfolio (05/13/2010)
Star Wars: Tales from the Clone Wars (05/14/2010)
D'skar (05/26/2010)
Senior Administrator (06/29/2010)
Lenico Gargantuan (07/19/2010)
Bowdaar (09/24/2010)
XS stock light freighter (09/24/2010)
Ugnaught wine (10/08/2010)
Sha'rellian toop (11/15/2010)
Alliance Cold Weather Backpack (12/30/2010)
Fan shot (12/30/2010)
Jewl'a Nightbringer (01/07/2011)
Asajj Ventress's mother (01/10/2011)
Water of Life (01/10/2011)
Star Wars: Return of the Jedi (young readers) (01/27/2011)
Dathomirian flail (02/01/2011)
Healing meditation (02/14/2011)
Governor's palace (02/23/2011)
Staff of Command (08/29/2011)
Cane (08/29/2011)
‎Separatist supply ship (11/11/2011)
‎‎Rial Pernon's Z-95 Headhunter (11/11/2011)
Brezak (12/02/2011)
Zygerrian auctioneer (12/02/2011)
Star Wars Galaxies Memory Book (12/25/2011)
Telerath eel (01/06/2012)
Esseles bird (01/06/2012)
Tryla (01/13/2012)
Parwan (01/28/2012)
Sixtat (01/28/2012)
Twazzi (01/28/2012)
Kiera Swan (01/28/2012)
Sinrich (01/28/2012)
Mantu (01/28/2012)
Onca (01/28/2012)
Bulduga (01/28/2012)
Defoliator Deployment Tank (02/25/2012)
Darth Sidious' Eta-class shuttle (07/22/2012)
Unidentified clone medical officer (Ord Cestus) (09/02/2012)
Happyland (09/04/2012)
Unidentified bombed Ryloth city (10/05/2012)

Unidentified recon droid (Ryloth)

(10/05/2012)
Unidentified Twi'lek girl (Cham Syndulla) (10/05/2012)
Unidentified OOM command battle droid (Tatooine) (10/08/2012)
Antidote (10/15/2012)
Manax-root poison antidote (10/15/2012)
Laser lance (10/21/2012)
Reugeot 905 (03/10/2013)
Clone DNA room (05/04/2013)
Unidentified clone trooper 5 (Citadel) (05/26/2013)
Facial transformation program (06/01/2013)
Electrolytic serum (06/02/2013)
Quarren City (06/10/2013)
Quarren headquarters (06/10/2013)
Unidentified Venator-class Star Destroyer (Rugosa) (06/12/2013)
NN182 (06/24/2013)
All Terrain Exploration Droid (08/06/2013)
‎Unidentified Sullustan (bounty) (08/08/2013)
Sandstorm (08/09/2013)
Cloak of Hate (09/03/2013)
Howlrunner (CR90 corvette) (09/07/2013)
Armory (09/26/2013)
Unidentified Singing Mountain Clan Arch Witch (10/08/2013)
Unidentified Defel bounty hunter (10/09/2013)
Remote door opener (10/20/2013)
Hondo Ohnaka's pet massiff (10/20/2013)
Unidentified MSE-6 droid (Renown) (10/23/2013)
AP/11 double laser cannon (2/11/2015)
Impact grenade (11/06/2015)
T-21B heavy blaster (11/15/2015)
Azurdactyl (08/07/2016)
Evarrian (08/07/2016)
Jerethian clamberwolf (09/05/2016)
Ashur Sungazer (09/09/2016)
Eren Garai (09/09/2016)
Kaltho (09/17/2016)
Dueling pistol (09/18/2016)
HL-27 light blaster pistol (09/18/2016)
SKZ Sporting Blaster (09/18/2016)
Corellian cutlass (09/18/2016)
Gustip (09/19/2016)
Elaiza (09/24/2016)
"Backdraft" (09/29/2016)
Omega Leader (10/09/2016)
Jyn Odan (10/13/2016)
Gaarkhan (10/13/2016)
Duty officer (10/16/2016)
Marshal (02/12/2017)
Talus mud flats (02/23/2017)
‎‎‎Colonist/Legends (02/25/2017)
‎Bossato (02/26/2017)
‎Naboo Coronation (03/06/2017)
‎Vaxim (03/18/2017)
‎Sal Sor'Chan (03/27/2017)
‎Tik'A'Moris (03/27/2017)
‎Koochoo (03/29/2017)
G-8 experimental projector (05/11/2017)
"Quickdraw" (05/14/2017)
Luke Skywalker's T-16 skyhopper (05/19/2017)
We Fight, We Win/Legends (05/21/2017)
We Fight, We Win (05/21/2017)
Task Force Antilles (08/28/2017)
Task Force Organa (08/28/2017)
Albek (09/10/2017)
Moralo Eval's YV-series light freighter (09/11/2017)
Fenn Signis (09/13/2017)
Requiem (09/17/2017)
Unlimited Power (09/22/2017)
Rebel heavy trooper (09/25/2017)
Legacies (10/09/2017)
Zeta Ace (10/15/2017)
Rivals (10/16/2017)
Viktor Hel (10/16/2017)
Droideka Alpha (11/2/2017)
Strike Force Xesh (11/15/2017)
Thweek (12/6/2017)
Assault proton torpedo (12/10/2017)
Shreya Ordassa (12/16/2017)
Mil Mikkir (12/17/2017)
Pos Podura (12/17/2017)
Vorse Tabarith (12/17/2017)
Aris Shen (12/17/2017)
‎Benton Kaldo (12/17/2017)
‎Gorn Vorrox (12/17/2017)
Gideon (Devaronian) (12/17/2017)
Vinto Hreeda (12/22/2017)
Counterpart (12/31/2017)
Vibro-arbir blade (01/11/2018)
R'ora stronghold (02/03/2018)
Aspiration (02/26/2018)
Rise of the Separatists (08/10/2018)
"Midnight" (09/15/2018)
"Muse" (09/15/2018)
Chain Sickle (12/26/2018)
Devaronian bail bondsman (01/21/2019)
C-B7 Interceptor (02/09/2019)
88i twin light blaster cannon (03/02/2019)
Koler (03/04/2019)
Koler system (03/04/2019)
Epic Battles Multiplayer Expansion (05/19/2019)
Bail bondsman (05/24/2019)
V-1 Thermal Detonator (06/09/2019)
Covert Missions (07/19/2019)
Kylo Ren Starter Set (07/31/2019)
Rey Starter Set (07/01/2019)
Grievance Striker (07/01/2019)
Fereallis (08/24/2019)
DF-90 Mortar (08/26/2019)
E-60R (03/20/2020)
Sector 3263827 (03/21/2020)
Wolfpack (04/22/2020)
Beskad (05/05/2020)
Scout-class 2-M repulsor tank (06/19/2020)
Tempest Squadron (06/20/2020)
Xiytiar-class heavy transport (06/21/2020)
Unidentified BX-series droid commando (Anaxes) (06/24/2020)
Davith Elso (07/04/2020) (Didn't create the page, but expanded it beyond one sentence)
Murne Rin (07/05/2020)
Onar Koma (07/05/2020)
Diala Passil (07/05/2020) (Didn't create the page, but expanded it beyond one sentence)
MGL-9 (07/05/2020)
HWK-290 light freighter (07/06/2020) (Didn't create, but expanded it beyond a few sentences)
M12-L Kimogila heavy starfighter (07/07/2020)
Dalan Oberos (07/08/2020)
Torani Kulda (07/08/2020)
Collision detector (07/09/2020)
StarViper-class attack platform (07/12/2020)
Transformations (07/14/2020)
Communication module (08/31/2020)
Port District (12/1/2020)
Marauder (Firespray-31-class) (1/9/2021)
Overdrive Thruster (1/10/2021)
Wat Tambor's Belbullab-22 heavy starfighter (1/13/2021)
Wullffwarro's Auzituck anti-slaver gunship (1/14/2021)
Dooku's Sith Infiltrator (1/24/2021)
Wave-skimmer (3/1/2021)
Vectored cannon (4/10/2021)
Sleeper Agent (5/22/2021)
Gamut Key's HWK-290 light freighter (10/22/2021)
Incinerator room Canon page (12/24/2021)
Unidentified massiff (1/23/2022)
Turbonic venturi power assimilator (1/31/2022)
Mos Espa spaceport (2/10/2022)
Hangar 1 (2/20/2022)
Donderbus blaster pistol (4/13/2022)
Rift Valley (4/20/2022)
Seripas's armor (4/29/2022)
Other Miscellany