Yep, no problem. :) Also can't believe I made that careless mistake when separating the personality and traits and equipment sections, oh well. Hanzo Hasashi (talk) 04:42, March 9, 2014 (UTC)
Good to have you back, Lee. From what I can see, Threats of the Galaxy barely references any Jedi by name directly, and Tranor, Danva, and Somtay are not referenced at all from what I can see. I currently do not have access to The Starcrusher Trap, so you'll have to ask someone else for that. Hope that helps. CC7567 (talk) 15:21, March 12, 2014 (UTC)
Sorry Lee, I don't have access to that particular issue of Insider, I'm afraid. - Sir Cavalier of One

(Squadron channel) 18:05, March 12, 2014 (UTC)
Accurate vs inaccurate
[
edit source
]
Did you know Clone Commander Lee, according to Jeditemplearchives and Rebelscum, Commander Bow looked differently in the Purge comics, so it's quite possible that Hasbro took some artistic license when developing the action figure. There aren't that many differences, but most noticeably are the macrobinoculars included over the action figure's visor. Commander Bow didn't wear these in the comics. I wonder if Hasbro kit-bashed the two Clone Troopers from the Betrayal On Felucia with the shoulder pauldron of Clone Commander Deviss and repainted it in the colors of the 501st Legion clone troopers, then he would be incredibly accurate to the reference image as shown here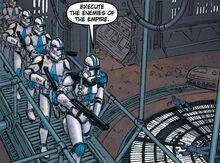 Sadly I don't seem to have any of the character articles from hyperspace, only short stories. However, I do have access to Star Wars Insider 67 which I see you're looking for. It doesn't say anything that isn't already in the bts of the article so no need to worry about it. Ayrehead02 (talk) 15:34, March 16, 2014 (UTC)
Nothing more than the stuff sourced already. Damn I have no idea how I mis-counted... I can't unarchive it though so I'm not sure what to do :S. Ayrehead02 (talk) 15:52, March 16, 2014 (UTC)

Nope only the stuff about her originally being meant to be Depa Bilba, but then being changed to a new character since the actors didn't look alike. True Tope always knows, although hes also often angry... Ayrehead02 (talk) 16:02, March 16, 2014 (UTC)

Yeah I think it was just the & he wanted fixing. I've posted on the admins noticeboard so hopefully someone will get back to me on it. Thanks for pointing out the error. Ayrehead02 (talk) 16:09, March 16, 2014 (UTC)
Hi Lee, Lura Tranor is mentioned briefly by Jyl Somtay during the mission to destroy the Starcrusher:
"Actually, I'm just glad Master Anakin isn't here. I mean, I'm sure we'll escape but—"
"I lost my master on Geonosis. I know how you feel Ahsoka."
―Ahsoka Tano and Jyl Somtay
Let me now if you need anything else, I wish you good luck with nominating the article! --Jinzler (talk) 23:05, March 16, 2014 (UTC)
Hi Lee! There are two pages in the book entitled "Geonosian Battle Arena", with photos of the Battle of Geonosis and Jedi fighting. On the first page, the legends for these pictures are:
"Many of the Jedi were shot two at a time so they could easily be dropped into a frame wherever they were most needed."
"Jedi warriors that appear include Shaak Ti and Luminara Unduli, Pablo-Jill and Kit Fisto, Bultar Swan and Coleman Trebor, Barriss Offee, Agen Kolar and Tan Yuster, and Sora Bulq. Many of the Jedi extras were recorded in small groups on a sandy floor against a blue screen background."
On the second page, there are other pictures, including one of Fi-Ek Sirch and Que-Mars Redath-Gom, and a promotional photo of Aayla Secura, with this legend:
"The Geonosian sonic cannons blast volatile bursts of energy too violent and powerful for the Jedi to deflect. Warriors like the Nikto Jedi Fi-Ek Sirch, the Weequay Que-Mars Redath-Gom, and Aayla Secura are tested to their limits. Few survive long enough to be rescued by the clone reinforcements led by Yoda."
On another page, there's also a picture of Bairdon Jace with Khaat Qiyn, and the legend: "Bairdon Jace and Khaat Qiyn, Jedi warriors."
Hope that I helped you. Regards.--LennyF (talk) 14:34, March 17, 2014 (UTC)
No, don't. I like what Exiled Jedi said about the normal clone trooper armor article. That will definitely help us out in the future just in case something like this reappears again. What we need to do is turn Clone trooper armor from a disambig page to a normal, detailed article about clone trooper armor. This will be similar to the whole BARC/police BARC variants or other vehicles. JangFett (Talk) 17:15, March 17, 2014 (UTC)
Re: All Stars Burn As One
[
edit source
]
I think there are a couple of things that still need to be updated for the game. I can update the article for you if you are planning on taking it the GAN page.--Exiled Jedi

(Greetings) 19:39, March 17, 2014 (UTC)
Sounds fine to me, I'll update the article for the TOR information in the next day or two.--

Exiled Jedi

(Greetings)

22:43, March 17, 2014 (UTC)
Hey Lee. Sure, I'll take a look at the Atlas and the Guide to Warfare tonight after classes and try an get back to you with the pages and details soon. Ayrehead02 (talk) 14:18, March 19, 2014 (UTC)
From Atlas, the planet is in a region explorer between 3000 BBY and 1000 BBY according to pg 120. It falls within Republic space during the Clone Wars according to pg 151. It's in Oversector Outer between 4 ABY and 6 ABY according to pg 196. Its still in Imperial space between 7 and 8 ABY according to 198, and in the core of Thrawn's Federation in 9 ABY according to pg 200. Between 10 and 11 ABY its in the Penstar alignment according to 206 and between 12 and 17 its in Pellaeon's Empire according to 207. By 25-26 ABY it's no longer in Imperial space according to 217 and remains out of it until at least 29 ABY as shown on 220. It returns to Imperial space by 40 - 41 ABY during the second Galactic Civil War according to 225. On 226 it shows that in 137 ABY its in Krayt's Empire. The Warfare just says that its in the Empire by between 19 BBY and 17 BBY according to pg 112. How much of the Imperial stuff you just wanna merge into one thing is up to you but the rest should probably all be mentioned. Ayrehead02 (talk) 19:10, March 19, 2014 (UTC)
"And I should have given you my condolences for Lanchu Skaa. I was with your late Master when he was felled on Geonosis."
―Kit Fisto, to Nuru Kungurama
Note that Fisto's statement of being "with" Skaa on Geonosis when he died is rather ambiguous, since it's not clarified further—it could mean that Fisto was fighting closely alongside Skaa or it could just be a reference to the fact that both were on the Geonosis strike team. I don't think that's new information to add to the article. CC7567 (talk) 16:29, March 19, 2014 (UTC)
Hi Lee,
Lyron does indeed receive only brief mention in Only the Force, in the character sheet of Teo Gronn, a playable character for the adventure:
Source:  Only the Force, p.19
Attribution:  J.D. Wiker

You are Teo Gronn, a Duros Jedi who has never been to Duro. Born on Coruscant, you were immediately identified as a Force-sensitive and adopted into the Jedi Temple. You trained under Master Lyron, another Duros, until Master Lyron was killed fighting the droid army on Geonosis. You then trained under Master Oshi-Jid, until Oshi-Jid was lost and presumed killed in action over Muunilinst.

This work is copyrighted. The individual who uploaded this work asserts that this qualifies as fair use of the material under United States copyright law.
This also gives you enough information to nominate the Oshi-Jid article, should you wish to do so. --Jinzler (talk) 19:29, March 19, 2014 (UTC)
Hello Lee, just wanted to make you aware that Tracer is now going to be looked at by the upcoming AC meeting for infobox-exclusive info. It's a sofixit, but just wanted you to be aware of it, and also it would be recommended to edit all of your other GAs and FAs to incorporate all infobox stuff into the IU article body. Thanks. Hanzo Hasashi (talk) 14:35, March 22, 2014 (UTC)
I'm not sure about the images tbh. For Tracer I can see everything just fine and stuff. Hanzo Hasashi (talk) 15:19, March 22, 2014 (UTC)

I have seen articles where images don't seem to load, so I think that might be the issue in question. Hanzo Hasashi (talk) 15:22, March 22, 2014 (UTC)

A worse glitch is when Wikia seems to erroneously recognize me as logged out, I'm sure I'm not the only one who's experienced it. Hanzo Hasashi (talk) 15:31, March 22, 2014 (UTC)

Hey Lee, is it a bit presumptuous that Crys had black hair and he bleached it blonde? What's to say he wasn't born with blonde hair? And I think the whole black hair being sourced to Attack of the Clones thing is too much of an assumption. Hanzo Hasashi (talk) 22:20, March 22, 2014 (UTC)
All right, the article should be updated for The Old Republic. The only things that really need to worry about for The Old Republic game is that it confirms that the anthem could be sung and that it had to of been composed by 3,642 BBY. After you write the introduction, I will make sure everything from the game is sourced properly in the necessary from TOR in the body sections.--Exiled Jedi

(Greetings) 03:57, March 23, 2014 (UTC)
Ok, now that we've gone through your clone status articles, there's something else you need to do. Most of your clone trooper articles use the now-defunct SW.com Databank to source the clones' homeworld, species, sex, and height. The new SW.com Encyclopedia includes all of this same information, so you should go through each article and replace the Databank reference with this Encyclopedia reference wherever you can. But you must be careful not to just swap out every single reference, because the Databank included certain info that is not in the Encyclopedia, so pay attention to what can be sourced to which one. And you should replace the reference name as appropriate; example: <ref name="db"> to <ref name="SWE"> or something. Toprawa and Ralltiir (talk) 23:10, March 23, 2014 (UTC)
One more thing: "clone trooper" should be lower case in the DB and Encyclopedia templates, because that's how the two pages present it: DB and SWE. Toprawa and Ralltiir (talk) 01:08, March 24, 2014 (UTC)
Just a heads up that you messed up the sourcing here. "...was one of the many clones of the Mandalorian bounty hunter Jango Fett, raised on the planet Kamino" cannot entirely be sourced to the SW.com Encyclopedia. Toprawa and Ralltiir (talk) 21:22, March 24, 2014 (UTC)
I'm questioning whether your sourcing here is accurate. Can "The clone was born and trained on the planet Kamino to serve as a clone commando in the Grand Army of the Republic during the Clone Wars." really be sourced to Order 66? That's typically been content you've sourced to the DB/SWE. Toprawa and Ralltiir (talk) 23:05, March 24, 2014 (UTC)
Lee, Windu did not know about Anakin and Padme's trip to Geonosis. He wanted to round up the available Jedi to go and help Obi-Wan. JangFett (Talk) 12:14, March 24, 2014 (UTC)
I remember specifically checking that in an EC meeting, and seeing Snark. There might be different version using shark instead of snark though, so I'm not sure how to deal with this. 501st dogma(talk) 23:15, March 24, 2014 (UTC)
When archiving CAN's, please make sure there are no unstruck objections. When you archived Ram, there was still an unstruck objection from me. Please be careful about this in the future. Supreme Emperor (talk) 03:26, March 26, 2014 (UTC)
Re: Galactic Battlegrounds
[
edit source
]
Hi Lee. I have planned to write up the Stam and Naat Reath articles, but I've been writing the Galactic Battlegrounds articles in the order of the campaigns, so it will probably be a long time before I got to them, so feel free to jump in and work on them. Unfortunately I don't know of any good places to download the game, but there are a few decent youtube play-throughs of all the campaign levels, so you can look at them if you want to work on GB related articles. Cheers. Commander Code-8 Felicitations malefactors! 06:45, March 30, 2014 (UTC)
Lee, I strongly advise you to read the messages that I have left in Ayrehead, dogma, CP, and Manoof's talk pages. JangFett (Talk) 14:28, March 30, 2014 (UTC)
Don't forget the "Unidentified" part, Lee. That's not excluded from the infobox name.

JangFett

(Talk)

14:54, March 30, 2014 (UTC)

I wouldn't use "it" for any of those articles, Lee. The neutrality doesn't work because saying "its" as a way to describe those characters sounds like they're asexual, meaning non male nor female. There are times, however, when a writer mentions "its" after revealing the gender of that person. Objects, things, or non living creatures are susceptible to being called "it." Droids are a different case because their programming automatically would turn "it" into "his or her." If their programming isn't confirmed, then "it" would work. Does that make any sense?

JangFett

(Talk)

20:28, March 30, 2014 (UTC)
Ha! Yes I am the author of that fanfic, although I wrote that some time ago. I haven't worked on it in ages and had pretty much forgotten about it. I hope you enjoyed reading it. Ayrehead02 (talk) 23:55, March 31, 2014 (UTC)
Unidentified clone trooper (Hailfire droid victim)
[
edit source
]
Hey, Lee. Thanks for asking. To be honest, I'm not sure about those articles. It's been so long since I wrote them, and it would take time to dig up my original deductions of why I chose those eras. However, at a quick glance, I agree that it's extremely hard to decide on a single era for them. In short, for now, I would concur on your reasoning. If something else comes up and I remember why I did it the way I did originally, I'll let you know.—Cal Jedi

(Personal Comm Channel) 21:30, April 4, 2014 (UTC)
Galactic Battlegrounds again
[
edit source
]
You're in luck, the IGN link is the full databank from the game. I look forward to seeing the Reaths get nom'd. (It's quite possible Naat will have enough info for an FA). Commander Code-8 Felicitations malefactors! 01:57, April 5, 2014 (UTC)
A note on listing objections on the CAN page
[
edit source
]
Hello, I just wanted to note that you should use the GAN-style formatting when listing objections (i.e. =====Header Title Here====) rather than use the old style (i.e. #Header Title Here). The styling was changed earlier this year at a Mofference. Please change the formatting on your current objections on the CAN page and use the GAN style list in the future. Thank you.--Exiled Jedi

(Greetings) 02:54, April 6, 2014 (UTC)
Lee, do you think that the Quote Kit Fisto is telling to to Grievous can be added on the General's page ?--Emperor Jarjarkine
Senate Hall 11:09, April 8, 2014 (UTC)
Okay i will you the quote later. P&t ?Emperor Jarjarkine
Senate Hall
Fisto said: you might once been a brave and brave warrior but now youre just a tool of dooku' game ! -Fisto to greivous . U think it can be added?Emperor Jarjarkine
Senate Hall
Lee, Look at the page ``Hawkeye (clone trooper), what is it that i have to add left ?--Emperor Jarjarkine
Senate Hall 21:23, April 8, 2014 (UTC)
Hi Lee ! Can you tell me what is the name of the CT that is on your infobox ?--Emperor Jarjarkine
Senate Hall 11:16, April 9, 2014 (UTC)
Hi may i know why you reverted my edit on tarendon ?Emperor Jarjarkine
Senate Hall 13:18, April 12, 2014 (UTC)
Oh sorry then. Okay :P So it was not[completly bad if i understand ?--Emperor Jarjarkine
Senate Hall 13:40, April 12, 2014 (UTC)
Hey, just letting you know that the Reliable sources TC has been amended to redirect the page rather than delete it completely. Cheers, 1358 (Talk) 17:18, May 4, 2014 (UTC)
Hey Lee. I'll look at the atlas as soon as I can to get the details on Nauton but sadly at the moment I don't have access to the book and am in the middle of exam season :S Sorry it took me so long to reply, I though I got back to you like a week ago. Also thanks again for the help on the Di'an nom! Ayrehead02 (talk) 09:16, May 8, 2014 (UTC)

Sorry I don't have access to any of my books right now, but I'll update that picture when I do. Ayrehead02 (talk) 09:30, May 9, 2014 (UTC)
I do have the book with me, but I'm not sure if I can get a better upload for you. My scanner's fine for putting in big images, but smaller detailed ones like that don't usually turn out to great. 501st dogma(talk) 12:02, May 9, 2014 (UTC)
All Stars Burn as One
[
edit source
]
I can understand why you removed the throw-away line about weight reducing technology, but why did you scrap the value and weight of the individual items in a field kit? Those are supported by the Saga Edition Core Rules, on the same page that lists the cost and weight of the field kit itself. 66.65.32.40 11:05, May 24, 2014 (UTC)
Added the page number and all listed values to the talk page. I didn't add a reference the first time around because it was the exact same page that the 1000 Cr and 10 kg numbers came from. 66.65.32.40 11:15, May 24, 2014 (UTC)
Hello Lee, I saw you have attempted to update the Unidentified scout trooper (Missile launcher) article. What I can tell you is the update is not complete, as other parts of the book talk about the different outcomes that involve the player's final fight with Dardano, including the fact that the four bodyguards fight to the death, among other things. Would you care to complete the update? Thanks. Hanzo Hasashi (talk) 15:32, June 5, 2014 (UTC)
Pages 39, 43 and 45 also have text for the bodyguards. Hanzo Hasashi (talk) 21:18, June 5, 2014 (UTC)

I think that should be in the body, but I do not know whether it needs a game mechanics template. To be honest, I myself am also not sure how to handle that stuff, as I am also not familiar with those RPG books. Hanzo Hasashi (talk) 15:23, June 6, 2014 (UTC)

Looks good. Also glad the article was kept less than 200 words too. Hanzo Hasashi (talk) 17:24, June 7, 2014 (UTC)
I would like to thank you for supporting my nomination for adminship.--Exiled Jedi

(Greetings) 01:30, June 10, 2014 (UTC)
Hi Lee. Since you voted in support of my GAN for Darth Bane, I just wanted to let you know—in case you want to review it in light of your vote—that I expanded the Behind the Scenes section a bit to include more info. - Brandon Rhea(talk) 23:58, July 3, 2014 (UTC)
Darth Scabrous' HK droid
[
edit source
]
Hey Lee it's been a month since your objections here have been taken care of. DarthRevan1173

(Long live Lord Revan) 23:09, July 12, 2014 (UTC)
Hey Lee I just noticed that you never crossed out your copy-edit objection and was wondering if you think the article still needs a copy-edit. DarthRevan1173 (Long live Lord Revan) 00:32, August 11, 2014 (UTC)
Clone equipment question
[
edit source
]
Hey lee, just hoping you could help me. I'm trying to find a legends source, or two, that identify the DC-15S and Phase I clone trooper armor. I'm hoping the complete visual dictionary does this, would you be able to check? I thought of asking you first since you seem to know much about clones... thanks heaps! Manoof (talk) 07:11, March 20, 2015 (UTC)
Hey Commander Lee, are you still here?--CC-1395 (talk) 05:22, July 20, 2018 (UTC)
Community content is available under
CC-BY-SA
unless otherwise noted.