Greetings! Please leave a message at the beep and I will get back to you as soon as possible. If I post on your talk page, I would prefer to keep the conversation there for consistency; I will be following your page to keep track of messages.
Archived talk stuff I Archived talk stuff II Archived talk stuff III Archived talk stuff IV Archived talk stuff V Archived talk stuff VI
Welcome Corellian Premier!
[
]
Hello and welcome to Wookieepedia. I hope you like the place and choose to join our work. Here are a few good links for newcomers: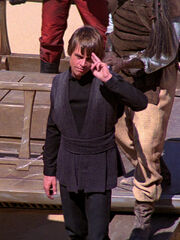 Internal pages:

Online sources
Wookification

External Wikipedia pages:
Remember that you should always sign your comments on talk and vote pages using four tildes, like this: ~~~~.
I hope you enjoy editing here and being a Wookieepedian! If you have any questions, see the help pages, add a question to the Senate Hall, visit our official IRC channel, or ask me on my talk page. May the Force be with you! — MyNz 21:13, 4 February 2007 (UTC)
Command battle droid behind the scenes citations
[
]
Hi CP, just wanted to message you that unidentified OOM command battle droid (Naboo) needs to have its behind the scenes section amended because the mention of appearing in TPM and its adaptations only had a single citation tag to the TPM film. I would further suggest, with adding full citation tags, to pretty much only mention the film and the novel, while leaving out the blanket statement of appearing in multiple adaptations period. Thanks. Hanzo Hasashi (talk) 08:58, October 9, 2020 (UTC)
Band Light restored

[

]
Stay on Target
[
]
You have a link to "Stay on Target" on your userpage. You'll want to update it to Stay on Target (sourcebook) since the page has been moved. SilverSunbird (talk) 00:57, 4 December 2020 (UTC)
Cord-class starfighter
[
]
Zinn Kudri
[
]
Hey CP, if you don't mind me asking, what page is Zinn Kudri included in Collapse of the Republic? I see that you added it to the article here. Thanks! Erebus Chronus (Talk) 18:27, 19 May 2021 (UTC)
Ambush at Mos Eisley
[
]
Hey Corellian, the BTS here needs full publication dates per Layout Guide. Shayanomer
(talk) 16:29, 3 July 2021 (UTC)
RE: Vangos Grek nom
[
]
WookieeProject Video Games
[
]
Hello Corellian Premier, I know you're on a wookieevacation, but I wanted to let you know that there are been talks (on Discord) about restoring WP:VG to active status. Currently the project is still under your de jure leadership, and I was hoping to know what is your intention in that regard: do you plan on coming back and keep that position or would you be ok with letting it go to an other, more available, editor? Thanks and best wishes! --NanoLuukeCloning facility 08:56, 15 November 2021 (UTC)
Jan Stakross
[
]
Surronian L19 heavy freighter
[
]
Cargo Empress super freighter
[
]
Malee Hurra
[
]
Sterling
[
]
Imperial Commando interview
[
]
Hey CP!
Just dropping a line that I came across two articles with info relevant to Star Wars: Imperial Commando, the cancelled sequel to Republic Commando, as I saw you got it to status.
Both links and what I think should be a new article (resulting in a redlink on this article) are noted here.
Have a great week! Manoof (he/him/his) (talk) 12:35, 11 April 2022 (UTC)