I appreciate your massive sourcing venture on the Yuuzhan Vong War article. I hope you can continue to cite information from the NJO. :) -- Riffsyphon1024 04:36, 29 November 2007 (UTC)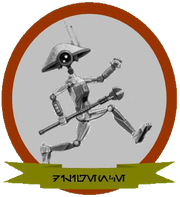 I, Ifindyourlackoffaithdisturbing, hereby award you the Pit Droid Award of Diligence for your tireless work in adding links to articles on the Spanish language Star Wars Wiki. Keep up the good work, IFYLOFD (And now, young Skywalker, you will die.) 23:38, 25 October 2008 (UTC)
Hola amigo!
The article looks very good, very detailed for the Mission to Myrkr events but I'd watch out regarding the Prelude section. RE: BtS, you'll want several things.
Troy Denning interviews regarding the actual writing of Star by Star
Info on the decision for Anakin Solo's death
Info on fan reaction... :S to both his death and Star by Star overall
Info on the fact that Denning deliberately left Lomi Plo/Welk/Raynar open and didn't intend to follow up on it.
Impact on wider EU
Unfortunately it'll take a while to find this stuff. I'm about to go skiing though and it'll take some pretty exhaustive research. For starters though, I'll direct you to the archives of the old Star Wars.com site which is kinda in tatters but recoverable. Here's the link. https://web.archive.org/web/20050204115905/www.starwars.com/eu/lit/novel/archive.html look for the articles pertaining to Star by Star and Dark Journey and the later NJO.
Otherwise, just search for stuff like "Denning Star by Star interview" in Google etc. The Raynar Thul info is there somewhere
Don't get too bogged down in Anakin because it should be dealt with in his article too. Maybe link to TFN's 100 greatest moments poll: http://boards.theforce.net/literature/b10003/28025558/p6
Discuss how Star by Star features Mission to Myrkr alongside Fall of Coruscant -- two very dark moments (I think Shelly Shapiro later apologized for Star by Star's release date - it was quite near 9/11 if I recall. I'll try and find this for you.
Lastly you'll want to reference the two "fallout" books dedicated to Jaina and Jacen - Dark Journey and Traitor and discuss the results the Myrkr Mission have had for EU plotlines such as the Joiners, Raynar, Lomi Plo etc and Jacen's descent to the Sith.
Sounds exhaustive but it should be. I'll try and help you out more when I get back but that should get you started. Good luck. -- Harrar 20:32, 8 April 2009 (UTC)
Just found another comment by Troy Denning on TFN that it took him seven drafts to write Anakin's death scene. http://boards.theforce.net/literature/b10003/29961053/p1/?14
User Page
Edit
Hey I really like your user page, funny and it makes sense.
Oh ok thanks did I do it right?Arjun Sharma 22:53, August 18, 2010 (UTC)
Something very minor
Edit
Hey, Jedabak, I see you have been adding interwiki links, which is great. :) But something very minor: Can you add an empty row between the categories and the interwiki link? In that way, the source code looks cleaner, and that's how we do it across Wookieepedia. Thanks! 1358 (Talk) 18:12, September 18, 2010 (UTC)
Templates
Edit
I was looking at your user page and noticed all of your templates. How do you know what level your understanding of the Star Wars universe is? Thanks a bunch The Awesome X! 22:10, February 20, 2012 (UTC) OK, because I've seen all the movies, watched a lot of the clone wars episodes, know a bunch of planets and individuals and species and such, and have the complete encyclopedia. I'd say I am a beginner
Info box
Edit
Could you help me with the infobox on my profile page. feel free to edit it. If you can please do the infobox for me. I am bad at this computer stuff. The picture I want to use is Sev's first pic. the one in his infobohttp://starwars.wikia.com/wiki/RC-1207. Here is the info: Homeworld: Kamino Born: December 28, 1998 Species Human (clone) Name: RC-2289 "Vori" Gender: Male Height: 1.83 meters Hair color: Black Eye color: Brown Era: Galactic Republic and Delta Squad (replacement for Sev). Thanks! Vorenus22 (talk) 22:11, July 26, 2012 (UTC)
I tried editing my profile and I changed the infobox stuff but when I tried to change the pic it did not work. I just copied and pasted this: 250px-JakoliHS-SWE What did I do wrong? Null-5 (N-5) Prudii (talk) 22:55, August 11, 2012 (UTC)
so sorry
Edit
Ok. I really need to learn this kinda stuff. I checked my info box and it showed the .jpg extension (I think). Please help me. I've tried other people and they don't respond. So sorry to bother you, Null-5 (N-5) Prudii (talk) 22:04, August 18, 2012 (UTC)
Community content is available under
CC-BY-SA
unless otherwise noted.