Welcome, RainbowDroideka!
[
]
Hello and welcome to Wookieepedia. I hope you like the place and choose to join our work. Here are a few good links for newcomers: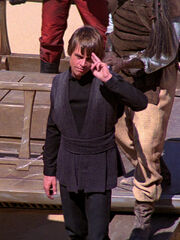 Internal pages:

Reliable sources
Wookification

External Wikipedia pages:
Wookieepedia policies:
Remember that you should always sign your comments on talk and vote pages using four tildes, like this: ~~~~.
I hope you enjoy editing here and being a Wookieepedian! If you have any questions, see the help pages, add a question to the Senate Hall, visit our official IRC channel, or ask me on my talk page. May the Force be with you! —SFH 13:55, 27 March 2008 (UTC)
Salt hawk
[
]
Hi RainbowDroideka. Yesterday you made the page salt hawk, however you didn't say wether it first appeared or was merely mentioned in the appearances section. Do salt hawks actually show up in Lost Stars, or are they only mentioned? Cevan (talk) 15:42, November 29, 2015 (UTC)
Nevermind, I checked the Lost Stars page and saw it was first mentioned in the book. Just be sure to add stuff like this the next time you create a page. Cevan

(talk)

21:41, November 29, 2015 (UTC)

Hi Cevan. Yeah, I actually wasn't sure what to put, because it seemed like an in-between situation as far as appearing vs. mentioning (since Ciena is musing about how the calls make her feel at home, but it doesn't explicitly say they're calling at that moment). I'm okay with either way. I'm often not sure if something was first mentioned in a particular source - my knowledge isn't comprehensive enough to say with confidence that it hasn't appeared in something else (especially with very small things like this that could plausibly have not made it into Wookieepedia yet). I try to at least give a lot of citation information so more experienced editors can look it up and make decisions on their own if necessary. 64.25.158.112 04:57, November 30, 2015 (UTC)

I sometimes find it a bit confusing when it comes to novels too. But what I generally go by is it says something like "salt hawks circling overhead," then we can count that as an appearance, but not a mention. I'd say your instincts were right on this one - since it doesn't really say that it's something happening at the moment, it's just a mention. ProfessorTofty (talk) 08:14, December 1, 2015 (UTC)