Thanos6, welcome!
Hello and welcome to Wookieepedia. I hope you like the place and choose to join our work. Here are a few good links for newcomers:
I hope you enjoy editing here and being a Wookieepedian! By the way, you can sign your name on Talk and vote pages using three tildes, like this: ~~~. Four tildes (~~~~) produces your name and the current date. If you have any questions, see the help pages, add a question to the Community Portal talk page or ask me on my Talk page. May the Force be with you! -- Riffsyphon1024 03:29, 28 May 2005 (UTC)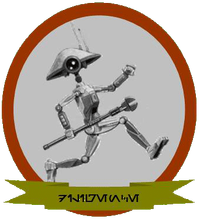 For your hard diligent work of a monotonous task on List of companies and corporations and other things I present you with this Pit Droid Award of Diligence. --Riffsyphon1024 15:43, 2 Jun 2005 (UTC)
I noticed you recently amended the Joruus C'baoth article to mention that Wayland's inhabitants recalled a duel- I do not remember anything in Zahn's two trilogies which said that, so could you mention what book you did get it from? --Maru 01:26, 20 Jun 2005 (UTC)
ok, u know i just HAVE to ask, what is the trunk-thing?JustinGann 18:44, 8 Nov 2005 (UTC)
Why would Vuffi Raa be an anonymous species? Its a droid.JustinGann 06:50, 11 Nov 2005 (UTC)
Just to let you know, I share your philosophy on writing about characters! There are enough people who write about Palpatine and such, but not enough who write about, say Attichitcuk. :) Adamwankenobi 11:57, 13 Nov 2005 (UTC)
Great work on Rokur Gepta. Kudos! --SparqMan 01:58, 29 Nov 2005 (UTC)
I don't see anyone making a huge deal about R-rated fic (and I think that rule makes perfect sense myself), but I think the homosexuality thing does definitely warrant mention. Let me handle the wording, though, if it's okay. One question: is there something on TFN's Fanfic section itself (as opposed to the forum) or a post by Josh or whomever stating specifically that gay relationships can't be dealt with in the site's fanfic? People tend to forget (or disregard) that the boards and the site aren't always run by the same people, and a rule in one place might not be a rule everywhere. Josh's opinions notwithstanding, I haven't seen anything to suggest that TFN has an anti-gay bias at an insitutional level, and I don't want people to come away with that impression. CooperTFN 00:45, 8 Jan 2006 (UTC)
From the website, it seems that the Thrawn RPG will only include six people; three purchased outright and three selected (or something like that, I can't recall exactly). I only plan on watching anyways. And if memory serves, the RPG is on Sunday morning, if that helps. But yeah, if you do end up being able to go, definitely drop me a line. Kuralyov 06:45, 27 January 2006 (UTC)
Hi Thanos, where are you from? MoffRebus 22:19, 27 January 2006 (UTC)
Due to your cleverness put in making the unusual "clone master" page, I'll let you slide. Hahahaha. 22:37, 10 March 2006 (UTC)
As per your experience with editing small articles, your help with this article (Carrier) would be greatly appreciated. Thrawn3.14 02:42, 21 June 2006 (UTC)
Ah, no problem. I just found this SW Wiki today, but I've been helping out at the Lost Wiki for I while now so I'm getting to know how things work. LOSTarbiter 06:37, 21 June 2006 (UTC)
I can do that. I think User:Cull Tremayne is gonna write an article on the invasion too. --Eyrezer 04:43, 28 June 2006 (UTC)
I love your reasons to hate darth vader list! I know you said you're serious, and I believe you, but it is hilarious! Aside from comic value, you do have a point. You would think at some point the jedi council would have drawn the line whether anakin was "chosen one" or not. --Nomi Qel-Droma 00:36, 19 July 2006 (UTC)
Ok. I saw someone add a line about how the pilot was actually Mara Jade, and it got me thinking "oh yes, she discovered Luke when he was floating in space." Apparently she was just the co-pilot, or merely suggested they go there. Restoring the article now, at any rate. Chack Jadson (Talk) 20:04, March 9, 2010 (UTC)
Community content is available under
CC-BY-SA
unless otherwise noted.