TopAce, welcome!
Hello and welcome to Wookieepedia. I hope you like the place and choose to join our work. Here are a few good links for newcomers:
Internal pages:

Online sources
Wookification

External Wikipedia pages:
I hope you enjoy editing here and being a Wookieepedian! By the way, you can sign your name on Talk and vote pages using three tildes, like this: ~~~. Four tildes (~~~~) produces your name and the current date. If you have any questions, see the help pages, add a question to the Community Portal talk page or ask me on my Talk page. May the Force be with you! -- Riffsyphon1024 21:56, 15 Jul 2005 (UTC)
Oh my god
[
]
You're an athiest too!! Anakin Thomas 17:32, 21 June 2006 (UTC)
Language
[
]
If you are a non-native speaker of English, might I recommend you apply this template to somewhere on your user page.
| | |
| --- | --- |
| en | This user is a non-native speaker of English. |
-- Riffsyphon1024 22:02, 15 Jul 2005 (UTC)
Thanks.
TopAce, Jedi Purge is the BEST!--wattamb2000
Time to use your skills
[
]
We located an article on Wikipedia of interest however its in Hungarian. Mind translating this for us to post on the wiki?
Koorivar Osztag:
Vállalatszövetség osztaga:
Faj: Koorivar Páncélzat: Vörös fejpáncél, bordapáncél, fekete fémcsizma és a homlokpánzélzatnak egy nyílás a koponyaszarv részére, s fémkesztyű. Fegyverzet : sugárvető, és Koorivar gyártmányú lézervető Alkalmasságuk : A Vállalatszövetség gyárjaiban, parancsnoki hivataljaiban őrt állnak. Például Passel Argente, a Vállalatszövetség mestere is visz magával kisérőként, 4-5 ilyen fajta osztagost. Kitűnő harcosok többnyire, és csak nagyon ritkán harcolnak díszfegyvereikkel és akkor is csak parancsnoki engedéllyel.
Gossam Kommandó:
Faj: Gossam, s csak annak a hím példányai. Páncélzat: nehéz borítású, ütésálló páncéllemez. Fegyverzet: nehéz vállágyú. Vállágyú használat: 2 gossam fő. Egy lővő, és egy golyó hordó, a kifogyás esetén. Alkalmasságuk : Biztonsági őr. Shu Mai a Kereskedőtestület elnökasszonya engedélyezte s bevetésüket, a Köztársaság ostromlásánal a Peremvidéken.
Good luck. -- Riffsyphon1024 03:58, 28 Oct 2005 (UTC)
---
Koorivar Squadron:
Squadron of Confederacy
Species: Koorivar
Armour: Red head-armour, rib-armour, black metal boots, a hole for the horn on forehead armour and metal gloves.
Weapons: Koorivar-manufactured laser blaster
Uses: Stands guard in factories and commanding offices of the Confederacy.
Passel Argente takes 4 or 5 of these as escorts. They are excellent warriors who only fight with their weapons when commanded.
Gossam Commando:
Species: Male Gossam.
Armour: Heavy armour.
Weapons: Heavy shoulder cannon.
Use of shoulder cannon: 2 Gossams: One to fire and one to reload.
Uses : Security guards.
Shu Mai permitted the use of them on the outer rim against the Republic.
---
That is not the best translation, I certainly mistranslated the names of some technologies as I have never read any sources in Hungarian so I don't know how some technologies are translated. TopAce
Thanks TopAce. You are my number one Hungarian! :D -- Riffsyphon1024 20:54, 28 Oct 2005 (UTC)
Shaak Ti
[
]
There is a vidio at Galactic Voyage.com--Wattamb3000 20:54, 29 Oct 2005 (UTC)
Umm, that address is in your own computer. jSarek 23:06, 29 Oct 2005 (UTC)
The site redirects me to vide-game.com or something like that. There is nothing there. TopAce
Some more translation
[
]
This time it's minor. Could you check out Shayla? -- Riffsyphon1024 07:03, 24 Dec 2005 (UTC)
This is spam, it says "I am beautiful". - TopAce 12:13, 24 Dec 2005 (UTC)
Even more translation requests
[
]
If you have time, could you check This Hungarian fansite for any evidence of a character named Norden Berdanges? An anon claims this character is in Star Wars: Episode I The Visual Dictionary, and tried to illustrate the article with an image on that site. I can't navigate it to check, though. If you find anything, leave a note on the VFD page. Thanks! — Silly Dan 03:28, 7 Jan 2006 (UTC)
I checked it, see the deletion discussion page. - TopAce 17:03, 7 Jan 2006 (UTC)
Personal attack.
[
]
What's your problem, TopAce? All I told DannyBoy on Talk:Kit Fisto was that we shouldn't have discussed what he brought up there. And then I see that you must dislike me. Admiral J. Nebulax (talk) 16:07, 25 February 2006 (UTC)
I observed that you remove far more things saying it is pointless than the other members. In my point of view, nothing is pointless if what it says is true and does not deteriorate the article. For example I do not like a number of things around here, but I simply do not remove them and before removing a thing I write in a comment or start a discussion about it. - TopAce 16:52, 25 February 2006 (UTC)

Then, instead of making a personal attack directed at me on an article's talk page, why not bring this to my attention on my talk page? Admiral J. Nebulax (talk) 17:28, 25 February 2006 (UTC)

Because it wouldn't change on anything. - TopAce 18:23, 25 February 2006 (UTC)

How do you know? If you have time to post on the Kit Fisto talk page, why couldn't you have been more mature and posted on my talk page instead? Admiral J. Nebulax (talk) 21:08, 25 February 2006 (UTC)

TopAce, I have no clue why you still have a grudge against me. But I want to let you know that when I remove something that might be good information, I do it because I think it might not be canon and therefore shouldn't be on Wookieepedia. If I'm wrong, it gets re-added. And I most certainly do not vandalize Wookieepedia. Whenever I do something here, I'm trying to improve that article and the entire Wikicity as a whole. And now, because I was nominated to be an administrator, you have to stay stuff like "He's more of a vandal". That is a lie, TopAce. The reason you said it was because you still have a grudge against me, isn't it? You'd actually say that I'm a vandal? If I was a vandal, I would know it, and I wouldn't be making contributions like putting up sources tags on article without them, reverting vandalisms done to articles, and reporting on the vandals if I was one myself. What started off as a personal attack seems to have become something more. Admiral J. Nebulax (Imperial Holovision) 12:06, 30 April 2006 (UTC)

You DO remove content which YOU think is pointless even though it is not. Unless you accidentally revert those stuff, that is deliberate. Get used to asking questions before removing things. - TopAce 12:24, 30 April 2006 (UTC)

Fine, but calling me a vandal because of it? I realize that I do remove things without asking, something that I am as of now stoping, but still, I am not a vandal. Admiral J. Nebulax (Imperial Holovision) 13:04, 30 April 2006 (UTC)

Now, let's get this straight. I do respect you, but when you made that personal attack, I thought to myself "Why?". You're respected around here. Making a personal attack on someone causes respect for you to decrease. Admiral J. Nebulax (Imperial Holovision) 13:08, 30 April 2006 (UTC)

Respected? I have not noticed it so far. Anyway, when I find something unfair, I tend to get hard on people who are getting unfair. Very often, those are registered, veteran users who are unfair to anons. Anons basically have disadvantages compared to registered members, why make their situation even worse? I'm continously trying to defend anons when they add things, which are, let's say, not of the best quality. But I still do not revert their edits or suggest the article for deletion, discouraging them from making any further edits. - TopAce 13:19, 30 April 2006 (UTC)
Truce.
[
]
I'm getting tired of this. Let's just put all this behind us and start over as friends. I promise not to remove something until it's been discussed. Truce? Admiral J. Nebulax (Imperial Holovision)

13:17, 30 April 2006 (UTC)
Fine by me, if you can change on it - TopAce 13:21, 30 April 2006 (UTC)
Templates
[
]
I likey templates. Yay. --DarthCow--Talk| Email
Not bad - TopAce 19:30, 1 March 2006 (UTC)
Gray and grey
[
]
Thanks for leaving the edit and letting me know. Also, I wasn't sure when I made change, but apparently "grey" is an acceptible American spelling of the word, like "judgement" and "judgment" are both acceptable. Fun stuff, our language. :-) -BaronGrackle 04:30, 3 July 2006 (UTC)
Your language :p, I am not a native speaker of English, so it isn't my language (from a certain point of view). - TopAce 14:02, 3 July 2006 (UTC)
On the topic of English, I notice you claim to have changed your allegiance to the American version. As a Texan who has found himself growing closer to "Englandish", I find myself curious as to what happened in your life to cause this. What about the words that have alternative spellings? What about our almost complete inability to pronounce the letter "t", in the U.S. as a whole? :-) -BaronGrackle 14:46, 17 July 2006 (UTC)
Two reasons: a) using US English is now a policy here b) I study American Studies at University, so this is the variant I should always use. Nowadays, I only use British English when I talk to a British friend via ICQ or MSN. If I were to contribute to a British article at Wikipedia, I would, of course, use British English. I hope that answers your question. - TopAce 15:10, 17 July 2006 (UTC)

Ah, I see now. I had thought it was a sort of personal preference to you. I was just curious; thanks for the information! -BaronGrackle 10:20, 18 July 2006 (UTC)
Award
[
]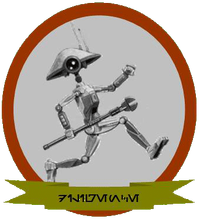 I present you this award for your ongoing work in helping encourage proper English language use. You know the rules of English better than I do—which is especially impressive considering it's not even your native tongue. -- Darth Culator 19:51, 16 July 2006 (UTC)
Thank you, I am pleased to accept this award. This surely encourages me to continue my contributions. - TopAce 22:56, 16 July 2006 (UTC)
Thanks.
[
]
Thanks for helping me revert DarkShroud's vandalisms to user pages and other pages. Fleet Admiral J. Nebulax (Imperial Holovision)

12:33, 3 August 2006 (UTC)
No problem, has he been dealt with, anyway? - TopAce 12:34, 3 August 2006 (UTC)
Another thanks
[
]
I just wrote the Mission to Taspir III page, and before I could finish proofreading it you had already fixed all of my spelling mistakes. I'm a little embarrassed that I had so many, but I thank you. --CaptainPellaeon1138 17:06, 3 August 2006 (UTC)
It wasn't that bad, don't worry about that. - TopAce 17:07, 3 August 2006 (UTC)
"Hungarian Wookieepedia" on central Wikia
[
]
Hi TopAce: could you make a minor change to the page on the central Wikia wiki? There's no "in other languages" link in Hungarian on the sidebar. I'd add it myself, but I don't speak the language....—Silly Dan (talk) 14:57, 19 August 2006 (UTC)
Of course, I can do that. Thanks for bringing it to my attention. [EDIT] Oh, I ran into a problem. I don't know how to add it, I click on Edit then I cannot find what to modify. If you know how to add things there, here are the translations: "In other languages" = "Más nyelveken" "Hungarian" = "Magyar" If you don't want to do this for me, let me know how to add things. - TopAce 20:59, 19 August 2006 (UTC)
Wanna help
[
]
Wanna help revert the pages that User:Sir.jack the ripper has discriminated? SecondSight 09:24, 4 September 2006 (UTC)
Already done - TopAce 09:25, 4 September 2006 (UTC)

Noticed just as I hit Save ;-) SecondSight 09:27, 4 September 2006 (UTC)

So I can be more helpful with those bloody vandals, how do I revert? SecondSight 09:33, 4 September 2006 (UTC)

Reverting is simple: go to the history window, click on the date of the version you wish to revert to. The archived article will come up. Go to edit and save. - TopAce 09:35, 4 September 2006 (UTC)

I feel I understand how to revert now, I've just not had a chance to try it yet. Thanks for all your help and thanks for checking back. If, after I finally get to try a revert, I'm still confused, I'll leave another message, if thats OK? SecondSight 09:24, 16 September 2006 (UTC)
Voting!
[
]
TopAce, you might be interested in a proposed policy change known as Forum:Administrator Voting that would change how admins are selected. It's on consensus track, but I thought it would be better to get more opinions. Atarumaster88

(Audience Chamber) 19:06, 14 September 2006 (UTC)
Fanon note
[
]
You accused an article I wrote (Frank) as Fanon, when an image and a source were listed. Why? Gonk123 17:40, 16 September 2006 (UTC)
Because something that can only be found on one website is hardly canonical. Can you prove what you posted is canon or provide more sources/appearances to it? - TopAce 17:41, 16 September 2006 (UTC)

Not yet, because the info was a recent discovery. But the droid IS seen at star tours. Gonk123 17:47, 16 September 2006 (UTC)

I suggest we take this discussion to Talk:Frank because a) let's have the exact same discussion in only one place b) others more easily discover it and can confirm its canonicity status. - TopAce 17:49, 16 September 2006 (UTC)
Geonosis & Yavin Copyrights
[
]
Hey - i commented on your removal of the possible copyvio. On the Talk:Geonosis page. Both sites actually took the info i think from Star Wars: Complete Locations --Merbabu 12:56, 19 September 2006 (UTC)
Then startours.com took the info directly from Complete Locations and someone copy/pasted it into their Wookieepedia articles. - TopAce 05:50, 20 September 2006 (UTC)
My G.Section
[
]
Hello, TopAce. I have finally added a Guest Section to My Userpage, and I was wondering if you would sign it seeming as you have left messages on My Talkpage. Thanks. SecondSight 12:55, 22 September 2006 (UTC) (ps sorry I put this on your user page and not your talk page - I managed to try reverting and got carryed away ;-)).
Thank you and sorry once more. SecondSight 18:04, 22 September 2006 (UTC)
Freespace Wiki?
[
]
Hi TopAce. I saw your name on the Freespace wiki and wondered if it's you in person or just a funny coincidence? Cheers! Lorth NeedaStriptease 22:08, 3 October 2006 (UTC)
That's me. Are you an FS fan? - TopAce 22:11, 3 October 2006 (UTC)
Hell yeah! The best space simulator ever, from my point of view. It has an awesome story, ships and more. Imagine a movie trilogy about "The 14 year war" "The great war" and "The second Shiva incursion"! Could be a best seller. Have heard rumors about an FS3? What made you an fan then?

Lorth Needa

Striptease 16:42, 4 October 2006 (UTC)
Kit Fisto
[
]
I just read the talk on Kit Fisto and I saw that you said that Kit providing air for Aayla is perverted. What is your deal??? Have you ever heard of CPR??? That is just what he is doing! Kit and Aayla are two of my favorite characters and I don't like you to dis them!!! Gosh!!!
Grand Admiral Nick Vos [Holonet]

There is an English saying (or proverb, I don't know which one it is considered) let sleeping dogs lie. I think it fits. I wrote that like half a year ago (if I recall it correctly, I won't check the date). Things, especially discussions on the internet, become obsolete during this time. I won't say anything about that because it is of the long past. Think what you want and consider me anything you want, there is freedom of speech. I just don't care about it. - TopAce 22:48, 21 December 2006 (UTC)
Apology
[
]
This was initially at the top of the page without a title, I took the liberty to put it here im sorry, that wasnt me, my brother was using the computer, and i have it set to log me in automaticly, where do i tell the admin this admiralsith
Tell them on their talk pages. Kwenn's in particular. - TopAce 22:21, 1 January 2007 (UTC)
Apostrophes
[
]
Hi TopAce, I was just reading this on your userpage: "If you have a (proper) noun, that is singular and ends in '-s', you must write its possessive form by putting ('s) instead of a single (')." Usually this is right, but I have a style manual here that says "However, when a singular noun ending in -s is a long word or ends with a z or eez sound, an apostrophe alone is sometimes used." The example it gives is "Euripedes' rhetoric." As a fellow grammar junkie, I figured you'd want to know. Cheers! Gonk 19:29, 7 February 2007 (UTC)
I knew about that, I just didn't bother adding it. Maybe this is true in the case of Rancisis, but I guess its correct prununciation is unknown, so maybe it's better to use Rancisis's just to be sure. - TopAce 11:17, 8 February 2007 (UTC)
Soresu
[
]
It's better, but still slightly POV and definitely needs clean-up. There is present tense and some OR throughout the entire thing still. For sake of consistency, I'd prefer it be formatted in the same manner as Shien and Ataru have been, but that's not a huge matter. Also, I cannot stand the main image and definitely want that changed back, though I'll do that as soon as I get the technical error I have fixed. Atarumaster88 (

Audience Chamber

) 03:19, 27 February 2007 (UTC)
The quote thing
[
]
Hi. And thanks for updating my spelling errors. But I was thinking about the deletion of the quote. I'm not sure it fits, because this is the second time it has been removed. Chack Jadson did it first, and he changed his mind and alowed me to put it back up (See User_talk:Steinninn#Quote-Death_Valley). Now, also please see the update history. I asked that the quote would not be deleted unless replaced. Do you have any sugesstions about a new quote? My idea for filming locations is that when people read the quote they will go like "Yea, that's what was filmed there (see User_talk:Chack_Jadson#Quotes). Well, I'm sure there's a better quote out there, since this one surtenly dosn't seem to fit at all :) --Steinninn 18:54, 1 March 2007 (UTC)
Custom Userboxes
[
]
If you would like any user boxes made just see my talk page. Thanks. --

Scwhinky

Communicate

18:29, 4 January 2007 (UTC)
My bad
[
]
Actually I only noticed a couple of edit conflicts. And I actually thought that it would take more than just two people to get it done that fast, and that someone else would think to start at Z and work backwards. I was actually trying to avoid them too. :-) Wildyoda 20:10, 3 March 2007 (UTC)
Ummm...yeah
[
]
I'm trying to condense Anakin Skywalker's article to get it to be a featured article. I guess I might of taken it too far. There were way too many quotes and that kinda stuff, so I deleted some of it. Didn't know it was vandalism. -- Darthchristian 17:55, March 24 2007 (UTC)
Saber form articles
[
]
Thanks for helping patrol them, but Vader's eclectic mix of the forms actually is sourced. It's from Dark Lord: Rise of Darth Vader when he fights Roan Shryne and some other places. Atarumaster88 (

Audience Chamber

) 15:14, 25 March 2007 (UTC)

Ok, I trust they are referenced already? Still, I can see no reason for him to know Makashi. Is there an explanation for that? - TopAce 23:10, 25 March 2007 (UTC)

I'm pretty sure that was in Dark Lord also, although I'm not sure of the exact location. I'll check. I actually referenced it in the Ataru article under users. Like I said, I'll double-check and make sure. Atarumaster88 (

Audience Chamber

) 03:09, 29 March 2007 (UTC)

I think it's dumb also, but if it's canon, we have to acknowledge that it is at least implied. Atarumaster88 14:56, 29 May 2007 (UTC)
Userboxes
[
]
I know i'm the one you made an objection to on the wookieepedian of the month page but I can help you with one thing: Userboxes. I did the same thing you did. I didn't know how to make userboxes so i just wrote the stuff. Do you alredy know how to make them or can I show you? --Windu223 20:48, 7 April 2007 (UTC)
I don't really know any HTML, so no. I don't know how to make userboxes. But I wouldn't like to use userboxes on my userpage. But thanks for any help you wanted to give me. - TopAce (Talk) 21:15, 7 April 2007 (UTC)
Re:
[
]
I made some further edits, which most notably removed the present tense from the beginning, but thanks for your help- the tags are pulled. Atarumaster88 (

Talk page

) 17:49, 6 September 2007 (UTC)
Re: Labyrinth of Evil
[
]
Why didn't I like it? Two words: bad writing. James Luceno screwed up so badly in that novel that it makes some of the Stackpole works almost look good...almost. Furthermore, it was cheesy, overusing far too many cliches in attempt to be witty that simply came across as gag-humor. Hell, if I wanted to see some great lightsaber fights with Grevious, I'll watch the Clone Wars, Season 2! I'm accustomed to quality coming out of most of the EU novels--most, mind you--but this was like reading a bad version of The Phantom Menace. What TPM is already bad? My point exactly. If little kid Anakin had walked into the novel and screamed "Spinning's always good" and "Yippee" as he blew up Coruscant, I wouldn't have blinked.--SOCLcomm 15:20, 11 September 2007 (UTC)
Project Coordinator
[
]
Hi there. Do you have a source for the Project Coordinator article you wrote back in January? Cheers. --Azizlight 14:16, 18 September 2007 (UTC)
"galaxy"
[
]
Hey man, I'm not sure what revert edit you're talking about, but if you look at the recent edit page, the only change I've even made today (I just woke up 10 min ago!) is helping your latest Black Sun edit by changing the "the galaxy" to "the galaxy". I am now aware, thanks to a little incident a few days ago, that the new consensus is not to capitalize galaxy. I was unaware of tha change before. Please see the Talk Page

SillyDan

for proof of my sincerity here. I'm really not trying to sabotage whatever work you've done, and I udnerstand the sensitivity that comes with having your edits reverted, and I'm sorry for whatever offense I may have caused. I'm definitely not here to sabotage works, so if indeed I did revert your Black Sun edit on a preivous day, it was simply from my own ignorance.Toprawa and Ralltiir 15:57, 25 September 2007 (UTC)
Worshiped --> Worshipped
[
]
Worshiped is the correct American English spelling (according to Firefox and several users on IRC). Therefore, a lot of your recent edits are incorrect. Could you help me revert them? Thanks, -- AdmirableAckbar [Talk] 18:36, 9 October 2007 (UTC)
Yes, if they are not reverted yet, I could help you get them to the correct version. - TopAce (Talk) 07:25, 11 October 2007 (UTC)

Thank you. I'm from Ireland, so I know how all this America spelling sucks too, but... --

AdmirableAckbar

[Talk]

07:29, 11 October 2007 (UTC)

They don't suck. I just misread something that made me believe that worshiped was Commonwealth. - TopAce (Talk) 07:32, 11 October 2007 (UTC)
Bordal
[
]
Of course, if you want to be absolutely literal, you can translate it as wine song. It's nice to see another Hungarian on Wookieepedia. FullmetalWookiee 03:13, 3 August 2008 (UTC)
Nas Choka
[
]
Hi TopAce,
The "fore" is the foremost part of something, usually a vessel, though it works in the context of something such as a series or a plot. So you can say that a character was brought to the "fore" of the series, as I did. Understandably, its been seen by you to be dubious, and thus I'll re-word it. Nas Choka, however, is undergoing a major edit, at my hands, and I'd appreciate it if you could refrain from editing the article until I'm done and its nominated for FA, where vocabulary can be addressed without the risk of edit conflicts.
Thanks, Harrar 20:34, 5 August 2008 (UTC)
You're welcome—you should give it a read when it's done it'll be good! Harrar 20:41, 5 August 2008 (UTC)
Shift shield
[
]
Helló! Megkérhetlek, hogy ellenőrizd a Shift shield nyelvtanát? Az angolom nem tökéletes. Megpróbáltam a központozási aloldalad alapján kijavítani, de nem biztos, hogy sikerült. Plusz még egyéb vonzat vagy jelentésbeli hibák is lehetnek benne. Előre is kösz a segítséget. (Szabad/illik egyáltalán az angoltól eltérő nyelven írni vitalapokon?) Darth Morrt 13:39, September 6, 2010 (UTC)
Helló. Kijavítottam, amit tudtam. Egyébként lehet felhasználói vitalapon más nyelven írni, de nem nézik jó szemmel, ha gyakori.

Thanks. May I ask you for grammar help sometimes? Darth Morrt 11:42, September 7, 2010 (UTC)