The V-19 Torrent starfighter, also known as the V-19 Torrent Interceptor, was a model of starfighter manufactured by Slayn & Korpil.[1] They were used by the Republic Navy during the Clone Wars.[5]
During the reign of the Galactic Empire, these fighters were used by planetary defense forces, including the Botajef Defense Force, which mounted a rebellion against the Empire.[7]
Behind the scenes
Edit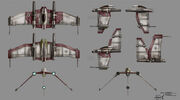 LucasArts' Art Director Chris Williams and Concept Artist Greg Knight developed the design of the V-19 Torrent for the 2-D Clone Wars micro-series. They drew inspiration for the fighter's folding wings from the real-world F4U Corsair. Concept art of the Torrent for the 3-D Star Wars: The Clone Wars film was drawn up by Thang Le.
A LEGO version of the fighter (LEGO STAR WARS - 7674 V-19 Torrent) was released in 2008, and is also a playable vehicle in the non-canon video game LEGO Star Wars III: The Clone Wars.
On page 57 of the 2017 reference book Star Wars: On the Front Lines, it is incorrectly stated that the V-19 Torrent starfighters were deployed late into the Clone Wars,[4] though The Clone Wars film showed that they had been around since the first year of the conflict.[5]
The laser cannons are often called blasters.[2][1]
Appearances
Edit
Notes and references
Edit
↑ 2.0 2.1  V-19 Torrent in the Databank (backup link)