Boba Fett Returns - The Loop
Play Sound
"What do you fly?"
"VCX-100."
"That is a quality ship."
―Lando Calrissian and Han Solo
The VCX-100 light freighter was one of the Corellian Engineering Corporation's freighter designs. A notable example of this model was the Ghost, a modified VCX-100 owned by Hera Syndulla.
Characteristics
[
]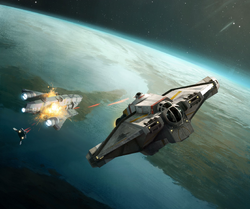 The VCX-100 was outfitted with sleeping quarters, a galley, and a common room. Its armament comprised a dorsal turret and a frontal-turret, the latter being controlled by a gunner in its seat or from the cockpit. The cargo bay and main entrance ramp of the VCX-100 were mostly located in the front of the freighter, below the forward-turret. VCX-100s also had a slot in between its main engines, into which a VCX-series auxiliary starfighter could dock. The VCX-100 was also outfitted with a magnetic cargo clamp on its ventral plating, capable of holding several bulk containers.[1]
History
[
]
In 10 BBY,[18] before Han Solo owned the Millennium Falcon, Solo played a game of Sabacc against Lando Calrissian to try to win the latter's starship. Solo bluffed that he owned a VCX-100 to use as collateral in order to get Calrissian's attention.[19]
The Ghost was a notable VCX-100, piloted by Hera Syndulla.[13] In 0 BBY, the Ghost participated in the Battle of Scarif[15] and the Battle of Endor in 4 ABY.[20][21]
In 35 ABY,[22] at least three VCX-100 light freighters including the Ghost were part of a fleet assembled by Lando Calrissian to assist the Resistance during the battle against the Sith Eternal forces over the planet Exegol.[17]
Appearances
[
]
Non-canon appearances
[
]
Sources
[
]
Notes and references
[
]
↑ The Ghost in the Databank (backup link)
↑ 5.0 5.1 5.2 Seen a ghost? on StarWars.com (backup link)
↑ 7.0 7.1 A New Dawn
↑ The timeline provided in Solo: A Star Wars Story The Official Guide places Han Solo

'

s Kessel Run nine years after the events of Star Wars: Episode III Revenge of the Sith. As that film takes place in 19 BBY, we can deduce that Sabacc game took place in 10 BBY.
↑ Star Wars: The Rise of Skywalker: The Visual Dictionary dates the events of Star Wars: Episode IX The Rise of Skywalker to one year after the events of Star Wars: Episode VII The Force Awakens. As Star Wars: Galactic Atlas dates the events of The Force Awakens to 34 ABY, the events of The Rise of Skywalker must occur in 35 ABY.