Doctor Strange in The Multiverse o Madness - The Loop
Play Sound
The VT-49 Decimator Expansion Pack is a supplement to the Star Wars: X-Wing Miniatures Game from Fantasy Flight Games. The expansion features a detailed miniature of the VT-49 Decimator. It was released on November 26, 2014 as part of the game's fifth wave of expansions.
Publisher's summary
[
]
To be granted command of a VT-49 Decimator is seen as a significant promotion for a middling officer of the Imperial Navy. A heavily armed transport, the VT-49 Decimator is one of the Empire's most feared warships, often used to provide long-range reconnaissance or to deploy raiding parties past enemy forces.
The VT-49 Decimator Expansion Pack brings this intimidating Imperial gunboat to X-Wing as the game's largest ship yet designed for Standard Play. Even at the game's signature 1/270 scale, the expansion pack's detailed miniature towers over its base and smaller starfighters.
In addition to its imposing, pre-painted miniature, the VT-49 Decimator Expansion Pack introduces four ship cards, three debris cloud tokens, a new mission, a maneuver dial, and all the tokens you need to fly your Decimator into the thick of combat. Finally, you'll find thirteen upgrade cards, which introduce a variety of crew members like Mara Jade and Fleet Officer designed to help you fill out the Decimator's three crew member slots.
Contents
[
]
The VT-49 Decimator Expansion Pack contains one VT-49 Decimator miniature, plus a maneuver dial and action tokens, as well as pilot and upgrade cards.
Mission scenario
[
]
Ship components
[
]
VT-49 Decimator rulesheet
VT-49 Decimator miniature
Plastic base
Plastic peg (2)
Ship token (2)
Maneuver dial
Focus token
Evade token
Stress token
Shield token (4)
Ion token
Debris Cloud token (3)
Proton Bomb token
NOTE: The VT-49 Decimator (like the YT-2400) expansion pack does not include any ID tokens. Also, like the YT-1300, Firespray-31 and the YT-2400, the VT-49 Decimator has Target Lock as an action, but the expansion pack does not include any Target Lock tokens.
Cards
[
]
Pilot cards
[
]
Upgrade cards
[
]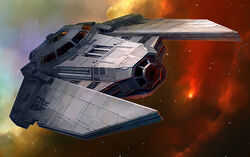 Proton bomb
Tactical Jammer (2)
Dauntless (unique)
Reference cards
[
]
"Ion Token"
"Using Bombs"
"Bomb Tokens"
Notes and references
[
]
External links
[
]