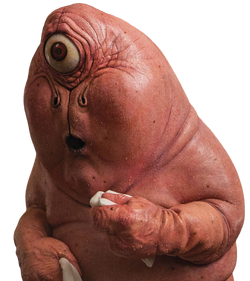 Vaporator Salesbeing of the Year was an award and title that was ostensibly granted to the top salesbeing of moisture vaporators for the company VaporTech. The prize was always a two-weeks all-expenses paid vacation on a world considered glamorous. For many years, this world was Coruscant, but for several decades as of 34 ABY, it had been the casino planet of Canto Bight.[1]
In 34 ABY, this prize was won by male Wermal named Kedpin Shoklop. Shoklop had been a top-performing salesbeing at the company for many years but had nevertheless never won the prize, despite his fervent efforts. After winning the prize, he buried the truth in his mind of how he had won it. The prize was, in fact, rigged, continuously awarded not to those who had worked the hardest, but rather to top-level management and other favored employees. Knowing this, he rigged the system himself, hacking the company's computer system to name him the winner. Everyone was surprised except management, who chose not to reveal his cheating in order to not reveal that the system was rigged. A series of experiences on Canto Bight led Shoklop to reveal the truth of the matter to both himself and to Anglang Lehet. Though he did not like being a cheater, he felt that the system that had led him to become one simply was not fair.[1]
Community content is available under
CC-BY-SA
unless otherwise noted.