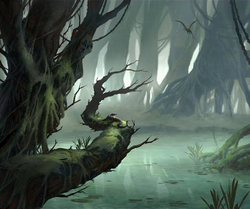 Qui-Gon Jinn: "I have encountered a vergence in the Force."
Yoda: "A vergence, you say?"
Mace Windu: "Located around a person?"
Qui-Gon Jinn: "A boy. His cells have the highest concentration of midi-chlorians I have seen in a lifeform… It is possible he was conceived by the midi-chlorians."
―Jedi Masters Qui-Gon Jinn, Yoda, and Mace Windu discussing Anakin Skywalker
A vergence,[1] sometimes described as a fulcrum,[2] or as a nexus,[3] was a location of a concentration of the Force that could be centered around a person, such as Anakin Skywalker,[1] or a location, such as the Jedi Temple on Lothal, the Temple of Eedit on Devaron, the Jedi Temple on Ilum, the Cave of Evil on Dagobah,[3] the Mirror cave on Ahch-To,[4] and Mortis.[2] The Wellspring of Life, a planet that was the foundation of life, the birthplace of midi-chlorians, and the dwelling of the five Force Priestesses,[5] was also described as a nexus. The planet Aleen and the moon Iktotch were known to have vergences.[3]
Appearances
Edit
Notes and references
Edit
↑ 2.0 2.1  Mortis in the Databank (backup link)
↑  Ahch-To Mirror Cave in the Databank (backup link)
↑  Force Planet in the Databank (backup link)
Community content is available under
CC-BY-SA
unless otherwise noted.