Doctor Strange in The Multiverse o Madness - The Loop
Play Sound
"Locations exist where the Force is more sharply focused, but dangerous these places can be. Vergences, they are called, and should not be explored without training and permission. The Jedi Temple on Coruscant has one such. The Living Sea of Gazian, another. Jedha, as well."
―Yoda in a Jedi holocron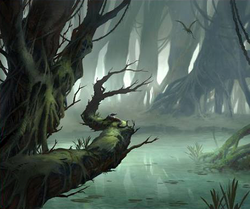 A vergence,[2] sometimes described as a nexus[3] or a locus,[4][5] was an unusual yet naturally occurring concentration of Force energy localized around a place, object, or person. In the case of a vergence being centered around a location—Force-sensitives in proximity, may have stronger interactions with the Force—often triggering visions among Force-sensitives.[6]
The individual Anakin Skywalker was a vergence,[2] as was the mountain around which the Sith shrine and the Jedi Temple on Coruscant were built. That mountain was a locus of power which attracted Force-wielders of various beliefs and was deemed sacred by local Coruscanti.[5] The Jedi Temple on Lothal, the Temple of Eedit on Devaron, the Jedi Temple on Ilum, the Cave of Evil on Dagobah,[3] the Mirror cave on Ahch-To,[7] the Sith cave on the planet Mustafar,[8] and the great chasm on Ushruu were also vergences.[9]
The Wellspring of Life, a planet[10] that was the foundation of life and what connects the Living and the Cosmic Force,[11] the birthplace of midi-chlorians, and the dwelling of the five Force Priestesses,[10] was also described as a nexus.[3]
The ethereal world of Mortis was the fulcrum of the galaxy and the Force.[12]
The planet Aleen and the moon Iktotch were known to have vergences.[3] Exegol had enormous fissures that reached deep into its crust. Such were thought to be pathways to a hidden vergence, and hence excavated by Sith loyalists in antiquity. The Skywalker lightsaber acted like a vergence when Rey came into contact with it, granting her insights from the past when she touched it in the Takodana Castle.[13]
Appearances
[
]
Sources
[
]
Notes and references
[
]
↑ Ahch-To Mirror Cave in the Databank (backup link)
↑ 10.0 10.1 Force Planet in the Databank (backup link)
↑ Mortis in the Databank (backup link)