Vhonte Tervho (pronounced Fon'tee Ter'Fo) was a female Mandalorian huntress.
Biography
Tervho was one of seventy-five Mandalorians hand-picked and personally recruited by Jango Fett to train clone commandos on Kamino. Upon accepting, she joined the ranks of the Cuy'val Dar—"Those Who No Longer Exist" in the Mandalorian tongue—as a training sergeants for the Grand Army of the Republic during the ten years it was formed in secret.
Behind the scenes
Vhonte was invented by Tom Hodges, who he named after his wife, Terri Fontana-Hodges. It was only made canon with her mention in Republic Commando: True Colors.
Vhonte appears to be the visual basis for the separate Mandalorian character, Rav Bralor. It's currently unknown if there's any in-universe connection between the two individuals.
Appearances
Sources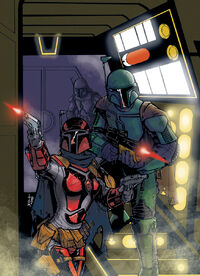 Community content is available under
CC-BY-SA
unless otherwise noted.