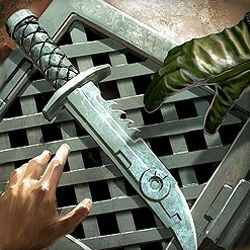 "Last call I had was a bad one; guy pulled a vibroknife out, started slashing... it was bad..."
―A police officer
A vibroknife, or vibro-knife, was a blade that used an internal generator to make the blade vibrate. These vibrations could make even a glancing blow into a huge, gruesome slash, thus making it a far more effective weapon in close combat, or as a tool. These small weapons were openly used by all denizens of the Galactic Republic, from clone commandos to regular citizens.
A vibroknife was the primary weapon of choice of the Imperial Agent Cipher Nine.
Community content is available under
CC-BY-SA
unless otherwise noted.