The Victor-wing Fighter was a model of starfighter.[1] Several Victor-wing fighters ambushed the Windfall after the freighter stole a shipment of spice from the Hutt Clan.[2] At least one Victor-wing Fighter was part of the citizens' fleet that fought at the Battle of Exegol, assisting Resistance forces in their fight against the Sith Eternal forces.[3]
The Victor-wing Fighter first appeared as an unnamed starfighter in Vader Immortal: A Star Wars VR Series – Episode I.[2] The starfighter later appeared in the 2019 sequel trilogy film, Star Wars: Episode IX The Rise of Skywalker,[3] and was identified in the video "Every Ship in the Star Wars Sequel Trilogy," posted on the StarWarsKids.com Youtube channel in 2020.[1]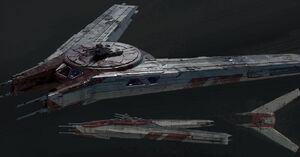 It was initially designed for 2015's Star Wars: Episode VII The Force Awakens as the ship used by the criminal organization Kanjiklub,[4] but it did not appear in the final film.[5] Due to time constraints at the time, the ship's design was created by kitbashing other ships together.[4]
The ship was initially referred to as a V-wing, which shouldn't be confused for the V-wings that appeared in the prequels; however, as several models of the same name already existed, it was later renamed after Victor Starspeeder, a character created by Jarrett J. Krosoczka for the Star Wars: Jedi Academy novel series.[6]
↑ 1.0 1.1 1.2 1.3 Every Ship in the Star Wars Sequel Trilogy | Star Wars By the Numbers on the official Star Wars Kids YouTube channel (backup link)
↑ 4.0 4.1 James Clyne (@clyne_design) on Instagram: Victor-wing Fighter design. "Background ship we reused for #theriseofskywalker Initially designed for #theforceawakens for he Kanjiklub's ship. Also-some major kitbashing due to crazy time constraints...and just too fun not to." (backup link)
↑ Leland Chee (@HolocronKeeper) on Twitter: "Production was referring to it as a V-wing but since we already had a couple of V-wings, we went with Victor-wing fighter, a name @studiojjk came up with for his @Scholastic Jedi Academy books. #VictorStarspeeder" (backup link)
Community content is available under
CC-BY-SA
unless otherwise noted.