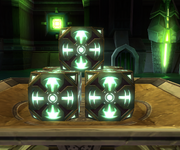 "The vitalicron is the vessel of memory. Each petitioner fills. In a vitalicron, the ceremony is preserved."
A Vitalicron was an advanced holocron styled device used by the Voss by the time of the Cold War era.
Description
Edit
These machines were designed to carry the memory and visions of those that went through the healing practices of the Mystics conducted at the Wellspring of the Shrine of Healing. As a result, each device remembers the collective experience of everyone through a technological mean. Once the ceremony was complete the vitalicron was placed in the mystic's vaults, where each vitalicron was contained by a genetic lock to prevent access from anyone other than the individual whom had undergone the healing process of the mystics.
The Shining Man, an agent of the Star Cabal, journeyed to Voss where he was accepted by the mystics because of a prophecy. He went through the healing ritual where his experiences were recorded in a vitalicron stored in the vaults. An Imperial Agent traveled to Voss to track down the Star Cabal and accessed the agent's vitalicron by using the Shining Man's ashes.
Appearances
Edit
Community content is available under
CC-BY-SA
unless otherwise noted.