"Someone took him. A big Trandoshan. I think his name was Box. Or Bosch. Or, no, I got it...it was Bossk. He said he as [sic] a bounty hunter. He took Louis."
―Lieutenant Voba Duey to a spacer
Voba Duey was a Human female lieutenant in the Meatlump Gang who lived during the time of the Galactic Civil War. She was posted near the city of Kor Vella on Corellia.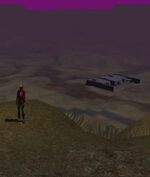 Voba Duey was a non-player character in the 2003 video game Star Wars Galaxies: An Empire Divided, a massively multiplayer online-role playing game developed by Sony Online Entertainment and published by LucasArts, prior to its closure on December 15, 2011.
Community content is available under
CC-BY-SA
unless otherwise noted.