Wiki Targeted (Entertainment)
Play Sound
"I can't believe the kid's still in one piece. This TIE is a real ace."
―Poe Dameron, referring to Kazuda Xiono and Elrik Vonreg
A First Order TIE/ba Interceptor was piloted by Major Elrik Vonreg during the Cold War. Vonreg utilized the TIE/ba Baron Space Superiority Interceptor during a New Republic mission to rendezvous with the Resistance, ultimately getting driven off before returning to Starkiller Base. A higher-end model equipped with a hyperdrive, the TIE/ba was armed with at least two laser cannons and a pair of missile launchers.[1] The TIE was also equipped with an experimental flight computer manufactured by Torplex.[2]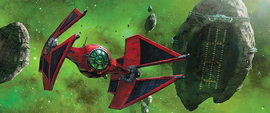 After a spider probe droid alerted the First Order to the presence of Resistance agents in the Dassal system, Major Vonreg led a flight of TIEs to attack. He was forced to retreat after being led into a gravity well.[5]
After the First Order occupied the Colossus, Vonreg flew his TIE/ba on patrol missions.[6]
As the crew of the station engaged the flying systems, Vonreg led the TIE garrison into battle. He was then shot down by Kazuda Xiono in the Fireball.[3]
Vonreg's TIE Interceptor appears in the 2018 animated series Star Wars Resistance.
Community content is available under
CC-BY-SA
unless otherwise noted.