WEG-1618[1] was a copper-plated droid[2] with yellow photoreceptors.[1] It had the number "1618" printed on either side of its torso, along with a warning label reading "IRRITANT" in High Galactic.[2] By the year 4.3 ABY,[3] WEG-1618 worked aboard the Star Tours travel agency's Tomorrowland Starport, where it could be found repairing an elevator, in addition to an R5 unit.[2]
WEG-1618 was created for the 1987 Disney simulator ride theme park attraction Star Tours, where it was featured in the ride's queue at Disney's Hollywood Studios and Disneyland Park. Although 1618 was printed on either side of its torso,[2] it was without a proper designation until an action figure of the droid designating it WEG-1618 was released in 2003 as part of the Disney Parks exclusive Star Wars: Star Tours toy line.[1]
Star Tours (First appearance) (Orlando and Paris only)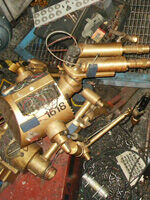 ↑ 1.0 1.1 1.2 1.3  Star Wars: Star Tours (Pack: WEG-1618) (backup link)
↑  "Death Star timeline" – Keeper of the Holocron's Blog, Leland Chee's StarWars.com Blog (content now obsolete; archived from the original)
Community content is available under
CC-BY-SA
unless otherwise noted.