Warren J. Fu is a visual effects art director at Industrial Light & Magic who has worked on all three movies of the prequel trilogy. Probably his most notable contribution was in the design of General Grievous, along with Iain McCaig, Ryan Church, and Robert E. Barnes, though he admits that he prefers his work on the MagnaGuards over Grievous.
Jedi Master Sifo-Dyas's face was based on Warren Fu.
Biography
Edit
Fu grew up as a middle child in Chicago, Illinois. Like many children of the time, he owned Star Wars action figures. His family moved to Southern California when he was still young, and there he discovered a passion for aerosol art in his early teens. In fun, he would compete with his friends painting giant productions on the legalized graffiti walls of Huntington Beach.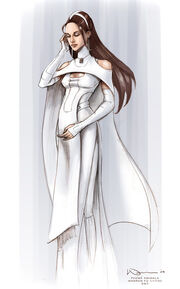 After high school, Fu went on to the University of California, Berkeley and was about to begin his final semester as an economics major when he learned about an art internship at Industrial Light & Magic. He got the intern position and discovered that he enjoyed drawing spaceships and creatures more than drawing supply and demand graphs.
Immediately following graduation, he was asked to join ILM's Episode I team, and over the next four years, worked his way up to become a visual effects art director. He received his first film credit as a visual effects storyboard / concept artist and learned a little about everything during the process: conceptual art, storyboards, animation, matte painting and even graphic design. Fu contributed to the prequel trilogy in the form of spaceship, droid, and environment designs, along with some costume and character work.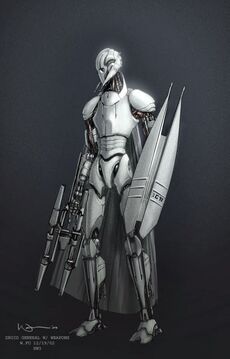 In the workplace he is known for his dry sense of humor. He credits his Episode III position not to talent or connections, but to "two dollars cash and 10% off coupons to Chili's" attached to his portfolio submission.
Outside of Star Wars, Fu has worked on various commercials and films at ILM. He has also directed clips for recording artists Aaliyah and the Strokes. He plans to further his directing career now that he has completed work on Episode III.
Fu credits the following people as major influences on his art career: Doug Chiang, David Nakabayashi, Brian O'Connell, Chito Arellano, Esther Taylor, Joe Johnston, Ralph McQuarrie, George Lucas, and his parents.
Star Wars contributionsEdit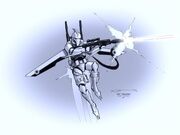 Other works
Edit
External links
Edit
Community content is available under
CC-BY-SA
unless otherwise noted.