Jurassic World: Dominion Dominates Fandom Wikis - The Loop
Play Sound
"You can drink it. Or boil it and it's a sterlizing agent. Frozen, it preserves food or acts as a hammer or weapon. You can drown someone in it. Water can loosen tongues—many effective interrogation techniques utilize water. Everything is a resource."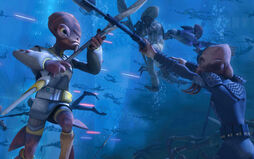 Water was a liquid necessary for most life forms, whether animal or vegetal, sentient or non-sentient. Many planets such as Kamino,[2] Mon Cala,[3] Trask, and Quila were covered in oceans of water and many species, including the Mon Calamari, Quarren, and Gungans, evolved on, under, and around water.[2] Frozen water was known as ice. According to the Resistance spy Vi Moradi, a human would die after a couple of days without water, though she managed to survive after going three days without water on one occasion.[4]
On arid worlds like Tatooine, moisture farmers used vaporators to collect water from the atmosphere. The Tusken Raiders of Tatooine believed that all water was sacred and promised to them, resulting in them raiding local moisture farms set up by colonists.[5] Indeed, water was more valuable than gold in Tatooine.[6] On Jakku, another desert world, water was a precious commodity and was sold by the junk dealer Unkar Plutt, along with dehydrated rations which could be activated by it.[7]
According to Senator Padmé Amidala, most industrial processes such as refining and manufacturing required a large water supply.[8]
Appearances
[
]
Non-canon appearances
[
]
Sources
[
]
Gungan bongo submarine in the Encyclopedia (content now obsolete; backup link)
Gungans in the Encyclopedia (content now obsolete; backup link)
Jedi breathing device in the Encyclopedia (content now obsolete; backup link)
Mon Calamari in the Encyclopedia (content now obsolete; backup link)
Much to Learn You Still Have: 10 Things You Might Not Know About Mon Calamari on StarWars.com (backup link)
Much to Learn You Still Have: 7 Things You Might Not Know About Sullustans on StarWars.com (backup link)
Star Wars Helmet Collection 9 (Helmets: AT-AT Pilot; Highlights of the Saga: Ground Assault on Hoth)
Star Wars Helmet Collection 11 (Helmets: Tusken Raider; Weapons & Uniforms: Inhabitants of Tatooine)
Star Wars Helmet Collection 24 (Databank A-Z: The HoloNet–General Hux; Highlights of the Saga: Duel to the Death)
Star Wars Helmet Collection 32 (Helmets: Hoth Rebel Soldier; Weapons & Uniforms: Echo Base; Highlights of the Saga: Attack of the Wampa)
Star Wars Helmet Collection 41 (Weapons & Uniforms: The Kaminoans; Highlights of the Saga: The Secret of Kamino)
Star Wars Helmet Collection 44 (Helmets: Snowtrooper; Weapons & Uniforms: Starkiller Base Personnel)
Star Wars Helmet Collection 54 (Databank A-Z: Tauntaun–TIE Craft; Highlights of the Saga: Flight from Naboo)
Star Wars Helmet Collection 57 (Databank A-Z: Trident Assault Ship–Turbolasers; Weapons & Uniforms: Chopper Base–Atollon; Highlights of the Saga: Leaving Skystrike)
Star Wars Helmet Collection 66 (Weapons & Uniforms: Growing up on Tatooine; Highlights of the Saga: Someone to Watch Over Me)

Star Wars: Retro Collection

(Pack: Kuiil) (backup link)
"Aftermath" Episode Guide on StarWars.com (backup link) (Picture only)
The Book of Boba Fett Cargo Hold: "Chapter 6: From the Desert Comes a Stranger" on StarWars.com (backup link) (Picture only)
Obi-Wan Kenobi | Teaser Trailer | Disney+ on the official Star Wars YouTube channel (backup link)
Official Trailer | Galactic Pals on the official Star Wars Kids YouTube channel (backup link)
Andor | Teaser Trailer | Disney+ on the official Star Wars YouTube channel (backup link)
Obi-Wan Kenobi | Star Wars Full Circle on the official Star Wars Kids YouTube channel (backup link)
773 Firepuncher rifle in the Databank (backup link) (Picture only)
Abafar in the Databank (backup link)
Aiwha in the Databank (backup link)
Aki-Aki in the Databank (backup link)
Bespin in the Databank (backup link)
Glem in the Databank (backup link)
Gungan in the Databank (backup link)
Gungan Bongo Submarine in the Databank (backup link)
GX-8 Condenser Unit in the Databank (backup link)
Happabore in the Databank (backup link)
ice spiders in the Databank (backup link)
Jedi Breathing Device in the Databank (backup link)
Kamino sea creature in the Databank (backup link)
Kamino tube system in the Databank (backup link)
Klatooinian raiders in the Databank (backup link)
Krakavora in the Databank (backup link)
Lars Moisture Farm in the Databank (backup link)
Lortha Peel in the Databank (backup link)
Meena Tills in the Databank (backup link)
Mon Calamari in the Databank (backup link)
Nal Hutta in the Databank (backup link)
Nala Se's private lab in the Databank (backup link)
Pasaana in the Databank (backup link)
rokkna in the Databank (backup link)
snarlfish in the Databank (backup link)
Synara's salvaging skiff in the Databank (backup link)
Wookiee Catamaran in the Databank (backup link)
Zeffo in the Databank (backup link)
Notes and references
[
]
External links
[
]