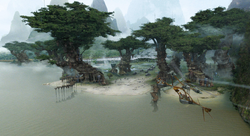 Wawaatt Archipelago was the system of islands that contained the Wookiee cities of Palsaang, Kahiyuk, Warralokk, Grunnrurr, Rowrakruk, and Kachirho on Kashyyyk. The Confederacy of Independent Systems saw this area as one of only a handful of open landing zones on the forest-thick planet, and made their charge on the city from this location.
Following the Battle of Kashyyyk, Wilhuff Tarkin established a detainment camp of four-hundred-thousand Wookiees for use on building the first Death Star, although only half that number were procured.
Appearances
Edit
Community content is available under
CC-BY-SA
unless otherwise noted.