Jurassic World: Dominion Dominates Fandom Wikis - The Loop
Play Sound
The Weldii system was located in the Southern Core portion of[2] the Core Worlds.[1] The third orbital position within the system was occupied by the terrestrial mining world Weldii III.[3]
Weldii III was home to a mining colony,[4] and its population included members of the Aqualish, Human, Klatooinian, Mustafarian, and Rodian species. At some point, the local miners staged a rebellion, in which the gunrunner Praaelon Di sold weapons to both sides of the conflict.[3]
Sometime between 1 BBY[5] and 3.5 ABY,[6] after Administrator Lenc,[3] the Bith leader of Weldii III's mining colony, learned of Di's involvement in the rebellion, the administrator hired a group of bounty hunters and pirates to capture the arms dealer and bring him back to Weldii III.[4] Lenc's agents were defeated by the gunrunner and his allies,[7] and subsequently Di and his associates traveled to Weldii III, where they ultimately defeated Lenc and his underlings.[3]
Behind the scenes
[
]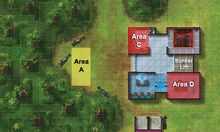 The Weldii system de facto first appeared via the appearance of Weldii III in "Shafted!,"[3] the final installment in "Unfinished Business," a series of three scenarios for use with the Wizards of the Coast Star Wars Miniatures game. The series was written by Sterling Hershey,[3][4][7] and the third scenario was published on Wizards.com on March 22, 2007.[3] The 2009 reference book The Essential Atlas first named the Weldii system and placed it in grid square L-13.[2]
The narrative structure of the three scenarios of "Unfinished Business" is dependent on the gameplay outcome of each individual scenario.[3] If the player representing Praaelon Di and his allies in-game is victorious in the first scenario, "Gunrunner," the second installment, "Well-Armed and Dangerous," is to be skipped, and the narrative proceeds with "Shafted!."[4]
In addition, if in "Well-Armed and Dangerous" the player controlling the bounty hunters wins, Di is considered to be captured and brought back to Lenc[7] on Weldii III,[4] with "Shafted!" to be skipped.[7] This article assumes that as many events as possible of "Unfinished Business" play out as described and that Di and his allies are defeated in "Gunrunner," yet triumph in "Well-Armed and Dangerous" and "Shafted!."
Appearances
[
]
Sources
[
]
Notes and references
[
]
↑ 1.0 1.1 1.2 Star Wars: The Essential Atlas Online Companion on StarWars.com (article) (backup link)
↑ 3.00 3.01 3.02 3.03 3.04 3.05 3.06 3.07 3.08 3.09 3.10 3.11 3.12 3.13 "Unfinished Business, Part 3: Shafted!" on Wizards.com (original article link, content now obsolete; backup link)
↑ 4.0 4.1 4.2 4.3 4.4 4.5 "Unfinished Business, Part 1: Gunrunner" on Wizards.com (original article link, content now obsolete; backup link)
↑ According to "Unfinished Business, Part 1: Gunrunner" on Wizards.com (original article link, content now obsolete; backup link), the Rebel Alliance utilized X-wing starfighters at the time the attack on Praaelon Di took place. The Essential Guide to Warfare establishes that the Alliance acquired the resources necessary to start the production of X-wing fighters a year before the Battle of Yavin, which translates to 1 BBY, according to The New Essential Chronology. Therefore, the attack on Praaelon Di must have occurred no earlier than 1 BBY.
↑ "Unfinished Business, Part 2: Well-Armed and Dangerous" on Wizards.com (original article link, content now obsolete; backup link) features Boushh as a participant in the attack on Praaelon Di. "Bounty's Due" – Shadows of the Empire Sourcebook depicts Boushh being killed, while The New Essential Chronology dates the events of the Star Wars: Shadows of the Empire multimedia project, which includes the Shadows of the Empire Sourcebook, to 3.5 ABY. Therefore, the attack on Praaelon Di must have occurred no later than 3.5 ABY.
↑ 7.0 7.1 7.2 7.3 "Unfinished Business, Part 2: Well-Armed and Dangerous" on Wizards.com (original article link, content now obsolete; backup link)