Spider-Man: No Way Home Trailer Dropped - The Loop
Play Sound
The Western Dune Sea was a quadrant of the Dune Sea on Tatooine. This area was separated from the Northern Dune Sea by the Jundland Wastes and the Great Mesra Plateau.[1]
History
[
]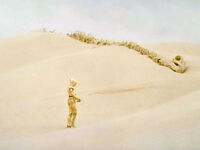 During the Battle of Tatooine in 0 BBY, the escape pod of C-3PO and R2-D2 launched from the Tantive IV landed in the Western Dune Sea, nearby the Jundland Wastes.[1] The escape pod landed in the eastern limb of the Western Dune Sea, with R2 setting the coordinates 40 kilometers south of its intended target.
While R2-D2 managed to leave the Western Dune Sea to reach the Jundland Wastes, C-3PO was picked up by a Jawa sandcrawler in the Dune Sea, near the skeleton of a krayt dragon.[1] The Desert Sands unit of desert stormtroopers was later tasked to localize the escape pod in the Western Dune Sea and capture its passengers.[8]
Circa 1 ABY,[9] Jabba the Hutt's beast master Malakili recruited a spacer to get a sample of DNA from the Western Dune Sea krayt dragon skeleton. The skeleton was supposed to belong to an ancient krayt dragon more powerful than any other dragon and Jabba wanted to use the DNA in experiments.[10]
Behind the scenes
[
]
The video game Star Wars Galaxies incorrectly places Jabba's Palace, the Great Pit of Carkoon and Ben Kenobi's hut in the Western Dune Sea.[2]
Appearances
[
]
Sources
[
]
Notes and references
[
]