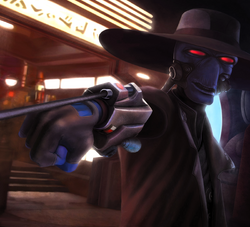 The whipcord thrower was a piece of equipment that shot out a length of cord, with the intention of tangling up opponents and preventing them from moving.[1] The bounty hunter Jango Fett and his clone son[2] Boba Fett both used whipcord throwers mounted on their wrists.[3] Cad Bane also had a whipcord thrower built into his right wrist gauntlet.[4] Grappling Troopers of Death Watch used whipcords to capture and imprison enemies.[5] Members of the Nite Owls[6] and the bounty hunter Din Djarin also utilized whipcords.[7]
Community content is available under
CC-BY-SA
unless otherwise noted.