Hawkeye Is Here To Amaze - The Loop
Play Sound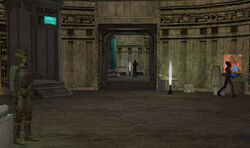 The White Thranta Shipping offices was a bunker that served as the headquarters of the White Thranta Shipping Company. It was a bunker located on the eastern outskirts of the city of Mos Eisley on the planet Tatooine during the time of the Galactic Civil War.[1]
History
[
]
The headquarters was operated by a shipping company used by Jabba Desilijic Tiure as a criminal front organization.[2] The White Thranta bunker served as a smuggling base of operations and most of the goods shipped were destined to the Alliance to Restore the Republic.[3] A large number of security guards patrolled the area[2] and the security personnel used a modified version of a popular Sg-82 sonic rifle.[4]
By the time of the Battle of Yavin, members of the White Thranta Shipping Company including Brok Ziam and Durr Roddack, got involved in questionable medical activities.[2] They performed unethical experiments on sapient races in the bunker bellow the White Thranta offices,[5] without Jabba being aware of it.[6] In total, White Thranta had kidnapped and infected at least 41 victims for medical experiment, including Dakk Jenzik, Leon Kovalski, Tork Magzyn and a woman named Dina.[2]
Circa 1 ABY,[7] Jabba's employee Reimos Taligg tasked a spacer to slice the computers of the White Thranta bunker, eventually discovering the situation.[2] Reimos then requested the spacer to kill Durr Roddack and Brok Ziam.[8]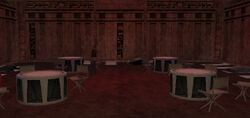 Around the same time, a bounty hunter went to the White Thranta offices in order to execute the indebted Untas.[9] In the meantime, a spy working for Kaesii DuPree infiltrated the base to recover the plans for a military prototype speeder stolen by Durr Roddack.[10]
Behind the scenes
[
]
The White Thranta Shipping offices was a location in the 2003 massively multiplayer online role-playing game Star Wars Galaxies,[1] prior to the game's closure on December 15, 2011.[11] The White Thranta Shipping offices was added to the game as part of the "Legacy Quest" with the release of the "Publish 25", a.k.a. the "New Game Enhancements", on November 15, 2005.[12]
Appearances
[
]
Sources
[
]
Notes and references
[
]
External links
[
]