The Wilhelm scream is a stock sound effect first recorded in 1951 for the movie Distant Drums. It has been featured in over 400 movies and TV series since. Alongside a certain recording of the cry of the red-tailed hawk, the "Universal Telephone Ring" and "Castle Thunder," it is probably the most well-known cinematic sound cliché. It is believed to have been provided by actor/singer Sheb Wooley.
The Wilhelm's revival came from Star Wars sound designer Ben Burtt, who tracked down the original recording (which he found as a studio reel labeled "Man being eaten by alligator"). He named it after Wilhelm, a minor character who emitted the scream in the 1953 movie The Charge at Feather River. Its use in Star Wars was the beginning of something of an in-joke amongst some sound designers of the film industry, especially at Skywalker Sound.
In his endnotes for The Essential Guide to Warfare, Jason Fry hinted that the Wilhelm scream was uttered in the holodrama The Charge at Feather Nebula.[1]
On February 22, 2018, sound editor Matthew Wood revealed that Lucasfilm has decided to not use the Wilhelm scream anymore following the release of Star Wars: Episode VII The Force Awakens and instead replace it with a new stock sound effect.[2]
Appearances
Edit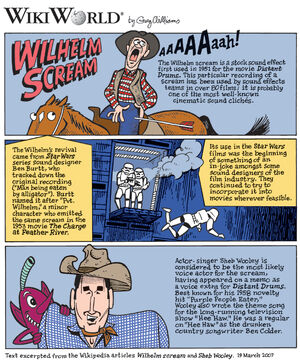 TV series
Edit
Other media
Edit
Non-canon media
Edit
Non-Star Wars media
Edit
Notes and references
Edit
External links
Edit
Community content is available under
CC-BY-SA
unless otherwise noted.