She-Hulk Trailer Dropped - The Loop
Play Sound
Wine was a beverage typically made from grapes,[21] berries,[22] fruit,[3] or grain.[3][6] The process involved fermentation,[23] and wine was usually alcoholic.
Description
[
]
Wine was classified among the stronger alcoholic beverages known as spirits.[24][25] Fine wine was valued in many cultures.[26] A fine wine got better with age,[27][21] and particularly fine wine was aged until it was perfect.[28] Vintage wine also denoted quality.[8][11][3][7][16][29] Some people would save a good bottle of wine for an extra special occasion.[21]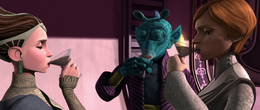 The taste of wine could be described as everything from sweet[17][30][31][3] to tart[3] to mellow[10] to dry,[32][33] tart,[33] sour[33] or wet.[32] Some people liked the taste better if the wine was exposed to air ("letting it breathe"), and would uncork the bottle and let it sit like that for a while before drinking.[34] The liquid could be warmed[10][17] or chilled[35][7] to reach the perfect temperature and quality, for example thirty-nine degrees.[32] A wine bottle was sometimes put in a bucket of ice before it was opened.[7]
Effervescent wine[36][17] made a unique sound when the cork was popped from the bottle.[36] Sparkling wine had bubbles in it.[7] Some types of wine were fortified with stronger types of alcohol in order to make it more potent.[21]
The beverage was often paired with food,[8][32][4][37][38][34] but it could also be enjoyed without it.[10][3][22][16] Some people liked to have wine with dinner[4][38] and restaurants[7] and casinos[9] often had a wine list for customers to choose from. Some types of wine, like Corellian wine[39] and Deltron spice wine,[40] were also used as an ingredient in cooking.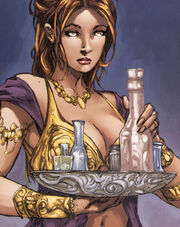 People sometimes had wine when celebrating,[19][41][3][37][7] and it was also commonly served at parties,[42][19] both in formal festivities[42] and the wilder sort.[43][19]
Wine was usually stored in bottles,[22][2][3][34][7][16][21] flasks,[44] casks,[45] cases[33] or barrels,[15] and drunk from a goblet,[19][17][46] glass[10][33][17][3][37][38][34][21](sometimes made from delicate crystal[2]), chalice[16] or cup.[22][47][48][6] It was sometimes served in a carafe[6] or a decanter.[33][16] The liquid was usually sipped at, rather than being gulped down.[8][22][33][17][3][16][21] According to Count Dooku, the older a person became, the more they would appreciate excellent wine.[12]
A plantation grown for winemaking was called a vineyard.[49][16] A property where wine was produced was called a winery. A winery featured cultivated plants and wine making equipment, like extraction presses and wooden storage barrels.[50] Some wealthy people had one or more wine cellars—large storage rooms for wine—in their home.[2][51][11][12]
Alderaan[52][53] and Glova[54] were major exporters of wine, and the planet Roonadan had special wine bars.[55] Haleoda, the capital city of Kattada, was famous for its fine food and wine.[56] Tatooine wine had a reputation for being bad.[57]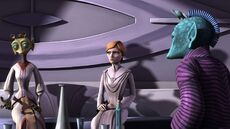 The Cerean female name Daini referred to wine, drinking water, or sweet tea. Another Cerean female name, Naiana, was a type of fruity wine enjoyed on Cerea. Mus was a name given to female Zabraks, and meant "wine". This name originally referred to any strong alcohol that was used to cleanse wounds.[58]
The Nightsister Tamith Kai was described as having wine-colored lips,[59] and an unnamed Yuuzhan Vong warrior who performed a demonstration the bo'tous bioweapon was described as wearing a wine-colored tunic.[44]
Appearances
[
]
Sources
[
]
Notes and references
[
]
External links
[
]
---
This is a disambiguation page—a navigational aid that lists other pages that might otherwise share the same title. If an article link referred you here, you might want to go back and fix it to point directly to the intended page.
---