WizKids Games—or WizKids, Inc.—was originally an American Seattle-based company that first made its mark in the game industry producing collectible miniatures wargames. Founded in July 2000, the company's goal was to develop a format that made it easy to begin playing traditional miniature games by eliminating the need for cumbersome charts and source books. He focused his efforts on creating games that were both affordable and playable right out of the box.[1]
WizKids' first release, Mage Knight: Rebellion, launched worldwide November 1, 2000. Without needing tables to reference, numbers to track, and miniatures to be assembled and painted, players could now focus on the fun of miniatures gaming by using a simpler and faster-playing system.[1]
WizKids released many hit game systems since, including HeroClix of the DC, Marvel and Indy comic universes, MechWarrior from the science-fiction genre BattleTech universe, Pirates! that launched both the constructable strategy game (CSG) and PocketModel (trademarked by WizKids) gaming categories, and the Star Wars PocketModel TCGTM trading card game that was produced to combine WizKids' CSG legacy with the classic card play of TCGs.[1]
WizKids became a wholly owned subsidiary of the sports-card manufacturer Topps Company in July 2003. With Topps' support, WizKids continued to develop new games supported with organized play at conventions and registered retail venues—also referred to as local game shops (LGS)—worldwide, and provided a forum for players to meet together to arrange to play in events and tournaments.[1]
Topps/WizKids manufactured the Star Wars PocketModel TCGTM trading card game, based on the Star Wars universe, between 2007 and 2008 under the Topps umbrella of the Star Wars franchise license. The game was designed by Mike Elliott and Ethan Pasternack.[1]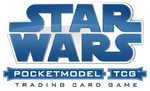 Topps closed down all WizKids operations and brand lines (including the Star Wars PocketModel TCG) on November 10, 2008, after having been acquired by Michael Eisner's Tornante Company and Madison Dearborn Partners in 2007.[1]
In 2009, Topps accepted the bid offered by NECA to buy the licenses to continue producing the brand lines of the former WizKids company—except Star Wars PocketModel TCG. Following that, a booth was occupied by WizKids/NECA at Gen Con Indy, an annual four-day gaming convention in Indianapolis, Indiana, thus establishing that the company was under new ownership.[2]
On September 14, 2009, NECA officially announced their acquisition of the WizKids properties, including the PocketModel trademark—but without mention of the Star Wars brand line—and declared its intent in continuing that category of gaming products.[3] Since Topps holds the Star Wars product license and WizKids/NECA holds the PocketModel trademark, it is unlikely that either company will be producing any further Star Wars PocketModel trading card games. This situation is similar to the demise of the Star Wars Customizable Card Game (CCG) by Decipher, Inc.
WizKids/NECA currently produces the superhero-themed dial base miniatures game, HeroClix, and an upcoming Star Trek-themed miniatures game.[4] So far, the only PocketModel game WizKids/NECA has announced it would continue is the Pirates! PocketModels brand, in connection to a Disney franchise. [5]
Notes and references
Edit
External links
Edit
Community content is available under
CC-BY-SA
unless otherwise noted.